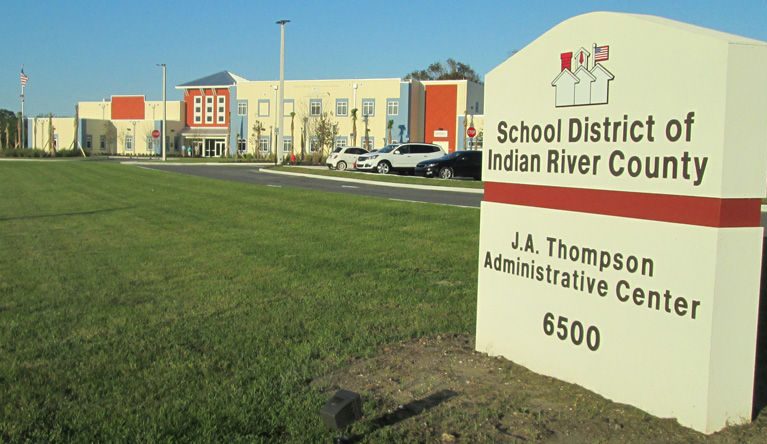 David Moore has made a career of getting rid of bad schools in the massive Miami-Dade school district – not obliterating them, but fixing them so that students get better grades and educations.
As principal of Miami Southridge Senior High School, Moore led a turnaround that transformed the school from an "F" to an "A" institution in 2012, as judged by the State of Florida's school grading system.
In 2017, he led an effort to turn around six other failing schools in the district that were in danger of being closed by the State of Florida.
That track record was a main reason the School Board on Saturday chose him as the new superintendent of schools for Indian River County.
Pending a successful background check and negotiated contract, Moore, 48, said he hopes to begin his new job as early as Dec. 2.
Currently an assistant superintendent in the Miami-Dade district – the fourth largest district in the nation – Moore said his first 90 days here will include reviewing the district's finances, student academic achievement, internal and external communications and curriculum to get a better grasp of the district's problems and priorities.
The School Board voted unanimously to offer Moore the position during a special daylong board meeting on Saturday.
"The board's vote is a great sign of coming together," Moore said. "I'm humbled and thankful to have this opportunity. It's something I've been working towards, praying for, and seeking."
Board members cited Moore's extensive experience in finance and curriculum, passion for education and intense desire to make IRCS a top-rated district with all A-rated schools by 2025 as reasons for their selecting him.
Chairman Laura Zorc said she was impressed with Moore's compassion for students and his fearless desire to make tough decisions when they must be made.
"What convinced me is when Dr. Moore said he's 'not afraid to be fired for making tough decisions,'" Zorc said.
She added that the unanimous vote to select Dr. Moore by a board that has often been divided gave her "a great sense of relief; it was a rough year. But I'm so excited about the future and what's coming."
During the past year, board members, particularly Zorc, fiercely battled with former Superintendent Mark Rendell, whose controversial personnel decisions often put him at odds with the School Board.
Rendell resigned under pressure on May 24, leaving the district in a state of financial confusion and uncertainty with an atmosphere of distrust among board members, administrators, teachers, school staff and students.
During his interview with the board, Moore vowed to reunite the community by meeting with all school employees and students in December. He said he would seek honest feedback to learn what people like and don't like about the district. In January he will expand that effort to the community at large.
"We need to build ownership with the community, teachers, staff and students," Moore said. "This is an opportunity to unite this school district."
Moore describes himself as someone who believes in making long-term, sustainable improvements. "I'm not going to rush into a plan," he told the board.
One of his top priorities is to continue efforts to address equity issues and make sure the district complies with a 52-year-old federal desegregation order, Moore said. Miami-Dade has one of the nation's most successful urban school districts.
Newly-elected Board Vice-Chairwoman Mara Schiff said she was impressed with Moore's plan to "immediately implement [anti-]bias training for all school employees. Moore said a similar effort at Miami-Dade had a quick and noticeable impact. That training must be ongoing because it takes time to educate and make people aware of their biases, he said.
Moore vowed to work closely with the School Board and keep it abreast of important issues, providing accurate information in a timely manner – something board members frequently criticized Rendell for failing to do.
"You will not be surprised," Moore said. "I will keep the board informed. I see the board as my advisors. You establish policy, I implement that policy."
During candidate interviews, several board members complained about local media coverage, accusing media of "writing lies" and "only negative stories about the district."
Board member Tiffany Justice asked what approach the board and district should take with the media.
Moore told board members that the district needs to be pro-active in developing a better relationship with the media. Providing accurate information to the media improves the media's ability to report stories correctly, he said.
"Get accurate information to the media quickly so they have the facts and information," Moore said.
Moore said areas where the district needs to do better include raising expectations and setting goals for all employees and students and developing a consistent way to measure if expectations and goals are being met. The district also needs to update its strategic plan so that everyone knows what the overarching goals are.
Creating a climate of trust within the district and putting in place better spending practices are two other improvements he said are needed.
Thirty-six applicants applied for the district's superintendent position. The district advertised an annual salary of up to $178,000 for the new superintendent.
During his tenure at Miami-Dade, Moore has served as a teacher, counselor, assistant principal, principal and administrative director before becoming assistant superintendent, overseeing the district's Education Transformation Office.
His grandfather and father previously served as school principals in the same district.
"Our family has been there continuously, without interruption, since 1955," Moore said.
The board is tentatively scheduled to approve Moore's contract at its Nov. 26 meeting.
Moore will be taking the reins from Interim Superintendent Susan Moxley, who will serve in an advisory role after Moore is hired.