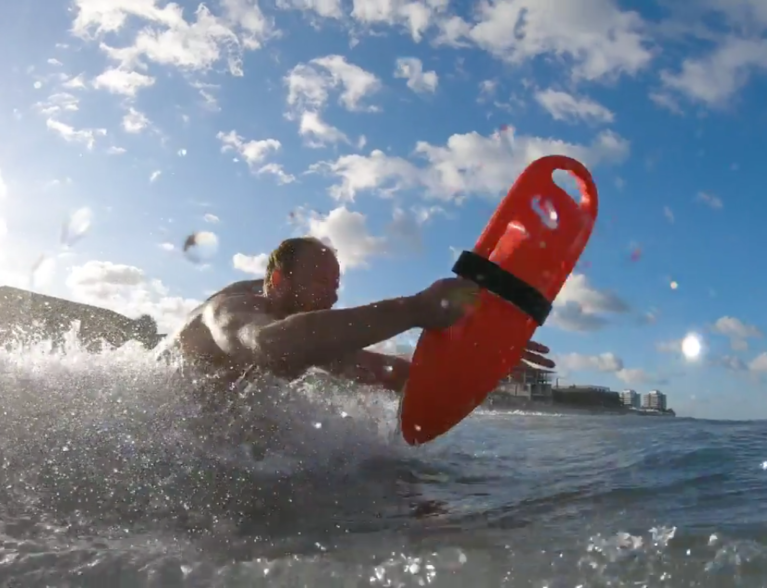 VERO BEACH — "Ellen, we need your help!"
A group of Vero Beach lifeguards assembled along Humiston Beach Park in an 'Ellen Alert' video, submitted to the Ellen DeGeneres show this past week. The lifeguards are seen racing across the sand toward the water with their paddle boards and other swimming gear, similar to a scene from the 'Baywatch' television series.
The beginning of the three-minute video shows lifeguards Vincent Valentino and Shaun Dibble walking along the beach before going inside the tower. The issue is that the tower is small and functionally obsolete, said Erik Toomsoo, president of the Vero Beach Lifeguard Association.
"We can't see anything from this tower. If we can't see them, we can't save them," Valentino and Dibble said in the clip. In the quirky video, filmed in September by Verola Studio, lifeguards around the city are called to assemble when they hear the 'Ellen Alert.'
"We had a blast filming," Toomsoo said. "Wherever you go in town, people are talking about it."
Video provided by VBLA
Toomsoo said lifeguards have tried to get local and national funding for a new and improved tower. A bigger tower, they say, will help them have a better view of what's happening on the beach and allow a faster response to emergency situations.
With this promotional video, lifeguards hope Ellen DeGeneres and her team will support the project. The Ellen DeGeneres show is known for giving out various prizes to contestants who submit a photo or video for different categories, including 'dance,' 'inspiring,' 'singers and musicians' and 'mad skills.'
Recently, DeGeneres partnered with Amazon to give $50,000 to Animo College Prep Academy in Los Angeles, California. The funds were donated to the school's athletic program, which lacked a budget and led to staff paying out of pocket for daily team meals, equipment, transportation and other expenses.
A lack of funds is also what is holding back the construction of the new tower at Humiston Beach.
"I think we have a unique story," Toomsoo said. "(DeGeneres) has been great at helping organizations across the country."
Toomsoo said the city of Vero Beach has already pledged $75,000 toward VBLA's House of Refuge Lifeguard Tower and Command Center project. City lifeguards need another $225,000 for the tower and command center.
"We're trying our best," Toomsoo said.
The current tower, which is 160 square feet, was built in 1978, Toomsoo said. Toomsoo said lifeguards are aiming to expand the tower to 600 square feet.
The new tower will have a command center; both will be on the second floor, Toomsoo said. The first floor will be used as a storage room.
The city's three beaches, Humiston Beach, Jaycee Park and South Beach Park, saw a total of nearly 50,000 visitors last month, according to a VBLA report. In October, there was one major rescue on the beach where a person was taken to the hospital; lifeguards also saved four people from rip currents, bringing the total number of water rescues to 19 in 2019.
Lifeguards are not alone in their mission to bring a new and improved tower to Humiston Beach Park.
Other companies, including Hoos Architects, Mills Short & Associates Engineering, Coastal Technology Corporation and Farrow Construction are already supporting the project. Those who want more information can contact the VBLA at 908-797-8725 or VeroBeachLA@yahoo.com.