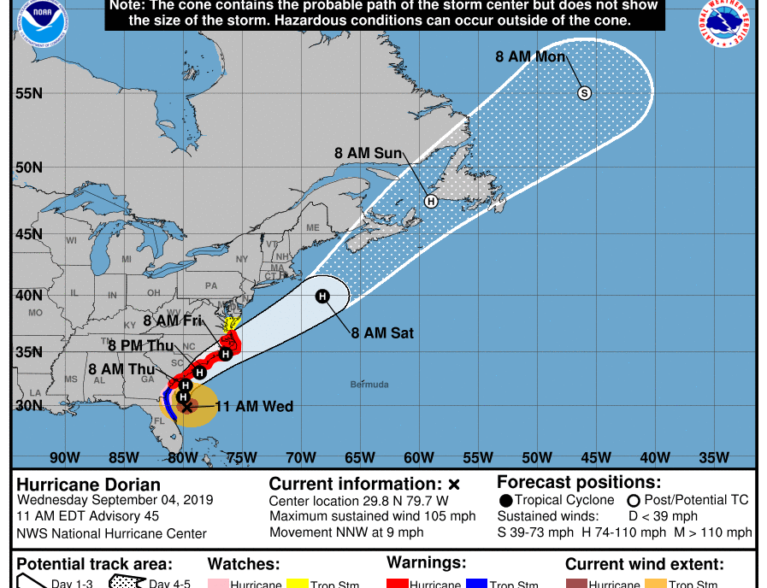 This story will be constantly updated for Hurricane Dorian coverage
INDIAN RIVER COUNTY — Several weather warnings, including for tropical storm and storm surge conditions, were discontinued Wednesday for the Treasure Coast as Hurricane Dorian swirled north away from the area, officials said.
Dorian remained a Category 2 hurricane Wednesday afternoon with maximum wind speeds of 105 mph, according to the National Hurricane Center. The storm was traveling northwest at 9 mph and was moving parallel to Florida's northeastern coast.
Residents in Indian River County should still remain cautious as they travel. The county was expected to have strong wind gusts of up to 45 mph Wednesday, forecasters said.
Weather officials Wednesday issued advisories for strong winds, coastal flooding and high surf. The coastal flooding and high surf advisories will expire at 4 p.m., while the wind advisory will expire at 8 p.m.
Dorian's wrath stayed offshore of the southern east coast of Florida, for the most part.
With little storm damage reported, besides beach erosion, several county businesses and government offices reopened Wednesday. Others were expected to reopen Thursday and Friday.
All 'Wave 1' shelters closed at noon Wednesday, officials said. Schools were expected to reopen Friday.
Indian River County Administrator Jason Brown said the county has beach erosion in some areas, including the boardwalks on Ocean Drive. All county beaches are closed because of the erosion.
"Lots of the sand is gone. City workers are putting up concrete barricades to close the area for safety reasons," Vero Beach police spokesman Master Officer Darrell Rivers said. "They're afraid the boardwalk may collapse. They're afraid the roadway might give way and fall into the ocean because of the continuous pounding from the rough surf."
Wednesday, The Florida Department of Health in Indian River County issued a county wide precautionary swim advisory for all public beaches. Health department officials said swimming was not recommended.
"Testing will be conducted, when possible, to determine the water quality at public beach locations," emergency service officials said. "Until test results are available, you should assume that water contact may pose an increased risk of disease or illness, particularly to susceptible individuals."
Over the weekend and earlier this week, Dorian battered the Bahamas, claiming seven lives in its path, officials said. The hurricane slammed into the country as a Category 5 storm, leaving the islands wiped out and in total destruction.
Any local businesses that have storm damage or losses should fill out the survey on the Florida Disaster website.
Previous Coverage
The National Hurricane Center issued a hurricane warning at 5 p.m. Sunday for portions along Florida's east coast, including Indian River County, ahead of Hurricane Dorian. Tuesday afternoon, the hurricane warning was downgraded to a tropical storm warning.
Weather officials also issued a storm surge warning for the coastal towns.
Dorian, which remains unpredictable, did not have any significant changes to its forecast track Tuesday, National Weather Service in Melbourne Meteorologist Jerry Combs said. Weather conditions along the Treasure Coast were expected to deteriorate Tuesday, Combs said.
Forecasters said the center of the storm was predicted to stay offshore, but will make a close approach to east central Florida Monday through Wednesday.
"If the center comes closer to shore, the wind threat will increase," Combs said. Combs said Indian River County was expected to experience 40 to 50 mph tropical storm force winds.
With some evacuations being ordered Sunday across Florida's east coast, Gov. Ron DeSantis suspended tolls on Florida's Turnpike, Alligator Alley, Sawgrass Expressway, State Road 528 Beachline Expressway, the East and West Beltway, State Road 417 and State Road 429. DeSantis made the announcement in a news conference, where he urged residents to listen to evacuation orders.
"If you're in an evacuation zone and given an order to evacuate, please heed that call," DeSantis said. "The storm at this magnitude could cause massive destruction. Don't put your life at jeopardy by staying behind when you have a chance to get out."
DeSantis said tolls were suspended on major roadways that are evacuation routes for counties that would be affected by Hurricane Dorian.
"People should remain vigilant and be prepared," DeSantis said.
*Click the audio icon in the lower right hand corner for sound. 
WATCH LIVE: Governor Ron DeSantis holds a press conference on Hurricane Dorian at the State Emergency Operations Center

Posted by Governor Ron DeSantis on Sunday, September 1, 2019
Weather officials said Dorian is tied for the strongest Atlantic hurricane landfall on record with the 1935 Labor Day hurricane. The western rain bands from Dorian swept through the Treasure Coast Sunday, Monday and Tuesday.
Indian River County sheriff's spokesman Maj. Eric Flowers urged residents to sign up for county text alerts regarding plans for Hurricane Dorian, including shelter openings, at ircgov.com.
*Click the audio icon in the lower right hand corner for sound. 
A list of the Wave 1 shelters can be found at the bottom of this article. If those shelters fill up quick, officials will open up other shelters – 'Wave 2' and 'Wave 3' – for residents, Flowers said.
Uber announced free round trip rides to Florida shelter locations. Any residents in an emergency should call 911.
Dorian was expected to slow down and turn northward near or just offshore off the coast, weather officials said. Even though Florida's east coast was out of the cone of uncertainty Tuesday, there was still a high risk for flooding and storm surge along the coast and in low lying areas, officials said.
Tropical storm winds were expected to hit Indian River County Tuesday. Impacts to the county include possibly up to 10 inches of rain, strong wind gusts and major beach erosion.
Weather officials advised residents in coastal states north of Florida to get prepared.
"The risk of strong winds and dangerous storm surge is increasing along the coasts of Georgia, South Carolina and North Carolina during the middle of next week," a National Hurricane Center advisory showed. "Residents in these areas should continue to monitor the progress of Dorian."
Dorian picked up in speed and then slowed down as it swirled its way closer to south Florida Tuesday.
"The slower it (travels) could make it more deadly," Meteorologist Derrick Weitlich said. "It (has the potential) for a longer duration of storm surge, hurricane force winds and widespread heavy rainfall."
Storm surge, the number one cause for weather-related fatalities, is the abnormal rising of the seawater level from storms.
Preparations for Dorian since last week
On August 29, DeSantis activated 2,500 members of the Florida National Guard, with an additional 1,500 on stand by, officials said.
"As Hurricane Dorian continues to grow and intensify, we are preparing all available state resources," DeSantis said in a statement. "We will continue to receive constant updates from state agencies to ensure all available resources are being utilized. I encourage all Floridians to continue to monitor updates and to heed all warnings from local officials."
County officials declared a local state of emergency at 8 a.m. August 30. On August 29, DeSantis expanded his state of emergency to include all of Florida's 67 counties.
Residents stocked up on food, water, gas and other items at local grocery stores and businesses to prepare for a possible power outage during the hurricane, which could last days or several weeks. Several county businesses and government offices closed on Friday; school officials announced classes would be cancelled Tuesday, Wednesday and Thursday.
List of  'Wave 1' shelters – 
Fellsmere Elementary, 50 N. Cypress Street
Sebastian River Middle School, 9400 County Road 512
Vero Beach Freshman Learning Center, 1507 19th Street,
Oslo Middle School, 480 20th Avenue Southwest
**SPECIAL NEEDS SHELTER**
Treasure Coast Elementary School
8955 85th Street
Sebastian, Florida 32958
Pre-registration required:
Call 772-226-3900 for information.
**PET-FRIENDLY SHELTER**
Liberty Magnet School
6850 81st Street
Vero Beach, Florida 32967
Call 772-388-3331, Ext. 10
for information
This story will be updated.