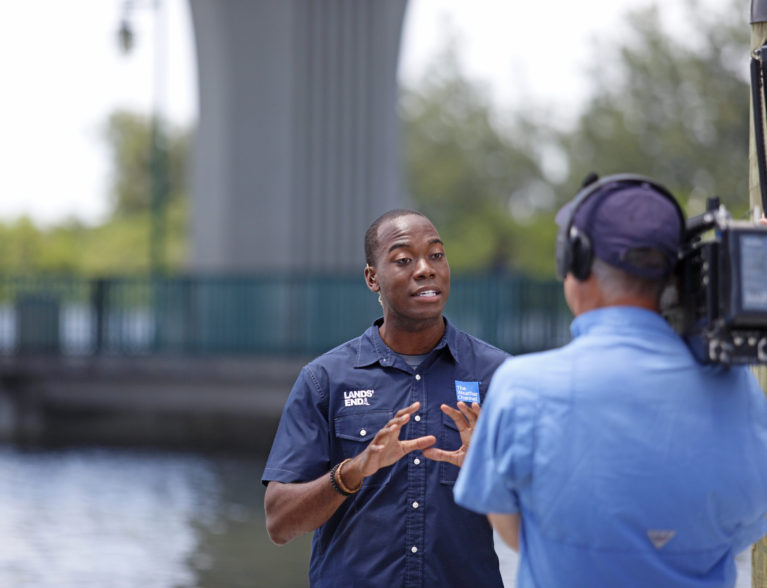 Updates:
*As of Monday morning, Hurricane Dorian was downgraded to a Category 4 storm.
*As of Sunday, County plans to open up shelters, issue evacuations and curfews and were back on.
Earlier story from Saturday:
With tropical storm force winds from Hurricane Dorian expected to possibly sweep across the county in the coming days, Riverside Cafe owner Ellen Lane said she will try to serve up food to patrons as late as possible.
"We're going to stay open as long as we're allowed to because we want everyone to have some place to go," Lane said. Tropical storm force winds from Hurricane Dorian, a Category 4 storm, were already expected to hit Indian River County Monday or Tuesday.
But, in the days leading up to the storm, there was a visitor who caught the attention of the small dinner.
The Weather Channel's Meteorologist Tevin Wooten spoke to Lane and Chef Brandon Howard Saturday about their plans to protect the eatery from Dorian. Residents who had finished their hurricane preparations flocked to Riverside Cafe during the sunny afternoon.
"We'll start bringing furniture in from outside once the mandatory evacuation is issued," Lane said. "Traffic has been busy today because of the hurricane. People are getting in their last minute meals from restaurants (before they close)."
Tevin Wooten talks to owners of Riverside Cafe in #VeroBeach about their preparations for #HurricaneDorian. pic.twitter.com/CK57zZWnDH

— Nicholas Samuel (@JournalistNickS) August 31, 2019
Saturday evening, emergency officials put their county plans on hold as Dorian's path was predicted to shift northeast near or just offshore off the coast. As of 6 p.m. Saturday, there were no current plans for shelter openings, bridge closings, curfews or evacuations.
That could change, depending on where Hurricane Dorian heads next. The Riverside Cafe, which opened in 1993, has had its own battles with hurricanes in the past.
Lane said Riverside Cafe has had flood damage to docks from previous hurricanes, including Hurricane Matthew in 2016 and Hurricane Jeanne and Frances in 2004. Lane said the restaurant has wooden planks on the windows to keep them in place.
Lane said she has sandbags ready to put down to prevent flooding at the eatery.
Lane and her husband, David Lane, took ownership of Riverside Cafe in 2008, according to its website. The Vero Beach couple have no plans to evacuate and will hunker down when Hurricane Dorian arrives.
"Our home is already done. We brought everything inside and we have hurricane impact windows," Lane said.
Meteorologist: Dorian track not set in stone
Hurricane Dorian, a 'catastrophic' Category 4 storm with 150 mph winds, shifted slightly northeast overnight. Dorian was expected to slow down and curve north near or just offshore off the coast, weather officials said.
Saturday, Dorian was moving west at 8 mph. Forecasters said Dorian's current track has it staying offshore so much that county residents might only experience tropical storm force winds and not hurricane force winds.
But, Wooten said the track is not set in stone. Wooten, who taped a segment in the sunlit Riverside Cafe and by the dock, offered a caution about Hurricane Dorian.
"Residents should still board up. Take it seriously," Wooten told Vero News. "We can't control hurricanes. With it being so slow, a wobble one way or another would be devastating."
The Weather Channel had five reporters broadcasting from different areas on Florida's east coast. Wooten was broadcasting in Vero Beach, Jim Cantore in Stuart, Felicia Combs in Orlando, Alex Wallace in Boca Raton and Mike Seidel in Melbourne.
It was unclear how long The Weather Channel will stay in Vero Beach.
"The storm is the boss," Wooten told Vero News. "We also can't put our lives in danger."
Wooten advised coastal residents living in Georgia and South Carolina to begin making hurricane preparations. Residents in Vero, Wooten said, are taking their hurricane preparations seriously.
"It's a culture here. Businesses are boarding up," Wooten said. Details on when the Weather Channel was last in Indian River County were not available.
The Weather Channel Cameraman Austin Anderson recalled coming to Vero Beach in 2004 to cover Hurricane Frances. Anderson said the damage to the area was devastating.
"A number of places were hit hard. The storm surge flooded out businesses and destroyed mobile homes," Anderson said. "It was a big storm, growing with intensity."
Oceanside businesses prepped for Hurricane Dorian
Several businesses along Ocean Drive were boarded up Saturday afternoon, including the Ocean Grill.
The Ocean Grill, built by the late Waldo Sexton in 1941, sustained heavy roof damage from 2004's Hurricane Frances, along with other oceanfront buildings. Sexton's grandsons and great-grandson were putting up plywood on the windows and doors at the restaurant, which closed Friday.
"We're hoping for the best, but preparing for the worst," said Bobby Sexton, President of Sexton Inc. The Sexton's also boarded up Countryside Citrus and GT Rhodes Menswear, two other businesses located in Sexton Plaza on Ocean Drive.
Down the street at The Historic Driftwood Resort, Assistant General Manager Amy Raymond said the resort will board up if an evacuation is issued. When all the patrons leave, which was expected to be Saturday morning, the employees will start boarding up the business for the hurricane.
Sexton also built the resort, which opened in 1937, and Waldo's Restaurant, which opened in 1947, Raymond said. Both buildings were added to the U.S. National Register of Historic Places in 1994.
Photos by Kaila Jones
Tevin Wooten, an on-camera meteorologist for the Weather Channel television network, reports live from Riverside Cafe in Vero Beach, Fla., August 31 2019. [Kaila Jones/32963]
Tevin Wooten, an on-camera meteorologist for the Weather Channel television network, reports live from Riverside Cafe in Vero Beach, Fla., August 31 2019. [Kaila Jones/32963]