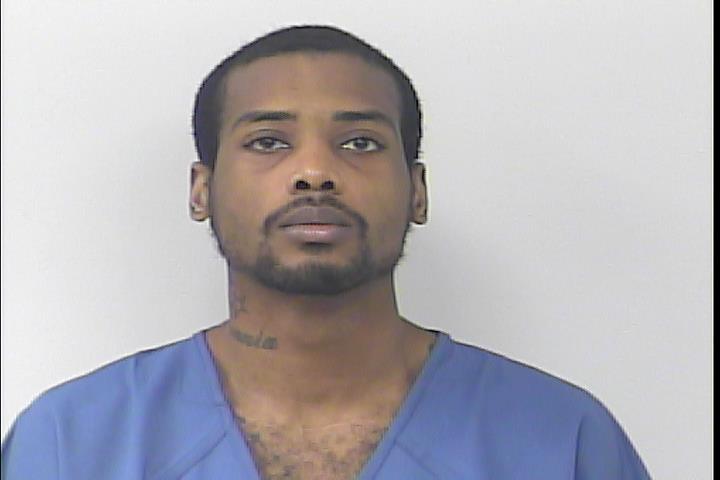 A 29-year-old Vero Beach man faces additional charges -including second-degree murder – in connection with the 2017 death of a woman found in a burning car in St. Lucie County, records show.
Prosecutors filed charges of second-degree murder, grand theft of motor vehicle and second-degree arson against Pierre Lamaar McEwen. McEwen, of the 800 block of 22nd Street, remained at the St. Lucie County Jail Friday without bond.
In June, McEwen was charged with several felonies after authorities connected him to the death of Brandaris (Brandi) Diandra Johnson, 25, Vero Beach. Those charges included first-degree arson, destroying or tampering with evidence, failure to report a death to medical examiner and criminal mischief damage to property.
The criminal mischief charge was later dropped, though the reason was unclear, court records show.
Deputies said McEwen was the last person to call Johnson on Oct. 25, 2017.
Surveillance footage captured McEwen buying two gas cans, gas, and a lighter at nearby stores the day before officials found Johnson's body, reports show. Deputies said Johnson went to McEwen's apartment the day before her body was discovered, and never left.
Shortly before 1 a.m. Oct. 26, St. Lucie County deputies and fire rescue crews responded to a white Hyundai Sonata fully engulfed in flames at Blind Creek Beach access area, in the 5400 block of Ocean Drive. The area is on south Hutchinson Island.
Deputies found a body burned beyond recognition in the back of the vehicle. Through dental analysis, deputies identified the remains as Johnson.
Medical examiners previously said there was no soot inside the woman's body, leading them to think she died before the fire, reports show. The report did not state what caused Johnson's death.
Johnson did not suffer from any known fatal diseases and had no drugs or alcohol in her system when she died, medical examiners said. Her obituary showed she enjoyed traveling, playing video games, reading books and going shopping.
Johnson attended schools in Hillsborough County, her obituary shows.
The car where Johnson's body was found was intentionally set on fire, a state fire marshal ruled. Authorities then launched an investigation.
Deputies reviewed Johnson's phone log history and noticed one of her numbers was used for escort advertisements, reports show. Deputies traced a phone, belonging to McEwen, that texted Johnson more than 30 times several days before her death.
Deputies spoke with McEwen several times in November 2017. He denied knowing Johnson or communicating with her, reports show.
Law enforcement officials found a black .38 caliber revolver hidden in a zip lock bag inside the laundry room of McEwen's apartment complex, authorities said. Johnson's mother identified the gun as the same weapon Johnson often carried in her purse, reports show.
Deputies used Google's Law Enforcement Request System to trace McEwen's locations around the time of Johnson's death. The system showed McEwen was near Blind Creek Beach, the area where Johnson's body was found, about 30 minutes before emergency crews responded to reports of an arson.
Deputies arrested McEwen. The circumstances surrounding Johnson's death remains under investigation.