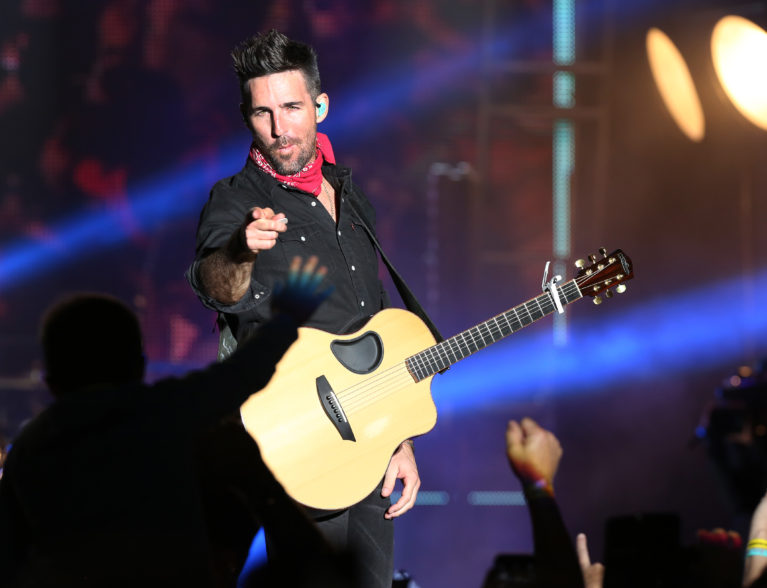 Photo by Leigh Green
There's nothing like a hometown superstar to bring out the best in Vero Beach. Jake Owen, Vero's native born Platinum-certified recording artist, drew enthusiastic fans from around the country when he visited last weekend, bringing along a few of his country music friends to join him for three packed weekend events. Monies raised at the event will benefit charities funded by the Jake Owen Foundation.  
On Friday evening, event sponsors were treated to a VIP reception and performance at the Vero Beach Country Club. Several hundred guests, many with personal ties to Owen, partook in an impressive spread of hors d' oeuvres and free flowing drinks while mingling with celebrities such as NASCAR driver Kevin Harvick, pro golfers John Daly and Ken Duke, and country music sensations Chris Lane and Morgan Wallen. Bidding was fast and furious at the silent auction tables and more than $100,000 was raised through four live auction items.
Owen took to the stage amid a roar of applause and expressed his gratitude to the community for their support. PGA golfer Ken Duke presented Owen with a check for $30,000 from his Ken Duke & Friends Pro Am Tournament.   Owen and his million-dollar smile wooed the crowd with easy banter and shared the spotlight with some up and coming artists.
In a touching tribute, Owen dedicated his song 'Journey of Your Life' to his lifelong friend and beloved Vero Beach resident, Ace Cappelen, who recently passed away.
"Ace's grandson, Ryan, and I have been friends since kindergarten," said Owen. "I spent countless hours with Ace, who taught me valuable life lessons along the way. This song is for you Ace. We know you are watching over us from heaven."
Saturday night Owen kicked it up a notch – thousands of notches – at his outdoor concert at the Indian River Fairgrounds. Opening acts included performances by Joe Diffie, Chris Lane, and Morgan Wallen.
Indian River County Commissioner Bob Solari and Asst. County Administrator Michael Zito, surprised Owen with a proclamation designating December as Jake Owen Month in honor of his generosity to the community.
"We're putting Vero on the map tonight!" Owen exclaimed, as the Dish Network live-streamed the performance across the nation, while fans danced and sang in the aisles.  
Singing isn't Owen's only talent.  A gifted golfer, Owen was awarded the prestigious "Arnie Award," named after the celebrated Arnold Palmer, and presented to the most charitable golfers on the course. This weekend's Jake Owen Celebrity Pro Am Golf Tournament at the Vero Beach Country Club showcased the talents of pro golfers John Daly and Ken Duke.
The Jake Owen Foundation was founded in 2010 to provide financial support for children with cancer and other childhood diseases through St. Jude Children's Research Hospital, as well as youth-oriented charities in Vero Beach. The Jake Owen Foundation has raised more than $1.4 million dollars to date for charitable causes and other nonprofit organizations.
Photos by Leigh Green