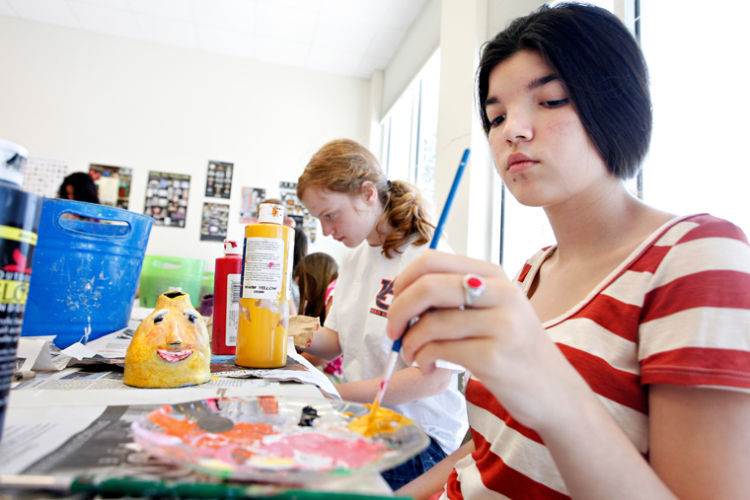 Last month's Children's Art Festival heralded the shift in focus of Vero's arts scene from the grown-ups to the kids. From now until fall, the annual uncluttering of calendars of Vero's cultural institutions makes way for summer camps, with offerings good enough to get the grown-ups envious.
Tops on the list for older kids are music camps, including the Mike Block String Camp and the 10th Annual Treasure Coast Percussion Camp at Vero Beach High School.
The Percussion Camp runs June 16 through 19. It features Mike McIntosh, caption head of the Cavaliers Drum and Bugle Corps. That group of 150 young men based in Rosemont, IL, is renowned for 20 national championships.
Also at the camp is Bob McCormick, principal percussionist with the Florida Orchestra and professor of percussion at the University of South Florida; and Johnny Lee Lane, former professor of percussion at Eastern Illinois University and considered among the top percussion educators in the nation.
For more information, as well as to link to a Youtube video about the camp, go to www.treasurecoastpercussioncamp.com.
For string players, the Mike Block String Camp is an international fiddle camp that runs from June 30 through July 5, with an extension for advanced students from July 5 through 14. Faculty includes nationally known string players and vocalists brought together by Block, the Juilliard-trained classical cellist who plays with Yo-yo Ma's Silk Road Project.
Musical styles covered include Appalachian, Celtic, American folk, and jazz improv. The two-week camp includes an all-day fiddling festival July 5, featuring performances by faculty and students. Visit www.mikeblockstringcamp.com for more information and updates on schedule and location for the all-day festival, which Block promises will be a "world-class event."
The Vero Beach Museum's summer art camp may be the longest camp in Vero, extended for the first time this year to nine week-long sessions from June 16 to August 15. It is also offering for the first time extended day care in the afternoons as well as mornings.
Geared to children ages 4 to 16, each week has a theme that extends to programming for all ages. In the first session for example, while the kindergarteners are making shell sculptures, the teenagers are designing art to help protect the environment. Another session, called Selfie Studios, engages little ones with face paint and photos while the older kids use their photos in collage and mosaic art. The weeks will wrap up with a group show-and-tell of all the campers.
Parents can customize the camp schedule according to their kids' needs, with separate morning and afternoon classes plus an optional supervised lunch and before-and-after-camp day care from 8:30 a.m. to 5 p.m. Visit www.verobeachmuseum.org.
Meanwhile, at Riverside Children's Theatre, the summer camp program includes Rascals Revue, an all day, two-week camp for 8- to 12-year-olds who put together a show of pop songs, performed when the camp ends. The same age group can return July 7 to take part in a film-making class that includes writing a script, developing a storyboard for each required shot, and then acting out the scene.
There is a half-day camp for very young children – ages 4 to 7 – that includes crafts as well as acting, singing and dancing. Each week is different so kids can sign up for more than one.
For the oldest kids, the weeklong Teen Intensive teaches kids how to create a drama without sets or costumes. This year, RCT is staging Disney's Mulan Jr. If the kids want to continue with the project in the fall, they can opt to return to rehearse for the Junior Theatre Festival in Atlanta in January. Auditions for the Teen Intensive took place at the end of April, but there will be another audition in late fall for the theater conference.
RCT also offers Dance Boot Camp for children 6 to 10 years old. Courses include tap, jazz and ballet.
For advanced dancers, Riverside Theatre is presenting its third Summer Dance Intensive, featuring LA Contemporary Dance Company. Along with participating in ballet technique and modern dance classes, the students will be working alongside company members to develop pieces to perform together at Riverside Dance Festival. Auditions in person and by videotape have been ongoing and space by now is very limited, but those interested in being part of the festival can go to www.riversidetheatre.com.
Riverside Dance Festival runs Aug. 4 through 17.