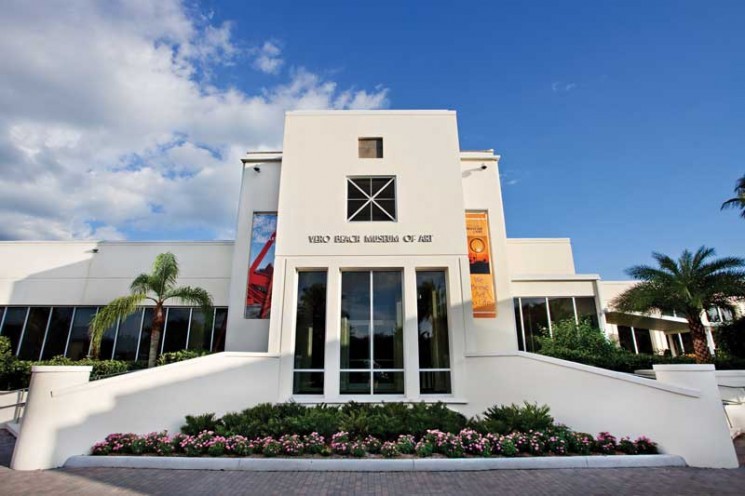 At the entrance of one of the main galleries of the Vero Beach Museum of Art, four amorphous vinyl blobs slump like overstuffed guests at a low-slung table. Before them, like placemats, are primary colored trays.
But the food at this playful feast is for thought. The apps on the menu, while inedible, are just as enjoyable – and hopefully, addictive.
The colorful scene is not a sculpture installation: these are beanbag chairs and plastic-clad iPads, pre-loaded with a carefully curated collection of art-related activities.
Here, a very unserious art experience is taking place, as guests of all ages busy themselves making virtual pottery, sketching with a fingertip, or searching a painting for hidden details.
The museum staff calls this spot the smArt Zone. Over the summer, they are hoping to recruit tech-savvy high school kids – smArtists – to help out. Those same kids, dedicated students who participate in the museum's after-school program, Art Lab, vetted the apps before they were downloaded.
"We've trained our security staff to keep the iPads charged," says Sophie Bentham Wood, director of marketing and public relations for the museum. She is also the designated "techie," charged with keeping the museum current with not just technology but social media.
The brightly-colored college-dorm like zone, paid for with a grant from Quail Valley Club, stayed packed during the recent Children's Art Festival that drew record crowds – 3,000 in a five hour event.
One of the apps is put out by an artist and children's book author, Walter Wick, whose works will be the subject of a Vero museum exhibit this summer. Huge photographs from his "I Spy" and "Do You See What I See?" books will be on display, as well as the elaborately detailed models he uses for the shoots.
The museum is also sponsoring a contest in schools going on now for children to create their own Walter Wick-style piece, with corresponding riddles to find objects within the artwork.
The contest wraps up May 31. Art teachers from kindergarten through fifth grade have application forms. Three winners from each grade level will get a signed book and get to meet Wick in person at the museum for a tour of his work.
With four iPads and another four on order, the smArt Zone is just one of a number of ways the museum is using technology to entice a new generation of museum-goers.
"We feel that as a museum our job is to inspire people to be more creative," says Shanti Sanchez, the museum's youth programs manager and a longtime teacher. "Schools are emphasizing STEM – science, technology, engineering and math. Well, we want to turn STEM into STEAM by adding the A for art."
The use of the iPads within a gallery setting is enabling visitors to not only see art from other museums but to create it, says Bentham Wood. "You can throw a pot, paint it and fire it, sell it, print it all out and collect it," she says. Moments later, she herself becomes completely engrossed in creating a Picasso-like sketch of a horse with another app.
Roused from her effort, she goes on to add an important component of the new space, speaking as the mother of a 5-year-old: The zone gives visitors with kids a place to park them while they tour an exhibit, knowing they are still engaged in art.
Even the "I Spy" style apps and puzzles made of works of art serve a function developing future museum-goers, Sanchez says.
"It's important to give people more of an understanding of what it is to see art," says Sanchez. "You're training your eyes to see how a work of art is put together, what it means to think about and engage with it. They can take that from what's on the walls, but they can also take it from a puzzle of the Mona Lisa when they look at the details to put it back together."
Another effort is underway to expand the adult experience at the museum. With luck – and a state grant, by as early as next season, a new cellphone-directed tour could be launched with the touch of a keypad. While Bentham Wood cautions the long-wished-for project is "still in research mode," it would mean visitors would finally have access to audio tours. The latest improvement over rented headsets, cell phone users simply dial a number on their phones corresponding to a particular work of art or exhibit, allowing them to control how little or how much they want to hear as they navigate the museum's displays.
"I came on board very much in support of expanding family and children's programs and technology is one way of steering that," says Bentham Wood.
With technology in constant development, the museum wants to be sure not to install a system that is quickly outdated. One problem, she says, is getting reception in all the museum's nooks and crannies, since the building was built long before the internet.
"It all comes down to your bandwidth," she says. "The biggest challenge with all of this is the structural building you are. If you had a very old museum like the Louvre, the access points are hard to find.
"We want to make sure that when we do launch these, they have a long lifespan and aren't just put out there and then never used again. Although it would be ever-changing. Our 21st century audience is expecting that change."
Bentham Wood also hopes to offer mobile websites "where you actually dial in and have a tour of the museum after you've visited as a way of extending the museum environment.
"We always think about what our audiences are looking for. It's a different experience from a docent."
Meanwhile, Bentham Wood concerns herself with attracting those visitors in the first place, through among other things, a constant stream of updates on social media, uploaded whenever a scene or activity strikes her as post-worthy. The museum's Twitter account has 450 followers who will come across her musings or suggestions anytime they check their feed.
"If I walk through the museum – which I do all the time – and I see something that catches my eye, like the recent student exhibit, I'll take a shot of something I like and I'll tweet about it," says Bentham Wood.
During the Children's Art Festival, as journalists covering the event were tweeting about it, Bentham Wood was re-tweeting. "That way you can keep the conversation going."
The museum's hashtag is #VBMA. Once a museum-goer opens a Twitter account, it takes only seconds to enter "search nearby," and discover someone tweeting about, say, a food truck selling donuts at Riverside Park.
This Saturday is National Art Museum Day, when the museum offers free admission and family activities. Bentham Wood will link the museum to the national effort by tweeting, and at the same time include the hashtag for the Riverside Theatre Fiesta and the Buggy Bunch group's KidsBlast, both going on the same day. That way, the message will go out to all three groups, in addition to the national effort.
"A lot of the teenagers prefer Twitter to Facebook, because all the old people are on Facebook," says Sanchez.