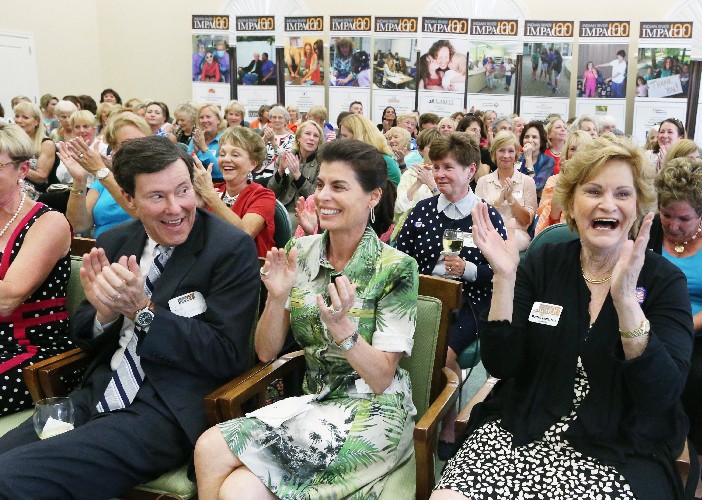 The Ocean Research & Conservation Association (ORCA), the Indian River Charter High School, the Florida Institute of Technology Scott Center for Autism Treatment, and the Shining Light Garden Foundation are all $100,000 richer, thanks to the 433 philanthropic members of Indian River County Impact 100.
With smiles of excitement, the ladies gathered at the Oak Harbor Clubhouse Thursday afternoon, eager to cast their votes and determine which four of the seven nonprofit finalists would each be receiving a $100,000 transformational grant. They would join the ranks of 15 previous programs receiving grants in the areas of family, education, health and wellness, and enrichment and environment.
The remaining three finalists, Sebastian Charter Junior High School, Old Vero Ice Age Sites Committee and Pelican Island Audubon Society didn't leave empty-handed either – each was awarded an $11,000 grant.
Members have compassion as their chief commonality, but otherwise like to mix it up, with retirees and working women, snowbirds and permanent residents, Vero old-guard and an influx of new movers and shakers, each contributing $1,000 to fund impactful grants.
"Women from all walks of life come together for this good cause," said Ellie McCabe, whose Women in Philanthropy initiative was the impetus for this local Impact 100 chapter.
With this year's allotment, Impact 100 will have distributed a milestone $2 million to Indian River County nonprofits – the power of women at its very best.
Before the finalists made their presentations, board president Linda Knoll recognized Wilmington Trust's sponsorship of Impact 100 events since its 2008 inception, and thanked all the hard-working members who volunteer on the board and numerous committees.
"We have so much to be proud of. The local nonprofits tell us that they consider the Impact 100 grant the Good Housekeeping Seal of Approval," said Knoll. "And it's not just the money that they receive for these high-impact transformational projects. It's also the exposure to our members and the partnership that we form with these organizations that lead them to better practices and greater accomplishments."
An extensive vetting process began long before this Annual Meeting, with a grants committee, chaired by Suzanne Bertman, reviewing applications and interviewing candidates to ensure the finalists' programs will be transformational and sustainable. As efficient as they are generous, the all-volunteer board has continued to fine-tune its procedures, adding touch-screen voting machines this year, thanks to Leslie Swan, Supervisor of Elections.
ORCA will utilize the grant to develop a Marine Science Education Network to address water quality in the Indian River Lagoon, and teach students to become its stewards. Data from ORCA's Kilroy monitoring network will be streamed directly into Indian River County classrooms, using advanced digital media to create virtual field trips and enhance curriculum.
"The Marine Science Education Network will revolutionize how STEM [Science Technology Education and Math] is taught in Indian River County and it will contribute to restoration of the Indian River Lagoon. That's a win-win," said Dr. Edith (Edie) Widder, ORCA CEO.
The Charter High School will shelter its formerly uncovered central courtyard with a motorized, weather-resistant dome, allowing it to be utilized as a versatile performance and community venue in all types of weather.
"We are the only A+ rated high school in our community. We are the only school that has a performing arts program. There is a connection," said Michael Naffziger, Theatre and Technical Director. "Science proves that kids that interact with the arts do better in school. Our school is saturated in the arts."
FIT, which currently operates the Scott Center for Autism Treatment in Melbourne, will establish a center for autism in Vero Beach, where resources are currently unavailable. The hope is that by treating patients early, the possibility of recovery from symptoms of autism and related disorders can be increased.
"People have asked for a center here," said Dr. Michael Kelley, Scott Center Executive Director. "They can't make that trip on a daily basis to get that kind of therapy."
The Shining Light Garden founded by Joel Bray utilizes an army of volunteers to grow and donate wholesome farm-to-table vegetables and flowers to charitable organizations, churches and individuals in need – "the homeless, hungry and forgotten." The Garden has already delivered 11,000 bushels since 2010, and the grant will allow a 50 percent production increase.
"The help of this grant will enable us to become more efficient and therefore more effective, to reach even more people than we currently do now. The benefits to our county are enormous," said volunteer spokesperson Cynthia D'Amico.
Sebastian Charter Junior High School sought to fund the purchase of 145 laptop computers and other related equipment to better integrate technology into its curriculum.
The Old Vero Ace Age Sites Committee hoped to fund the analysis, preservation and documentation of artifacts, including human, animal, plant and other remains, currently being excavated at the Old Vero Ice Age Site.
The Pelican Island Audubon Society sought to fund equipment and furnishings for an Audubon Center under construction near the Oslo Riverfront Conservation Area to create programs to educate residents about the ecology of the Indian River Lagoon.
Judy Peschio was named the 2014-15 board president, with Rebecca Emmons serving as president-elect. Additional information is available at www.impact100ir.com.