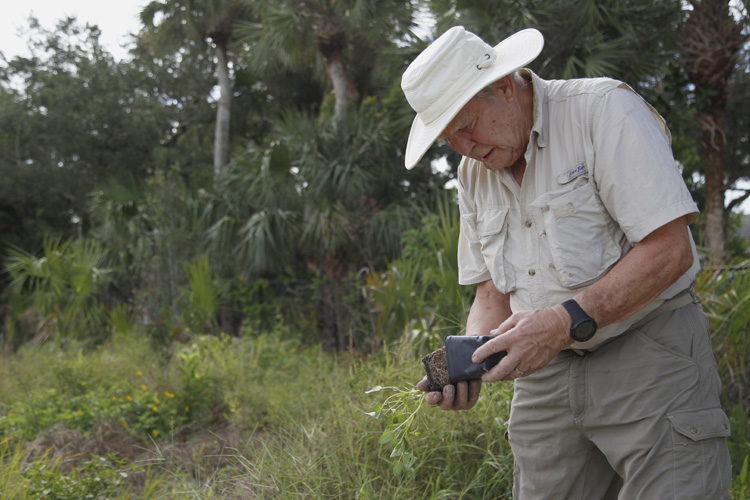 To demonstrate the water-saving and pollution-controlling benefits of native plants, Pelican Island Audubon Society President Dr. Richard Baker offered county commissioners Tuesday a deal to install two small gardens free on the east and west sides of the main entrance to County Administration Building A in Vero Beach.  Audubon would pick up the entire $4,500 cost of hiring a landscape architect to design and build the botanical showcase, and county public works would take over tending it after a six-month 'warranty' period.
But commissioners weren't exactly sold on the idea, and asked Baker and his hired architect Stephanie Dunn of Fort Lauderdale to present them with a plan at a future meeting for re-landscaping the east side of the main walkway and the site of the old administration building opposite the garden club, leaving the west side of the main entry as it is. 
"I'm not fond of the front threshold thing," commission chairman Joseph Flescher said of Audubon's original proposal.  "I think the site selection is off-balance." 
Baker agreed to bring back a new plan at a later meeting
"We want to have model gardens," he said.  "We want people to see what you can do with native plants.  There will be drawings.  You'll have a veto on the plants we're going to put in there."
Audubon has set a goal of planting 100,000 native plants around the county over the next 10-15 years as a way of building new homes for birds and replacing water-slurping lawns with water-conserving trees and shrubs.  So far, the organization has distributed more than 7,500 natives across the county, including at Vero Beach, Sebastian and Fellsmere city halls, and several parks and conservation tracts, homeowner associations, and private homes.