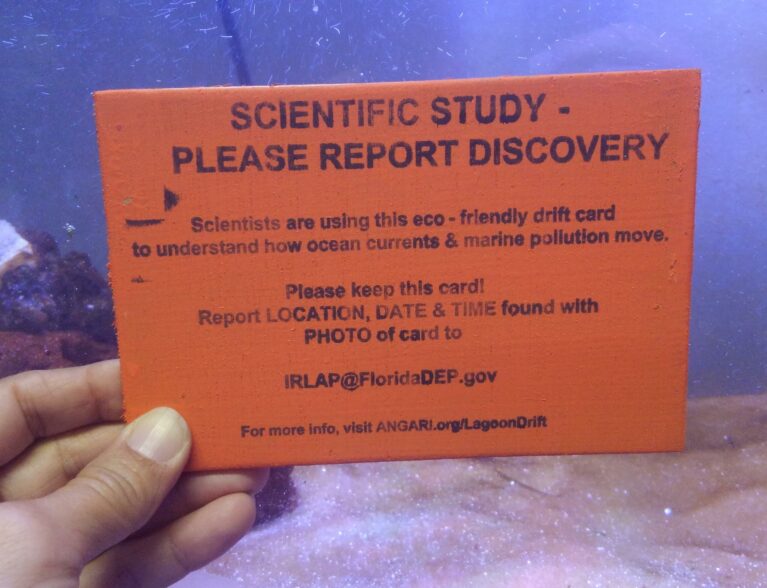 Boaters, kayakers and waders in the Indian River Lagoon from Vero Beach north to Melbourne should be on the lookout for floating orange biodegradable cards this weekend.
On Saturday [Nov. 2],  researchers from the ANGARI Foundation based in West Palm Beach and partners including Vero Beach's Environmental Learning Center, Fort Pierce-based Ocean Research and Conservation Association (ORCA) and Indian River Lagoon Aquatic Preserves will release 40 of the cards simultaneously at ten sites on the Indian River Lagoon, Lake Worth Lagoon and Intracoastal Waterway.
The object is to gain new insights into the way marine debris moves in and around Florida's coastal waterways, according to the ANGARI website.
Anyone who finds a card is asked to retrieve it and send an email to the address printed on it.
The ANGARI Foundation, which supports marine and environmental research and education, has been conducting drift card studies for several years in Lake Worth Lagoon and Biscayne Bay near Miami.  Now, that research is being expanded north to 32963 and beyond.
The cards themselves are made of untreated plywood and decorated with non-toxic paint.  They should begin to degrade in the water after two weeks, according to ANGARI.