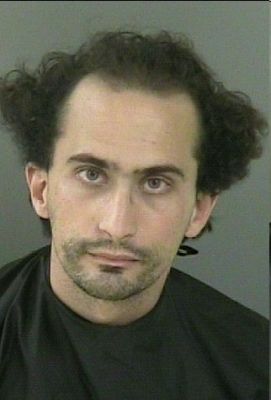 SEBASTIAN – The Sebastian Police Department has arrested the son of a woman who was critically injured in an explosion over the weekend.
According to police, the woman's son, Andrew Hallock, 27, had been using his mother's shed to build improvised explosive devices.
The woman, identified as 63-year-old Nancy Galuppo of Shakespeare Street, was air lifted to Orlando Regional Medical Center Sunday afternoon after one of Hallock's devices exploded. Galuppo is in critical condition.
The Sebastian Police Department hopes to speak with Galuppo today, according to police spokesman Officer Steve Marcinik.
Brevard County Sheriff's Office Bomb Squad responded to the incident location initially to investigate for additional improvised explosive devices and then to make the incident location safe for further investigation.
The investigation led to Hallock, Officer Marcinik said.
Hallock was recently removed from his mother's home due to her concerns regarding her son's alleged activities.
Hallock currently resides at the 600 block of Mulberry Street in Sebastian, where detectives located a second improvised explosive device.
The St. Lucie County Sheriff's Office responded to that location where a device was removed and later detonated at the Sebastian Municipal Airport in the very early hours of Monday morning.
Detectives and agents with the department of ATF & Explosives and the State Fire Marshall are not identifying the specific material used, Officer Marcinik said.
Hallock was cooperative with investigators and was arrested for Making a Destructive Device.
He is currently being held at the county jail in lieu of $20,000 bail.
Brevard County Bomb Squad Agents and Sebastian Police Detectives are back at the crime scene, which had been secured by an officer during the night to continue their investigation.
Detectives stated that the incident is still an active investigation and additional charges are possible.