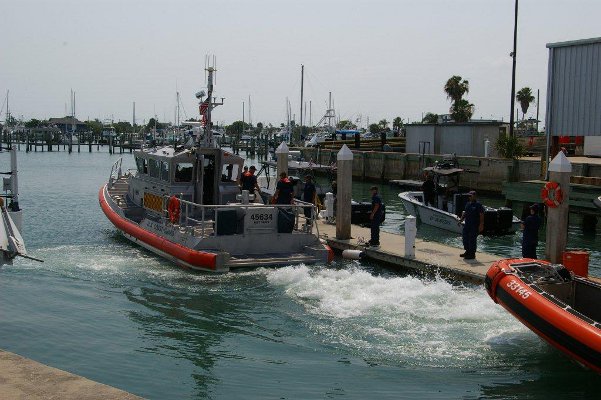 INDIAN RIVER COUNTY – The Coast Guard Station Fort Pierce was having its annual Open House, with people enjoying the sunny warm day exploring the opportunity to board the cutters and rescue boats. Suddenly the clarion horn blared then the loud speaker announced – CLEAR THE PIERS ALL PERSONS ON THE BOATS EXIT IMMEDIATELY.  An emergency situation had been declared.
Saving lives quickly became more important than public tours of the ships.  An aircraft was in trouble, in danger of going into the ocean, and the Coast Guard needed to respond. The 47-foot rescue craft was immediately dispatched with the able crew prepared for any event.Commander David Ladomirak BSN3 immediately entered the radio command room and directed operations.
Fortunately, for all concerned, the incident ended well as the plane was able to make it back to the airport without harm. Boats being dispatched and returning without having to rescue people are the types of happy endings that everyone desires.
Safety and saving lives are the primary missions of the Coast Guard.  Semper Paratus, or Always Ready, is more than just a motto; it is the guiding credo of the Coast Guard.