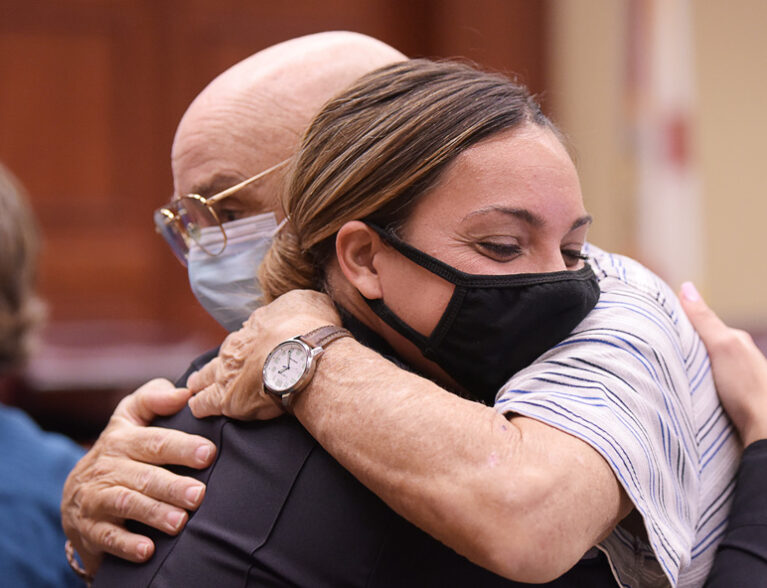 VERO BEACH — Amanda Wilson shed tears as she listened to the 911 calls that captured the moments last month when a jogger suddenly collapsed on the side of the road.
"He's not breathing," Wilson could be heard saying in a call to 911 dispatch. "His pulse keeps going in and out."
09-20-2020_07.36.40.8a_-_40012_-_911-1_(Voice) (2)
Wilson didn't know Anthony J. Russo, but said she felt compelled to help Russo when she saw him fall face-first into the grass. Wilson, who was a motorist driving by, and Vero Beach police used CPR and an automated external defibrillator on the lifeless body of Russo, who suffered a heart attack, officials said.
The quick actions from Wilson, a principal at Renaissance Charter School at Tradition in Port St. Lucie, and officers saved Russo's life.
"There's hardly any words I can say," Russo said Friday when he was reunited with Wilson and Officers Rich Chimenti and Kelsea Marty during a special ceremony at Vero Beach City Hall. "I love her for staying and taking care of me."
Russo hugged his rescuers as his wife, Marilyn, 72, Vero Beach, and relatives looked on. The Vero Beach couple have been married for 50 years.
"There's hardly any words I can say," Jogger Anthony J. Russo said of Amanda Wilson, the motorist who pulled over, did CPR on Russo before police arrived. "I love her for staying and taking care of me." #VeroNews pic.twitter.com/IRwHvu9UA6

— Nicholas Samuel (@JournalistNickS) October 30, 2020
Police Chief David Currey presented Wilson with the Citizen Life Saving Award during a news conference in the council chambers. The commendation recognizes Wilson's "prompt and unselfish act of rendering aid and assistance to a fellow citizen that resulted in saving a life."
"I felt like that's what anybody would do," said Wilson, 34, Vero Beach. "I thought what if he were my family member."
"I felt like that's what anybody would do," said Amanda Wilson, the motorist who performed CPR on Russo before @VeroBeachPD arrived. "I thought what if he were my family member." #VeroNews pic.twitter.com/7pK7rVGIGd

— Nicholas Samuel (@JournalistNickS) October 30, 2020
Police recently presented Chimenti and Marty each with the Life Saving Medal for their actions. The award is given to officers who save lives on or off duty with prompt action and disregard of personal safety.
"We can't do it without our community," Currey said. "We work together and solve problems together."
Routine goes wrong
Russo's family were in attendance at city hall as they watched police dashboard camera video of the Sept. 20 incident that happened at Club Drive and Marigold Lane. Russo, 72, Vero Beach, had went for a jog, a routine he does every Sunday morning at 6:30 a.m.
The sky was cloudy and the temperature was 78 degrees with 93 percent humidity, National Weather Service in Melbourne Meteorologist John Pendergrast said. There was light southeast winds.
Russo was about an hour into his workout and only 10 minutes away from his truck when the unthinkable happened. Wilson, driving on her way to the boardwalk to workout, saw Russo fall over.
"Oh my gosh. He was out jogging or walking and he just fell," Wilson told 911 dispatchers.
Wilson said she stopped her car on the side of the road to check on the man. She tried to revive Russo – who turned blue in the face – several times but saw that he was unresponsive.
Russo also did not respond to pain stimulus.
Wilson and other bystanders who came up to the scene turned Russo over on his side to help him breathe. But, Russo's breathing was sporadic, not normal, 911 records show.
The 911 operator instructed Wilson on how to conduct chest compressions on Russo. Police arrived within minutes and took over CPR.
Wilson stayed on the phone with dispatchers as officers rushed in. Police dashboard camera footage showed flashing lights from patrol vehicles illuminating the street signs.
Russo's body could be seen just underneath a street sign.
Officers Chimenti and Marty took out an automated external defibrillator machine from their patrol car, hooked it up to Russo's chest and gave him an electric shock. The defibrillator puts a person's heart back into a normal rhythm, Chimenti said.
Chimenti said every Vero Beach officer has a defibrillator machine in their patrol vehicle.
.@VeroBeachPD Officers Kelsea Marty and Rich Chimenti explain how an automated external defibrillator works. #VeroNews pic.twitter.com/S8muFFIRtN

— Nicholas Samuel (@JournalistNickS) October 30, 2020
The officers then performed CPR on Russo, who eventually regained a steady pulse. Russo was taken to Cleveland Clinic Indian River Hospital for treatment.
Russo said he was hospitalized for at least two weeks as his condition slowly began to improve.
"(CPR) works," Marty said. "I think everyone should know how to do it. You never know when you could save a life. It's extremely important."
Training Heroes
Chimenti said officers regularly receive training in CPR along with crisis and hostage negotiations. Chimenti is Marty's field training officer.
"It was great to accomplish something with him," Marty said. Marty has known Chimenti since she was first assigned to a patrol car.
This is not Chimenti's first time saving a life.
Chimenti and officer Kyle Eder rescued a man who tried to jump from the Alma Lee Loy Bridge in the summer of 2017. Both officers grabbed the man in mid-air after he jumped and pulled him back over the railing.
"We hire good people with character," Currey said. Currey said Wilson exhibits those same characteristics and that her actions were commendable.
This is Chimenti's third life-saving award from the department, and Marty's first. Chimenti has worked for the department for 16 years, and Marty for nearly two years.
Currey said he is proud to be their police chief. Chimenti said he was happy he and Marty assisted in a time of need.
"It was a blessing to help Mr. Russo," Chimenti said.
Photos by Brenda Ahearn