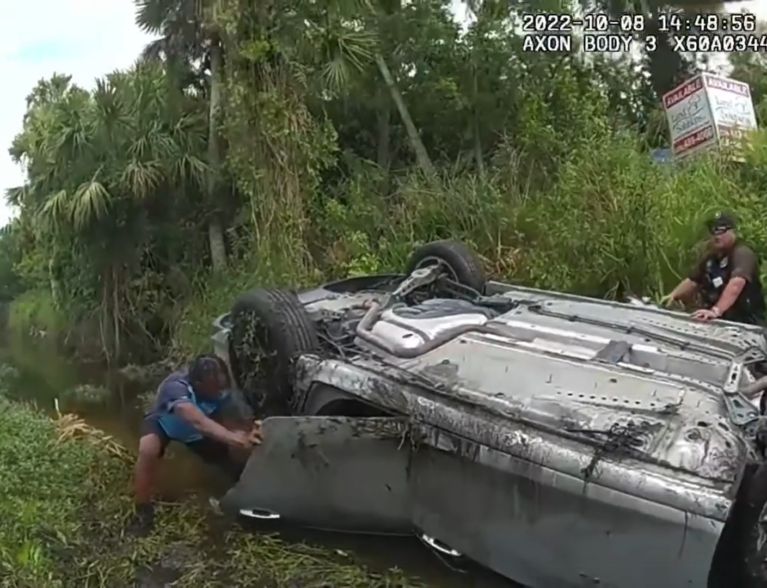 INDIAN RIVER COUNTY — Newly-released body camera footage captured the moment deputies, fire rescue crews and an Amazon delivery driver pulled three people from an overturned car in a canal. The Indian River County Sheriff's Office posted the video Saturday on its agency Facebook page.
At least two women in the car had minor injuries and were taken to local hospitals, sheriff's officials said. The wreck happened shortly before 3 p.m. Oct. 8 at 26th Street and 65th Avenue, north of the Indian River Mall, according to a sheriff's report.
Sheriff's officials released body camera footage worn by Deputy Patrick Newman that showed the sedan on its roof and partially submerged in the water-filled canal. Deputy Dan Whittington initially spotted the vehicle and went to rescue those trapped inside.
"While Deputy Dan Whittington was on his way to an unrelated call, he happened to look over and see a partially submerged vehicle upside down in a canal," sheriff's officials said in a statement. "Deputy Whittington immediately took action and descended himself into the canal to rescue the occupants inside the vehicle."
The unidentified Amazon driver was nearby and waded into the canal to help pull people from the car, officials said. Newman arrived at the scene soon after and assisted with rescue efforts.
Indian River County Fire Rescue crews took the injured to area hospitals.
No further information was immediately available.