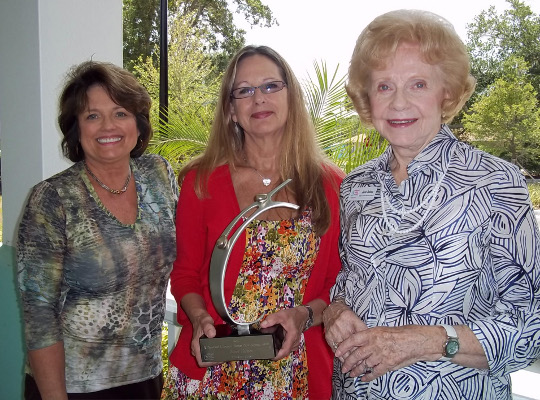 VERO BEACH — During the month of May communities around the country will learn more about the lives of foster children, as this is the time set aside as National Foster Care Awareness Month.
Children's Home Society of Florida, Treasure Coast Division, recently conducted a "Turning Lives Around" luncheon of community leaders to educate and raise awareness on how people can help turn foster children's lives around.
Through case management, counseling and outreach services that are customized to the individual, Children's Home Society of Florida has established a continuum of care and rehabilitation for our society's most vulnerable children and young adults who have experienced abuse, neglect and abandonment and become part of the foster care system through no fault of their own.
During the luncheon one special individual, Mrs. Janet Baines, was recognized with Children's Home Society of Florida's highest honor, the "Dave Thomas Child Advocate Award", for her continuous volunteerism and support for the organization.
"Janet and her late husband, Elliott, have been visionaries for the Treasure Coast Division and provided support in so many ways that it is beyond measure," explained Jan Swink-Huffert, Executive Director of Children's Home Society of Florida, Treasure Coast Division. "They were instrumental in helping us financially with building Baines Hall and the Youth Transition Center so our girls group home, Baines Hall, was named to honor their financial gifts. However this award recognizes Janet's commitment to the foster girls who live at Baines Hall, which will have an enduring effect in their lives for years to come."
Baines has continued to financially support Children's Home Society of Florida and is also one of the organization's most ardent advocates. She is a constant source of help and support to the girls at Baines Hall, visiting them weekly and taking them on numerous culturally enriching field trips that often end with a wonderful lunch.
Many of the girls that reside at Baines Hall had never been in a sit-down restaurant, visited a museum or attended a local event prior to their placement in the girls group foster home. In addition, Baines serves on the Indian River Advisory Board of Directors and rarely misses a meeting or an event.
"Our girls at Baines Hall love Janet and look forward to being with her as much as possible," explained Marta Schneider, Chair of Children's Home Society Indian River Advisory Board of Directors. "She was the obvious choice for our division to name as the 2011 Dave Thomas Advocate of the Year.  She is the ultimate volunteer.  She helps financially, physically and emotionally and is a true mentor to our girls.  We are extremely proud to have her as 'one of us' at Children's Home Society of Florida, Treasure Coast Division."
Baines Hall, located the Vero Beach campus, provides a home for up to 12 girls, ages 12-17, that are currently in the foster care program.  The Children's Home Society of Florida, Treasure Coast Division, which is one of 14 divisions in Florida, serves more than 9,000 children and their families each year in Indian River, Martin, Okeechobee and St. Lucie counties.
Children's Home Society is not a government agency and must rely on the support of individuals, civic groups, foundations and businesses for the funds to give children and young adults the opportunity to be safe, healthy and prepared for life.
For more information, visit www.chsfl.org or call 772-344-4020.