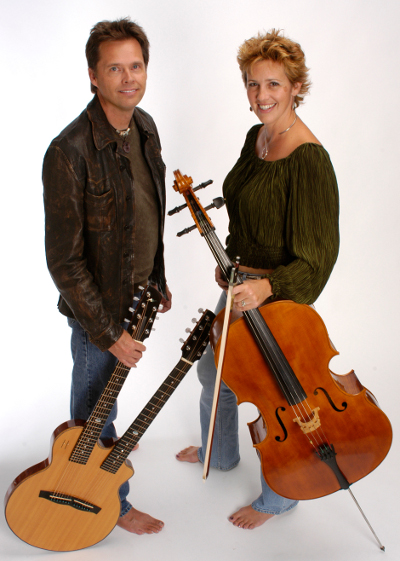 VERO BEACH — The warmth of a studio cellist and the harp-like sounds of a double-neck guitjo aficionado join together in concert presented by the Emerson Center at 7 p.m. on Tuesday, March 29.   Fate has a magical way of bringing people together, and perhaps audiences will believe in that magic when they sit back for 90 minutes of relaxed enjoyment, listening to the sounds of Joe Scott and Hannah Alkire of Acoustic Eidolon.
Joe Scott on double neck guitjo and Hannah Alkire on cello are from Colorado and have graced stages throughout the US, Europe, Australia and Canada.  With nine CDs and a DVD to their credit, these masterful artists continue to captivate audiences throughout the world with their signature "new acoustic" sound and boundless possibilities in blending Celtic, Folk, World & Latin music influences.
The two joined their personal lives after forming their musical alliance and were married in 2001.  The result is a coupling of intricate and passionate music with genuine and engaging stories.
Hannah started playing the piano at the age of four and the cello at age eight. She was classically trained before playing with rock, funk, and alternative groups, and was also a founding member of the Anasazi String Quartet. Hannah stays active recording, and has been involved in numerous projects to come out of the Rocky Mountain region.
Growing up near Boulder, Joe was surrounded by the natural beauty of the Rocky Mountains and a vibrant acoustic-based music scene. He began playing the acoustic guitar at age 12 and by the time he was 14, took up the 5-string banjo and won many contests at regional bluegrass festivals over the next few years.  He has toured the country extensively playing guitar, banjo, mandolin and vocals with the New Christy Minstrels and returned home to Colorado to start the group Wind Machine. Joe now has a Pro Tools HD3 recording studio in their home where he has produced all of Acoustic Eidolon's recordings.
Hannah and Joe draw on many different sources for their creative inspiration.  Each of their songs has a story, often rooted in their own lives or travels.  Their positive outlook and lively-yet-contemplative music often draws out their audience to share their life experience and stories as well, adding to the inspiration that leads this couple in their songwriting.
Concert tickets are $15.
To purchase tickets visit www.TheEmersonCenter.org or call the Box Office at 772-778-5249.