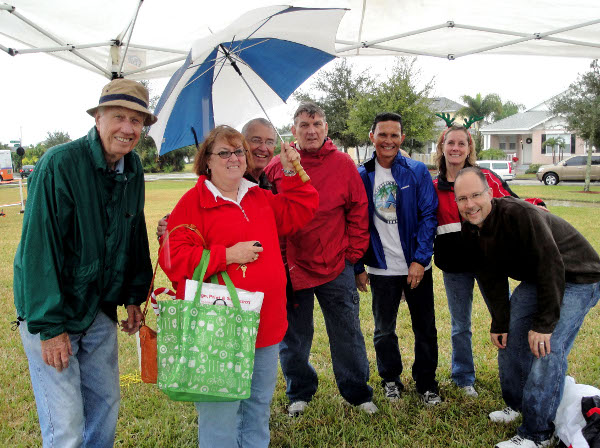 VERO BEACH — Driving rain and the threat of a tornado on December 18 forced the Exchange Club of Indian Foundation to postpone its Second Annual WinnerFest Raffle at the Pointe West Winter Fest.  The Raffle drawing will now be held at 3:00 pm Saturday, February 12, during Aviation Day at the Vero Beach Municipal Airport, 3400 Cherokee Drive, Vero Beach.
The grand prize is a 32GB Apple iPad with Wi-Fi valued at more than $700. Other prizes include a PaperJamz™ band, bikes, Nintendo DSi systems, an Apple 8gb iPod Nano, and other exciting toys and games.
The grown-up prize is a night in the luxurious oceanfront Costa d'Este, a $250 gift certificate from White Orchid Spa at Vero Beach Hotel and Spa, a New Vision Aesthetics treatment, gift certificates for meals at Cobalt, Riverside Café, and Sonya's at Disney's Vero Beach Resort, and a Disney Character Breakfast for Four.  WinnerFest is chaired by R.J. MacMillan.
Chances, available in advance or at Aviation Day, are $2 each, three for $5, or seven for $10. To purchase tickets in advance, see any Exchange Club of Indian River member or send payment to Exchange Club of Indian River Foundation, PO Box 93, Vero Beach, Florida 32961 (include SASE for return of stubs). No purchase is necessary nor does the winner have to be present to win.
Proceeds of the Raffle benefit the Exchange Club of Indian River Foundation's local charities for the prevention of child abuse.
The Foundation's other major fundraiser is the 35th Annual Exchange Club Blue Water Open Dolphin Mania Fishing Tournament to be held Saturday, May 21, out of the Fort Pierce Marina.
Members of the Exchange Club of Indian River will be on hand to distribute small American flags to children as part of its Project GiveAKidAFlagToWave. This program is an Americanism project of National Exchange Club designed to help children cultivate a deeper sense of patriotism and heighten their appreciation of and admiration for the flag of the United States of America.
The Foundation is affiliated with the Exchange Club of Indian River, whose members meet for lunch every Wednesday at Culinary Capers in Vero Beach.
Information:  Call Exchange Club president Andrew Molloy at (772) 473-4416, email WinnerFest@gmail.com, or visit www.exchangeclubofindianriver.org.