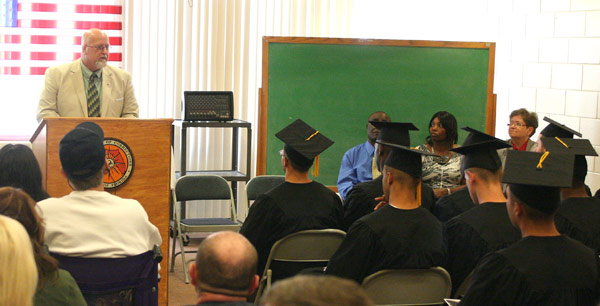 INDIAN RIVER COUNTY — Smiles flashed across the faces of inmates, friends, family, and faculty during a bright moment Wednesday afternoon – graduation.
In the chapel of the Indian River Correctional Institution, 29 inmates received their GEDs. Earlier in the day 21 graduated with vocational diplomas. They "have a great education staff who work in a dangerous environment to try to help the inmates get an education and make sure they don't come back to prison," commented GED teacher Kevin Sawnick.
This is their largest graduating class.
"Each one of you can be successful," said Warden Noel Mercer.
Mercer commended the education staff for the great work they have accomplished.
"We worked hand in hand to make this happen," said Cathy Bradshaw, one of the teachers.
Michael Holloway is the class valedictorian and Justin Fanchek is the salutatorian.
"I appreciate seeing everyone here," said Holloway.
Other inmates not graduating, sat behind them to motivate the graduates and themselves.
"Keep moving forward," said M.J. Boyd, Education Supervisor, closing the ceremony, a quote from Meet the Robinsons.