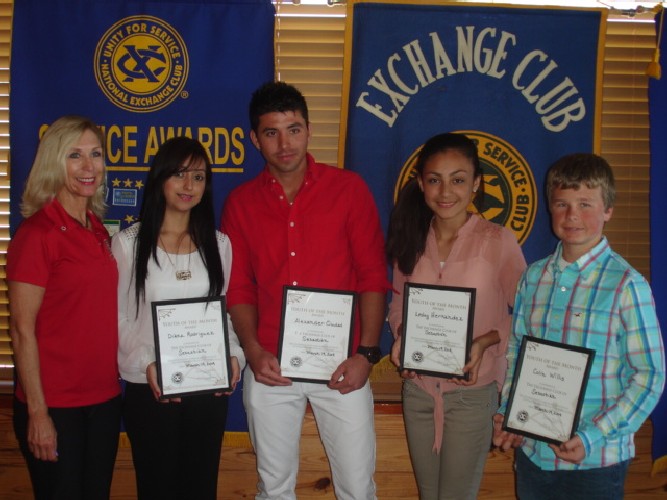 The Sebastian Exchange Club's Youth of the Month awards recognize hard-working pre-high school and high school students who attain high levels of scholastic achievement, community involvement and leadership and daily demonstrate good citizenship both at school and at home.
Honored in March were Lesley Hernandez of Sebastian Charter Junior High School, Colin Willis of Sebastian River Middle School, and Diana Rodriguez and Alexander Ciudad of Sebastian River High School.
 Hernandez, a hard worker, has quickly learned to manage her time effectively. Her work ethic and drive to be an excellent student is apparent in her persistence and intellectual curiosity. A thoughtful young woman, Hernandez is confident with her studies and her peers, and an outstanding student with impeccable conduct and a great attitude. In addition, she is an enthusiastic learner and a great example for her peers. Hernandez hopes be a doctor one day and her teachers believe she is capable of achieving that dream, and that she'll be successful at whatever she chooses to do.
Willis' teachers call him an all-around good person and a hard worker. He is an excellent student with a straight-A average in the IB program and a great role model for his peers. Willis is well rounded, demonstrates leadership qualities and is comfortable in any classroom role. He is a member of the 8th grade band and volunteers many hours of community service, including many on the International Beach Cleanup. He plans to continue in the IB program at Sebastian River High School.
Rodriguez enrolled at SRHS as a 10th grader from Mexico, without knowing English. She was quickly recognized as a hard-working, dedicated student who was persistent in achieving her goals. She has artistic talent and is a polite, kind and respectful student whose work reflects a personal dedication to making sure she gets the most out of school. Rodriguez maintains a 3.68 GPA, taking an IB course and two honors courses. She has been recognized as Student of the Month, is a member of the SRHS Spirit Club, and volunteers at Fellsmere Elementary's Migrant/ESOL Program. She plans to continue her education at Indian River State College and become a registered nurse.
Ciudad enrolled at SRHS in 2010 as a freshman from Cuba, also not knowing English. He demonstrated his courage and determination when, new to this country and school, he inquired about joining the soccer team. Ciudad displays kindness and generosity and actively participates in class discussions involving various cultural differences. He helps classmates appreciate and keep an open mind about cultures in other parts of the world. He is also a mentor for other students who join the ESOL program. Ciudad has learned to balance school, sports, and a job, maintains a 3.45 GPA, and has been accepted to Johnson and Wales University, where he plans to major in International Business.