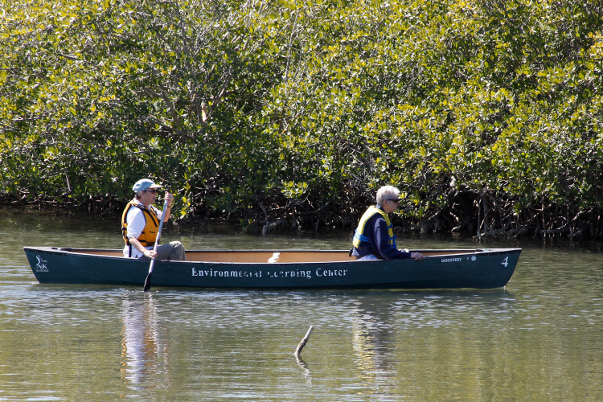 WABASSO ISLAND — One of the big advantages of visiting or living in Indian River County is the availability of our unique environment, including the oceanfront beaches, the Indian River Lagoon and its tributaries, our parks, conservation areas, wildlife, and weather. To help people of all ages enjoy and learn about these areas, the Environmental Learning Center, located off the Wabasso Causeway, announces a wide variety of Fall Programs for all ages.
Take a guided canoe trip to explore "off the beaten path" canoe trails.
Paddle a kayak up the St. Sebastian River, one of Florida's only remaining natural coastal rivers.
Enjoy a pontoon boat trip on the St. Sebastian River or on a scenic excursion to Pelican Island.
Discover the flora, fauna, and history of the 110 acre Captain Forester's Hammock Preserve by walking with a nature guide.
Take a 2 mile guided hike in the St. Sebastian River Preserve.
Enjoy a narrated stroll on the boardwalks and mulched trails at the Environmental Learning Center.
Learn first-hand from our naturalists about "nature's nuggets" in and near the lagoon.
Have a hands-on experience at our touch tank with some of the critters that occupy the Indian River Lagoon.
Use a dip net to find hidden life in our pond.
Star gaze under the skies of the ELC, with telescope instruction.
The details and dates of the field excursions, hikes, boat excursions, nature walks, and discovery programs noted above can be found at www.DiscoverELC.org or by calling 772-589-5050.