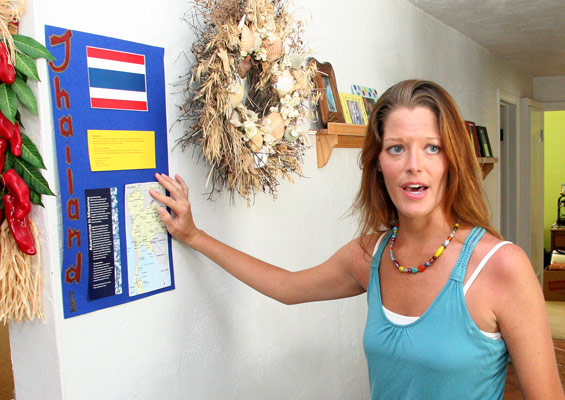 VERO BEACH – Eleven countries in 11 months – that's the task laid out in front of 25-year-old Sara Hansen, a Vero Beach woman called to serve in international ministry.
"This is what I'm supposed to do," Hansen said – just days before she boards a plane to head to Haiti, the first stop on her missions tour. She leaves July 3.
Hansen will be one of 11 leaders tasked with heading up 74 missionaries as part of The World Race – a Christian mission trip.
After Haiti, the group will travel to the Dominican Republic, then to China, Cambodia, Thailand, the Philippines, Mozambique, Malawi, Turkey and Romania – provided there are no natural disasters or political upheavals, which could force the missionaries to travel elsewhere.
Hansen got her missionary start while working on a public relations degree at Flagler College in St. Augustine. For the last three summers, she has taken part in two-week trips around the world, including a trip to India.
"It absolutely changed my life," Hansen said, adding that she has never been so physically uncomfortable in heat, hunger and sleep deprivation.
"It felt right to me," she said, later adding, "It ignited a thirst within me."
Most people would feel most at ease in a regular 9 to 5-type job that pays and has benefits.
"That felt foreign to me," Hansen said, explaining that she has taken a "regular" job to pay the bills and raise money for the mission.
The last few days that she's home with her family in Vero Beach, Hansen has been packing and repacking her mammoth backpack. Though it can hold more, organizers have recommended the missionaries keep their packs to about 50 pounds for air travel.
"It's funny looking at this and thinking this is my house," Hansen said of her backpack. "I'm a first-time homeowner!"
Hansen said her team won't get its assignments until they arrive at their various destinations. But, in general, they are expected to help with building relief and teaching English and Bible studies.
In Asia, the missionaries will also be helping those in the human/sex trafficking industry, ministering to the women in the "red light district" and those in the jails.
In Haiti, they will be helping with earthquake relief. Hansen said she's not sure how much they'll be able to do as the country is starting to go into the rainy season.
While the missionaries hope to be able to stay at inexpensive hostels during their international trip, "we go expecting to camp," Hansen said.
When they reach Africa, they will be living in the bush the entire time.
"I've never done this kind of camping before," she said.
She added that she is confident she is doing what she is supposed to do.
"Trust in God 100 percent," Hansen said of her confidence taking on such an endeavor. "If you don't have the trust 100 percent, I would feel like I'm drowning."
Though Hansen said she has every confidence in the world in what she will be doing for the next 11 months, her dad and step-mom worry for her.
"Very proud and concerned," Judy Hansen said – the two words to describe how she feels about Sara's decision to join The World Race. "She's an awesome girl. You can't help but love her."
Sara's dad, Jon Hansen, said that, as a father, he can't help but worry about what could happen to her while in the foreign countries – and all the flights she will be taking.
"There are a lot of good people praying for her," he said.
Getting the slightest bit choked up, Jon added, "Eleven months is a long, long time" to be away from home.
Sara Hansen plans on bringing family photos on the missions trip with her and figure out how to use Skype – an Internet-based phone system.
"It's not going to be easy," Sara Hansen said. "I know I'm going to be homesick."
Her family and friends – along with others who are interested in her globetrotting missions work – will be following her team's progress via her blog, www.SaraHansen.TheWorldRace.org.
There, visitors can learn more about Sara, her team, her mission, and can also support her efforts by making financial donations.