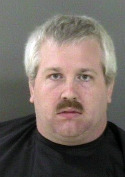 VERO BEACH – The lead investigator in the case against the St. Edward's employee charged with having sex with a 16-year-old student, Friday characterized their encounters as a courtship that turned into a sexual relationship."He courted her for a while," said Detective Jeremy Shepherd. "And with her being impressionable, she fell for him." Shepherd said the investigation is ongoing and may turn up physical evidence beyond text messages the girl's parents discovered which indicated an inappropriate relationship between 32-year-old Donald Earl Irvin III and the student.
Irvin remains in county jail on $100,000 bond, charged with two counts of sexual battery in familial or custodial relationship. Shepherd said the two began their encounter in March 2010 and it turned sexual in May.
Irvin, married with a young daughter, worked at Saint Edward's Upper School as a technical director in the theater department for slightly less than 4 years. In her complaint, the student told authorities that on May 7, she and Irvin were the only ones left at the school after a play.  She stated that they were "joking" about sex and then started kissing. They ended up having sex in the office of the school's theater, her complaint said, according to the Sheriff's Office.The student told authorities that she and Irvin have had sex five times, all on school property, and that the last time was on June 3.As part of this investigation, detectives reviewed a series of text messages between the victim and Irvin.The school reportedly had run a background check on Irvin. "There is nothing (the investigation has uncovered) to say that this is the school's fault," Shepherd said.
Anyone with information on the case can call Det. Shepherd at (772) 978-6120.