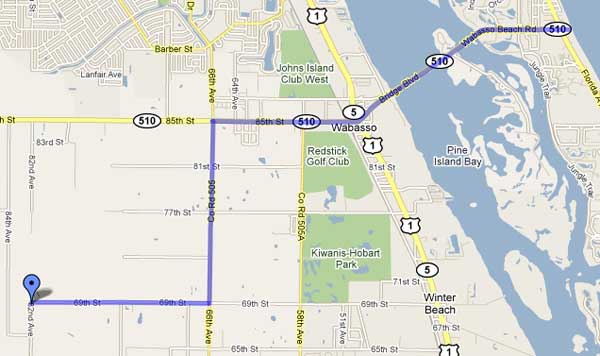 WABASSO – Drivers, prepare yourselves. You're about to start sharing the road more than 100 dump trucks loaded down with sand on its way to Wabasso Beach starting at 7 a.m. Tuesday.
Approximately 175 trucks will be arriving at Wabasso Beach dumping tons of sand in preparation of the start to the long anticipated beach restoration project between Johns Island and Golden Sands Beach. The project is expected to get the final green light from various environmental and governmental agencies Tuesday, officially paving the way for the sand to be placed on the beaches.
Wabasso Beach closed Monday, a couple days after Golden Sands Beach, which closed Friday. Disney's beach, just south of Wabasso, is expected to close sometime Tuesday as work progresses.
Drivers can expect to see heavier traffic on County Road 510 and over the Wabasso Causeway. County engineers estimate the trucks will be paced approximately one minute apart when fully operational.
Trucks will be sharing the roads from 7 a.m. to 5 p.m. Monday through Saturday and Sundays as needed.
They will be loaded with sand from the Ranch Lake Road sand mine located at 69th Street and 82nd Avenue. The trucks will then travel east on 69th Street to 66th Avenue, north to County Road 510 and then east over the Wabasso bridge to Wabasso Beach.
Truck drivers got their marching orders Monday during a pre-construction meeting with engineers and officials. Such orders include obeying posted speed limits and traffic signs, no slamming of the trucks' gates, and all trucks must make use of their tarps to cut down on sand spills.
The Indian River County Sheriff's Office expects to be out patrolling the truck route with radar and enforcing the tarps' use. Officers will also be monitoring the construction sites for vandalism and trespassing.
The first phase of the project is expected to see approximately 320,000 cubic yards of sand placed on the beaches between Golden Sands and Johns Island – a task that will require about 18,800 truck loads.
Under perfect circumstances, Ranger Construction – the project's contractor – could see, at most, 600 truck loads move out from the sand mine on a daily basis.
Construction crews have until April 30 to complete the first phase of the project before sea turtle nesting season begins May 1.
The second phase is expected to begin after nesting season ends this fall and would again have to be complete by April 30.