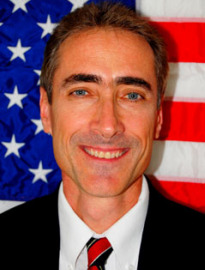 Name: Eugene WolffAge: 48Place of Birth: HospitalLength of residence: 14 years in Indian River County, 12 years in SebastianYour occupation: US Operations ManagerEmployer: Greenline Foods Inc.Marital status: MarriedChildren: ThreeSpouse's name: MaryOccupation: Science Teacher & Mother
Experience you feel is most relevant to serving in public office and why:
 Extensive international business experience with a philosophy of one who believes in service above self.
Civic and Volunteer Leadership Experience:
Council member of the City of Sebastian from March 2007 to presentFood Donations Program of Operation Hope in Fellsmere – Current
Candidate Questions
1. What is the biggest challenge facing Sebastian?
 Retaining our existing businesses, because without them, a significant portion of our tax base disappears and empty storefronts become endemic. Another important issue will be balancing the annual budget in fiscal year 2010 – 2011 without cutting services or imposing a tax burden on our residents.
2. What is your vision for the Sebastian Riverfront area and what steps need to be taken to achieve that goal?
 The City of Sebastian this past year has done a lot to try and build a momentum in building interest in the Riverfront area. The goal to make it a destination area while keeping it environmentally intact. There is a limit as to what can be done with taxpayers money.
3. What is your position on CRA (Community Redevelopment Area) expenditure allocations in terms of how much is spent in business incentives and infrastructure improvements?
 The CRA money needs to go back into the district to benefit the businesses and residents who live there and pay taxes. Infrastructure improvements that benefit all in the district should be pursued
4. One of the city's efforts currently is to attract new tenants to the Sebastian Municipal Airport. If elected to council, what would you do to continue or change those efforts?
 When I was elected to the Council the airport administration building was brand new sitting empty (for over a year). It is now fully leased and we have brought new jobs to Sebastian. I will continue to work hard to bring similar jobs to the community.
5. What is your opinion of the Sebastian Clambake and how proceeds are delegated?  What, if any, changes would you like to see for the annual event?
 I love the Clambake. I would like to see the Food Channel cover the event live.
6. Are there possibilities for partnerships or efficiencies by working with Fellsmere, Vero Beach or the county? If so, how would you like the city to work with those entities?
 We are already cooperating on some things like the Crime Lab for example. We need more partnerships that eliminate duplicity in services.
Any other comments?
 I have worked hard and tried my best and would like to continue to represent the citizens of Sebastian for another two years. Thank you.