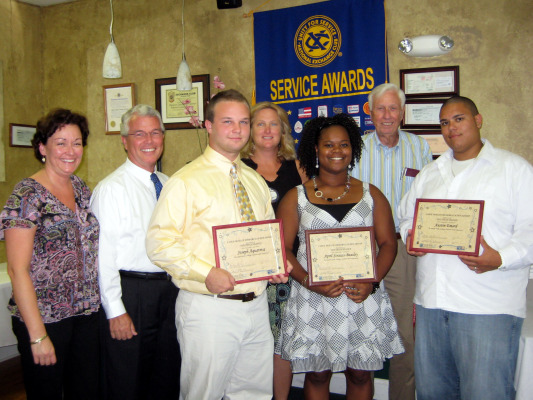 VERO BEACH — Andrew Molloy presented Youth Guidance Carol Molloy Memorial College Scholarships to college-bound students Joseph Acquaviva, Austin Emard, and April Strauss Beasley on Aug. 5 at the Exchange Club of Indian River luncheon at Culinary Capers. Arkedra Sneed, the recipient of the fourth scholarship, was unable to attend.
Each scholarship, awarded in honor of Mr. Molloy's late wife, is for $1,500. Molloy's daughter Carey Molloy Hodge also attended the presentation. Barbara Schlitt Ford, executive director of Youth Guidance, introduced each student and discussed their achievements. In a moving presentation, each student described their career aspirations and talked about their positive experiences in Youth Guidance. Acquaviva and Emard told how important their mentors have been to them.
Joseph Acquaviva will enter University of South Florida this fall and major in business. He graduated from Vero Beach High School 64th in his class of 585 as an Honors graduate with a GPA of 4.0. He was a football player, member of National Honor Society, and AP Scholar at VBHS and completed more than 100 hours of community service. John Capobianco has been his mentor for five years. His grandmother, Sandra Acquiviva, and his cousin, Madison Dodson, accompanied him to the presentation.
Austin Emard is a 2009 graduate of Indian River Charter High School. He enters Indian River State College this fall and plans to study biology. He hopes to work for the Florida Fish and Wildlife Conservation Commission upon college graduation. Eward's sister, Serena Santos, won a Molloy Scholarship two years ago and is now a Pre-Med student at IRSC. He and Jim Brewer, his mentor of nine years, were a Match of the Month this spring.
April Strauss-Beasley also graduated from Vero Beach High School this spring. She has participated in the Youth Guidance Mentoring & Activities program since she was in fourth grade and spoke about how much she enjoyed the many activities the program provides and the new people she met. She will soon enter the United States Army Reserve and attend ten-week-long boot camp. She plans to major in Criminology at IRSC and later at Florida A&M University.
Arkedra S. Sneed, the fourth Molloy Scholarship recipient, was unable to attend the luncheon. She graduated from Vero Beach High School this spring where she received Career Tech certification. She will enter Indian River State College this fall. She has participated in Youth Guidance activities for seven years and was a Gifford Front Porch Intern at the agency in 2008. She currently serves as a camp counselor at Life for Youth Ranch.
Opportunities abound for members of the community to volunteer with Youth Guidance. More than 400 children need mentors, particularly men. "Kickoff for Kids: A Mentor Mixer" will be held at The Links at Pointe West at noon on Sunday, September 13. An admission price of just $10 provides the opportunity to learn about the 2009-2010 Youth Guidance Draft Picks, hear from current mentors, watch the first NFL games of the season, enjoy an NFL Buffet and a cash bar, and have a chance to win a night at Caribbean Court Boutique Hotel, paintings, and gift certificates.
Persons interested in learning more about becoming a Youth Guidance mentor, volunteering for special one-time activities with a child or work in the office, or making a donation may visit the www.ircyouth.com website or call Barbara Schlitt Ford at (772) 770-5040 for more information.