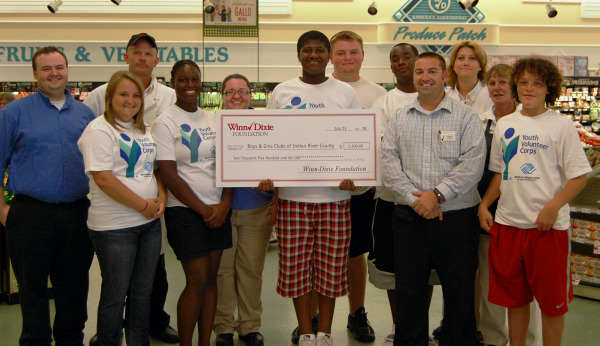 INDIAN RIVER COUNTY — Boys & Girls Clubs of Indian River County recently received a grant from the Winn-Dixie Foundation in support of the organization's Youth Volunteer Corps program.
The Youth Volunteer Corps (YVC) is the teen community service outreach program of the Boys & Girls Club. YVC's mission is to create and increase volunteer opportunities that enrich the youth of Indian River County, address community needs and develop lifetime commitments to service. "We realize the importance of giving back to the communities we serve, and it is even more critical in this challenging economy," said Robin Castillo, district manager for the West Palm Beach division of Winn-Dixie Stores, Inc.
YVC projects, which may be for one day or last for several weeks or months, include working with seniors, assisting adults with disabilities, planning and working community events, participating in area clean-ups, assisting at animal refuges, and working with younger members of the Boys & Girls Club.
"Community service is one of my favorite things to do. I am lucky to be part of such a great volunteer organization," said YVC member Joseph Lindor. Since January 2008, Joseph has completed more than 350 hours of service.
For more information about the Youth Volunteer Corps, please call (772) 788-7442 or visit www.yvcirc.org.