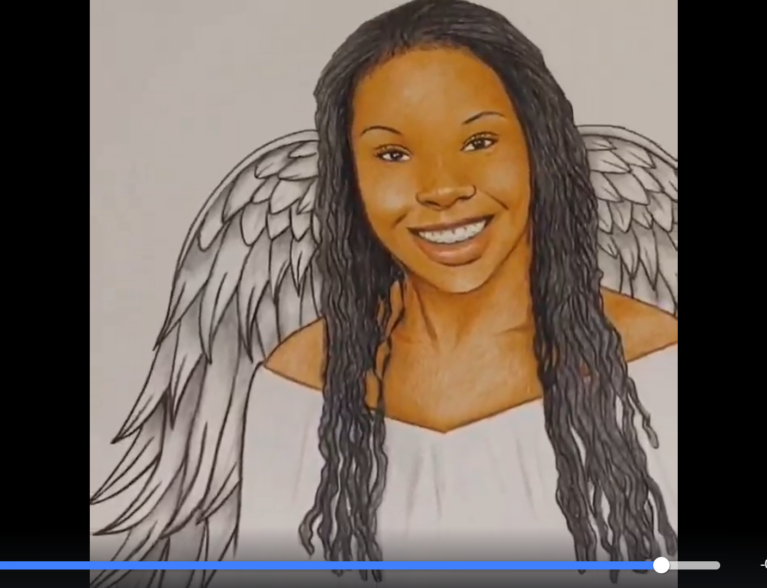 He never met Alteria Woods, but artist Jason McLaughlin said he felt an instant connection to the 21-year-old Gifford woman as he sketched out her portrait.
McLauglin, 39, Orlando, said he took five days to carefully capture every detail of Woods, including her bright smile. On Aug. 4, McLaughlin posted a time-lapse video to Facebook of his creation, which he said showed the youthful joy of an innocent girl whose life was cut short three years ago.
"I never met her. It's hurtful and sad what happened to her," said McLaughlin, who created the portrait logo for the Alteria M. Woods Memorial Organization, founded by Alteria's mother Yolanda Woods. "It seems like (Alteria) has been a quiet whisper in Vero Beach. She should be represented appropriately and her death should not be in vain."
Video provided by Jason McLaughlin
Deputy-involved shooting
Woods was killed March 19, 2017, after being caught in a crossfire between Indian River County deputies and her boyfriend, Andrew Coffee IV, during a drug raid at Coffee's home. An autopsy report showed Woods was struck 10 times, including in the head and chest, at the residence in the 4500 block of 35th Avenue.
Prosecutors charged Coffee in Woods' death, noting he committed a felony he should have known would cause harm to others. Deputies said Coffee initiated the gun battle, but Coffee's family members said deputies fired first, and Coffee shot back in self-defense, not knowing who was outside.
Coffee remains held at the Indian River County Jail on $440,000 bond.
The controversial deputy-involved shooting drew community outrage and raised questions about police tactics.
Since then, Yolanda Woods and community members have held rallies demanding justice for Alteria Woods, who attended Indian River State College and planned to become a pharmacist.
Community activist Michael Marsh, 36, Vero Beach, hosted many of the marches, where protesters demanded the indictment of the three law enforcement officers who fired shots in the raid. Two sheriff's deputies, Sgt. Patrick White and Detective Christopher Reeve; and Indian River Shores Officer Richard Sarcinello who was on the SWAT team, were originally put on paid administrative leave, but later returned to duty and were exonerated by the grand jury.
Alteria M. Woods Memorial Organization
Yolanda Woods picked the gospel song "I Can Only Imagine" by recording artist Tamela Mann to accompany her daughter's time-lapse video. In the song, Mann talks about imagining the moment where she finally meets Jesus Christ.
"That was one of our favorite songs," said Woods, 45, Gifford. "I know someday I'll meet my baby in heaven. I know she's looking down on us with her beautiful smile, waiting for the day we will be together again."
McLaughlin said creating the portrait logo of Alteria Woods with angel wings was an honor. Yolanda Woods cried when she first saw the video and portrait, based off Alteria Woods' senior class photo from Sebastian River High School.
"He captured the essence of her beauty. Just watching the process…it was amazing," said Woods, who spoke with McLaughlin after seeing the dedication he put into his other artwork. "To see the portrait itself was even more beautiful."
Woods created the Alteria M. Woods Memorial Organization in 2019 in an effort to promote education, social awareness and social justice. The mother said the nonprofit organization will keep her daughter's memory alive by providing mentorship and scholarships in the community.
"We're going to be doing a lot of different things," Woods said. The nonprofit has already hosted backpack drives, provided tutoring for students and gave school supplies to local classrooms.
Woods said her youngest daughter, Alexus, 20, Marsh and another community activist, John Slocum, helped her to create the memorial organization. Slocum, 64, Boynton Beach, is the uncle of Corey Jones, 31, killed by gunfire from plainclothes Officer Nouman K. Raja on Oct. 18, 2015, while Jones stood by his disabled car waiting for a tow truck in Palm Beach Gardens.
Raja was later convicted on charges of manslaughter by culpable negligence and attempted first-degree murder with a firearm. In April 2019, Raja was sentenced to 25 years in prison, according to media reports.
Alteria Woods' appearances
Alteria Woods' name and photo has been seen on Black Lives Matter-related TV specials, social media, posters and signs throughout the nation. Her name made its way onto the "Lockdown" album cover of Grammy award-winning artist Anderson Paak.
Alteria Woods' name also can be seen in the "March March" music video by Grammy award-winning country pop group The Chicks, formerly known as the Dixie Chicks. The video is a tribute to social justice movements.
In 2017, activist and former NFL San Francisco 49ers quarterback Colin Kaepernick wore a shirt with Alteria Woods' name in a GQ photo shoot. Kaepernick made headlines in 2016 when he kneeled during the national anthem during several pro-football games to protest against racial injustice, police brutality and systematic oppression.
Plans for the future
Woods said she plans to partner with another local nonprofit, Team Success Enterprises Inc., in November to feed the homeless. In December, The Alteria M. Woods Organization will host a toy drive for children in the community.
"We're working on creating a website and a virtual office," Woods said.
Photos provided by Yolanda Woods