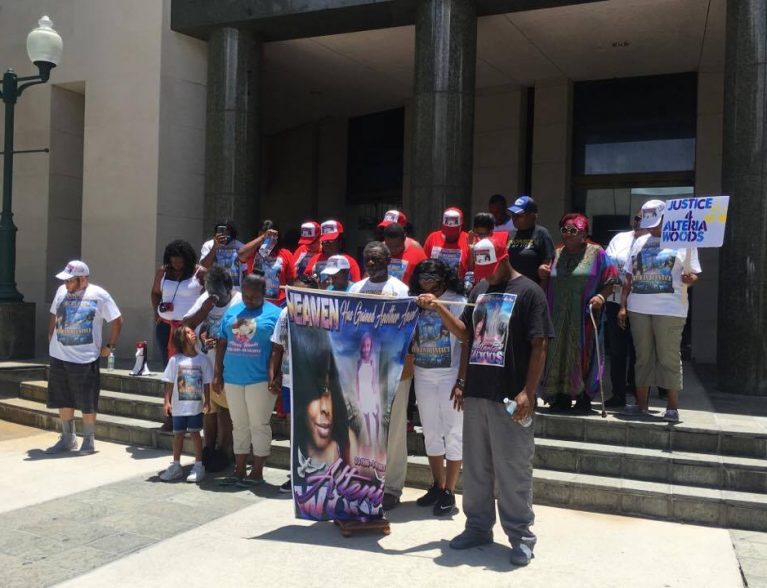 VERO BEACH — Yolanda Woods cried as she thought about how her 21-year-old daughter was shot multiple times in an early morning drug raid nearly four months ago at a Gifford home.
The family released the death certificate of Alteria Woods they received from the state at a rally July 3 in front of the Indian River County Courthouse. The certificate shows she died of multiple gunshot wounds.
"It was multiple times. Imagine the pain she endured," said Yolanda Woods, 42, of Gifford. "I keep hearing her call my name. I wasn't there to help my poor baby."
Alteria Woods was killed during a crossfire between law enforcement and a man who lived at the home shortly before 6 a.m. March 19. She was struck while lying on a bed inside the home in the 4500 block of 35th Avenue, deputies said.
Three law enforcement officers who fired gunshots during the raid, Sgt. Patrick White, Detective Christopher Reeve and Officer Richard Sarcinello, were originally put on paid administrative leave. All have since returned to work, deputies said.
Family members are calling for justice. A grand jury is expected to make a decision on the case this month.
The rally's message to the grand jury — indict the officers involved in the fatal shooting.
"We want to make sure they understand that we need justice for Alteria Woods," said community activist Michael Marsh, 33 of Olso. "Nobody deserved to be killed the way she was killed."
About 20 to 30 people attended the rally, with some wearing #Justice4AlteriaWoods t-shirts in front of the courthouse, 2000 16th Avenue.
Alteria Woods' grandfather, 72-year-old Elder Charlie Jones, said a prayer before the noon rally. Jones, of Vero Beach, is the pastor of Church of God By Faith in Wabasso, he said.
Community activist Wanda Scott said she hopes the grand jury will bring an indictment against the law enforcement officers.
"We can't tolerate any of our people being killed accidentally," said Scott, 55, of Gifford. "We want good and fair policing."
A petition asking for an outside investigation into Alteria Woods death has gained more than 400 signatures, according to Change.org. The family plans to send the petition to the Florida Department of Law Enforcement, the U.S. Department of Justice, the American Civil Liberties Union and the FBI.
The March raid was part of the Sheriff's Office Operation Safe Streets, which targets wanted fugitives and removes guns and drugs from neighborhoods, a sheriff's news release states. The operation also aims to solve the untimely death of sheriff's Deputy Garry Chambliss and was put in place after he was killed.
Chambliss died in February from a stray bullet in Gifford.
Deputies were able to canvass the home with a search warrant for illegal drugs, the release states.
Arrested in the raid were Alteria Woods' boyfriend Andrew Coffee IV and his father Andrew Coffee III, who both lived at the home, deputies said.
Andrew Coffee IV, 23, was charged with shooting a deadly missile, possession of a firearm by a convicted felon, two counts of attempted murder and other drug charges, according to the Indian River County Sheriff's Office. He is being held at the Indian River County Jail on $540,000 bail.
Andrew Coffee III, 37, faces a variety of drug charges including four counts of possession of a controlled substance, possession of cocaine and possession of drug paraphernalia, according to the Indian River County Sheriff's Office. He is being held at the Indian River County Jail on $63,000 bail.
Yolanda Woods wears a t-shirt honoring her late daughter Alteria Woods during a rally Monday July 3, 2017, in front of the Indian River County Courthouse in Vero Beach.
Community activist Michael Marsh speaks during a rally for Alteria Woods Monday July 3, 2017, in front of the Indian River County Courthouse in Vero Beach.
A death certificate released by the Woods family Monday shows Alteria Woods died from multiple gunshot wounds during the March drug raid.