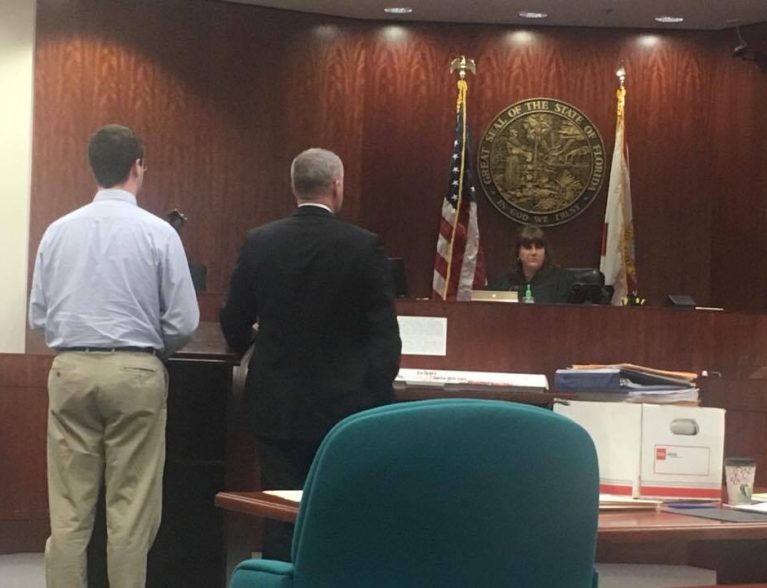 INDIAN RIVER COUNTY — Questions still linger on if a grand jury verdict last week settled the question of blame in the death of a 21-year-old woman shot by deputies in a raid at a Gifford home.
During the March 19 raid, deputies exchanged gunfire with a man who lived at the home. The man's girlfriend, Alteria Woods, was killed in the crossfire while lying on a bed where she was sleeping at the home.
But, some uncertainty remains about exactly what happened.
The grand jury cleared deputies of wrongdoing and indicted Wood's boyfriend, Andrew Coffee IV, for second degree murder. Sheriff Deryl Loar said Coffee IV fired first at the deputies, which resulted in Woods' death after deputies returned fire.
The jury heard from more than two dozen witnesses, 19 of whom were law enforcement personnel. Loar said the Sheriff's Office is satisfied with the outcome.
Meanwhile, relatives of Woods and Coffee said they do not believe justice was done.
Coffee IV's mother, Towanna Ruffin, said deputies fired the first shot and her son fired back in self-defense, not knowing who was outside. "They wanted my son dead and killed Alteria Woods in the process," Ruffin said.
The Sheriff's Office and the State Attorney's Office did separate investigations into the events that took place March 19 at the home in the 4500 block of 35th Avenue.
The results of those probes were presented to the grand jury, but grand jury proceedings are secret and it may be months before details of the investigations are made public.
Loar declined to elaborate on the details of the shooting while taking questions from reporters July 20, the day after the grand jury completed its investigation.
In a March news conference, Loar said Woods was struck by "one of the rounds" fired by deputies, but Woods' death certificate shows she died of multiple gunshot wounds.
The sheriff also said that Coffee IV, 23, used his girlfriend as a "human shield" when a S.W.A.T. team fired into the home where the two had been sleeping. But, he has not explained the basis for that statement.
Supporters of Coffee IV said that allegation may have prejudiced the jury and contributed to his murder indictment.
Loar said his initial remarks were made shortly after the shooting when "the information was still very fluid."
"All those facts will come out in the regular criminal trial for Coffee the IV," he said.
At the same time, the sheriff defended the grand jury's decision to indict Coffee for second-degree murder.
He said Coffee IV and his father knew deputies were coming and intended to ambush them.
"[Coffee IV] shot first in an attempt to ambush our deputies. His decision to fire against law enforcement officers caused her death," Loar said.
"There's no body cameras in Indian River County, so it's their word versus his," said community activist Michael Marsh, 33, after Coffee IV had his first court appearance July 21 at the Indian River County Courthouse. Marsh said there's no proof Coffee IV knew deputies were there or that he shot first.
Loar said he doesn't believe body camera footage would have changed the grand jury's findings.
"This is an unfortunate situation that could have been avoided," Loar said. "Unfortunately, a career criminal with a violent past initiated this entire event."
The grand jury deliberated for two days before reaching the decision not to indict two sheriff's deputies and an Indian River Shores police officer on the SWAT Team who fired into the house where Woods died.
Chris Taylor, assistant state attorney for Indian River County, said the jury found "no probable cause" to indict one or more officers. He declined to give further comment.
Coffee IV was indicted for second degree murder; three counts of attempted first degree murder of a law enforcement officer by discharging a firearm; shooting or throwing a deadly missile; and possession of a firearm by a convicted felon. He is being held at the Indian River County Jail without bond.
His father, Andrew Coffee III, was arrested along with his son the night of the shooting.
He was charged with a variety of drug offenses including four counts of possession of a controlled substance, possession of cocaine and possession of drug paraphernalia. His bond is set at $63,000.

"This is tough for everyone involved," Loar said. "Our thoughts and prayers go out to the Woods family."
Staff writer Beth Walton contributed to this report.