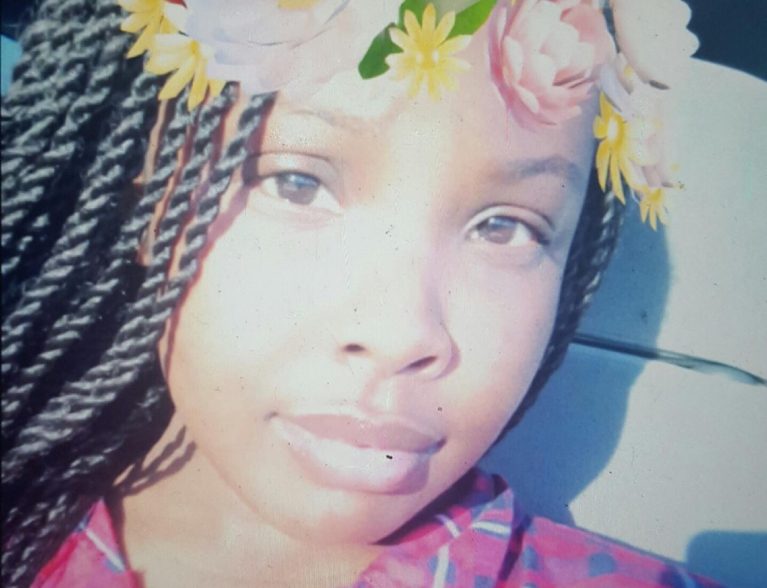 Photo provided by Yolanda Woods
GIFFORD — Yolanda Woods remembers the frantic phone calls she got nearly two years ago.
Her daughter, 21-year-old Alteria Woods, family and friends told her, was dead, killed in a deputy-involved shooting.
"I miss her smile. She was a people person. She was funny and loved jokes," said Yolanda Woods, nearly two years after the controversial shooting drew community ire and raised questions over what happened. "She would call me when she got off work and say, 'Mommy what's for dinner.' I would tell her everything I was preparing that night."
The 44-year-old Gifford mother cried as she recalled Alteria Woods – an honors student – planning to go to Mount Zion Baptist Church the morning of March 19, 2017. Yolanda Woods planned to attend church with her and her daughter's boyfriend, 25-year-old Andrew Coffee IV.
Instead, her daughter, who told her just two weeks before that she wanted to become a pharmacist technician, lost her life. The woman was caught in a crossfire that morning between sheriff's deputies and Coffee during a drug raid at Coffee's home.
"I was trying to hold onto hope," Yolanda Woods said.
Since then, Woods and community members have held rallies demanding justice for Alteria Woods. They focused on the sheriff's insistence on using his own investigators to review the shooting.
The Florida Department of Law Enforcement, which typically investigates police-involved shootings at the request of agencies, was not called. Woods' death – one of several controversial shootings in recent years to happen in Indian River County – also raised lingering questions about police tactics.
An autopsy showed Woods was struck 10 times, including in the head and chest, by rounds from deputies at the home located in the 4500 block of 35th Avenue, officials said. Indian River County Sheriff Deryl Loar previously blamed Coffee, saying he initiated a gun battle with deputies by shooting at them, which caused them to return fire.
A grand jury agreed.
The three law enforcement officers who fired the fatal rounds were exonerated by the panel.
"Those deputies should be charged," Yolanda Woods said, who continues to talk with attorneys about taking legal action against the sheriff's office. "They're accusing the wrong person. (Coffee) wouldn't have wanted anything to happen to Alteria."
In July 2017, prosecutors charged Coffee with Woods' death, noting that he committed a felony he should have known could cause harm to others. Coffee remains at the county jail without bond.
With the loss of her older daughter, Yolanda Woods said she turned to God for strength. A memorial to remember Alteria Woods' life is planned for 4:30 p.m. Saturday at Church of God By Faith, 8550 58th Avenue, Wabasso.
In the months that followed, Woods' mother would go to her daughter's grave site every morning. With a broken heart, Yolanda Woods said she would drop to her knees and pray for three things – guidance, strength and understanding as to why her daughter was killed.
Woods' Community Involvement
Alteria Woods volunteered at a food bank at the Wabasso church since she was in middle school, Yolanda Woods said. Alteria Woods' grandfather, Elder Charlie Jones, is the pastor of the church.
Woods also volunteered for Pug Rescue of Florida, a nonprofit organization that rescues hundreds of pugs each year.
"She loved all the different people she interacted with," Yolanda Woods said. "She was an advocate for adopting pugs and loved dogs."
Alteria Woods attended Storm Grove Middle School and Sebastian River High School, where she played basketball and performed cheerleading, Yolanda Woods said.
In 2012, Alteria Woods was inducted into the National Honor Society of High School Scholars, Yolanda Woods said. Woods graduated in 2014 .
She began attending Indian River State College, where she was a junior and focused on a degree in pharmacy. Alteria Woods had a pharmacy technician license and worked in the pharmacy department in Publix.
Bond between sisters
Alteria Woods' younger sister, Alexus Woods, said her sister would pick her up every Wednesday from school to go to Chick-Fil-A. Alexus Woods was in a dual-enrollment program at IRSC, which allowed her to see her sister.
"It was sister bonding time," said Alexus Woods, 18, who now attends Stetson University in DeLand.
What Happened
The night before she was killed, Alteria Woods had went to see the movie "Get Out" with her mother. She then attended the county fair.
Yolanda Woods said she thought her daughter went to her own home in Gifford after the fair. Instead, Alteria Woods stopped by Coffee's home. By 6 a.m., deputies were outside getting ready to conduct the drug raid.
Witnesses would later say it was unclear who fired the first shot. Woods was struck while lying on a bed inside the home, officials said.
Deputies arrested Coffee and his father, Andrew Coffee III, in the raid. In a news conference after the shooting, Sheriff Deryl Loar said Woods was struck by "one of the rounds" fired by deputies.
But, Yolanda Woods said the sheriff's office put out a number of false details, something that hurt her as she grieved the loss of her daughter.
Alteria Woods' death certificate showed she died of multiple gunshot wounds. Yolanda Woods said sheriff's officials said her daughter was pregnant and that Coffee used her as a human shield.
However, Alteria Woods' death certificate showed she was not pregnant. Loar has not explained the basis for the statement on Coffee using Alteria Woods as a human shield.
The three officers who fired shots, Sgt. Patrick White, Detective Christopher Reeve and Officer Richard Sarcinello, were originally put on administrative leave. The deputies later returned to work.
Yolanda Woods said body camera footage could have been crucial in leading deputies to be charged. The sheriff's office does not have body cameras, only dashboard cameras, said sheriff's spokesman Maj. Eric Flowers.
Not blaming Coffee
Regardless of the circumstances surrounding her daughter's death, Yolanda Woods said she does not blame Andrew Coffee for what happened.
"He's a good, respectful kid," Yolanda Woods said. "He's not the bad person he was painted out to be."
Coffee had just started two jobs before his arrest, Woods said. Alteria and Yolanda Woods motivated him to start working.
"He was so happy. We kept telling him, "Don't give up, don't quit," Yolanda Woods said. "He wanted to change the way people viewed his family. He never really knew his grandfather."
Coffee's grandfather, Andrew Coffee Jr., was convicted of attempted first-degree murder in Nov. 2017 following a shootout with a deputy that happened two years prior. Coffee Jr. is serving a life sentence at Wakulla Correctional Institution in Crawfordville, Florida.
The grandson is awaiting trial for the drug raid charges.
Not Giving Up
Yolanda Woods said she will continue to push for justice for her daughter.
"I do it because I'm a mother who loves her child," Woods said.