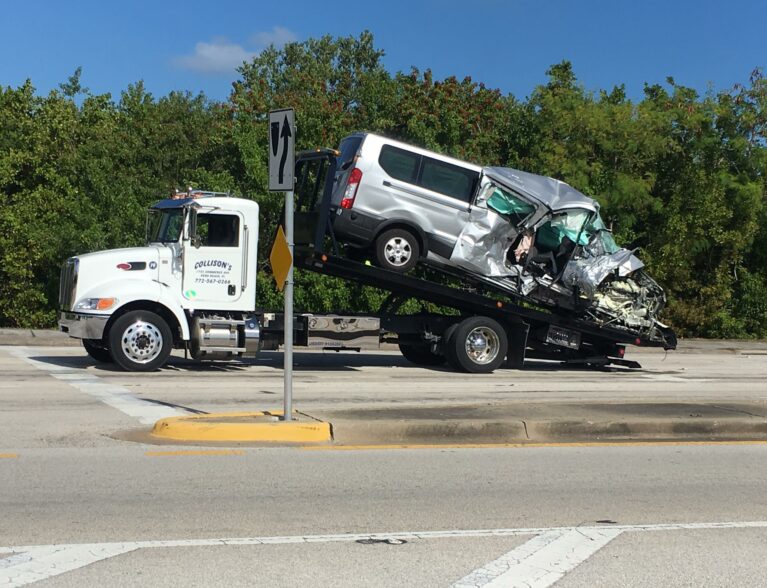 VERO BEACH — A team coach and driver of a van involved in a fatal Jan. 15 two-vehicle collision failed to yield the right-of-way, a traffic crash report shows.
The report shows 55-year-old Patrick Joseph Diggins, of Massachusetts, drove in front of a red Dodge pickup, driven by 55-year-old Ronald Edward Wolf, of Fort Pierce. The pickup slammed into the front passenger side of the van, killing rowing team member Grace Rett, 20, of Uxbridge, Massachusetts, and seriously injuring eight others.
Vero Beach police spokesman Master Officer Darrell Rivers said the report, released Friday, is preliminary information. No charges have been filed in the wreck.
Police said Diggins made several spontaneous statements after the crash. Wolf told officers he saw Diggins looking down and not at the roadway.
"Please let me have had a green light," Diggins said while officers were on scene, according to the report. "Did I have a green arrow? God please let me have had a green arrow."
Several witnesses told police lights on both sides of the street were green. But, they said there was no green arrow for Diggins to make a left turn.
First responders transported several people to Lawnwood Regional Medical Center & Heart Institute in Fort Pierce. Most have since been released.
Only one person – an unidentified College of the Holy Cross Student and rowing team member – remained at the trauma center Saturday.
Her condition was critical for several days after the crash, but had since improved. As of Friday, the student was listed in good condition, the hospital's Public Relations Director Tiffany Woods said.
911 calls
Motorists made several phone calls to police after witnessing the pickup slam into the silver team van at 7:30 a.m. Jan. 15 at the Merrill P. Barber Bridge. The van was traveling southbound on Indian River Boulevard when it made a left turn to get to the bridge, police said.
The pickup collided with the van, leaving both vehicles heavily damaged.
"I saw the accident. A 12-passenger van and a pickup truck," one woman told dispatchers. Another motorist told dispatchers she was sitting in her vehicle watching 'a lot of men' trying to help the victims.
"We have officers on the way," a dispatcher replied. Vero Beach police officers arrived within moments, shutting down traffic on Indian River Boulevard and the Barber Bridge for several hours.
A witness told officers Wolf "had nowhere to go to avoid a collision" with the van, the report shows. Police pulled several Holy Cross Crusaders rowing team members – who were in town for winter training – from the crushed van.
Rett, who was in the van's front-right passenger seat, was taken to a hospital. Doctors pronounced the Holy Cross sophomore dead.
Police said Diggins, six rowing team members, and Wolf were taken to the trauma center in Fort Pierce.
Last Tuesday, freshman Bianca McIver, 18, of Scarsdale, N.Y., was released from the hospital, college officials said. Monday, freshman Maggie O'Leary, 18 and daughter of Waterbury, CT., Mayor Neil O'Leary, was released from the hospital.
Also, on Monday, sophomore Hannah Strom, 19, of Marion, MA., was flown from Lawnwood to Massachusetts General Hospital in Boston to continue her treatment, college officials said. On Jan. 18, junior Paige Cohen, 20, of Dunwoody, GA., was released from the hospital.
On Jan. 16, the day after the wreck, senior Maegan Moriarty, 22, of Old Lyme, CT., was released, college officials said. The drivers of the vehicles were released from the hospital Monday and Wednesday.
The other rowing team members in the van who were not seriously are Olivia Evens, 18, of Duxbury, MA.; Lauren Colby, 18, of Hingham, MA,; Josie Asicone, 18, of Middleton, WI.; Sidney Kirby, 19, of Long Grove, IL; and Anne Comcowich, 19, of Hopkinton, MA.
Police noted that driving conditions were normal at the time of the wreck. Diggins and Wolf, who were both wearing seat belts, were each not suspected of being under the influence of drugs or alcohol, the report shows.
The posted speed limit on Indian River Boulevard near the bridge is 45 mph, police said. It was unclear how fast each vehicle was traveling.
Community impact
Rett, a rowing team standout, had celebrated her birthday one day before her life was taken away.
Residents have created roadside memorials to remember Rett while Holy Cross students have offered financial support from a fundraiser. College of the Holy Cross men's rowing team created a GoFundMe fundraising page the day of the crash.
By Saturday, the page had more than $260,000 in donations. The funds will go toward medical bills for the injured and Rett's funeral expenses, officials said.
Local organizations also plan to assist Rett's family.
Starting at 6 a.m. Feb. 7, Vero Fitness will host a 62-hour indoor rowing fundraiser in memory of Rett. Participants will row for one hour each at the event, which will continue until 7 p.m. Feb. 9.
Vero Fitness said the fundraiser was not a race and that rowing experience was not required. Those who want more information on the event can visit the fundraiser website.
Rett was recently highlighted on news outlets for breaking the world record for indoor rowing. Rett rowed 383,000 meters, or 237 miles, in 62 hours on an indoor rowing machine.
Hundreds of people, including family, friends, students and college staff, attended Rett's funeral Wednesday morning at St. Mary's Church in Uxbridge, Massachusetts.
On Jan. 17, police wrapped purple ribbons around the light poles on the west end of the bridge to show respect for the crash victims. A following vigil was held two days later at a pavilion near the Veterans Memorial Island Sanctuary.
Police continue to investigate the fatal wreck.