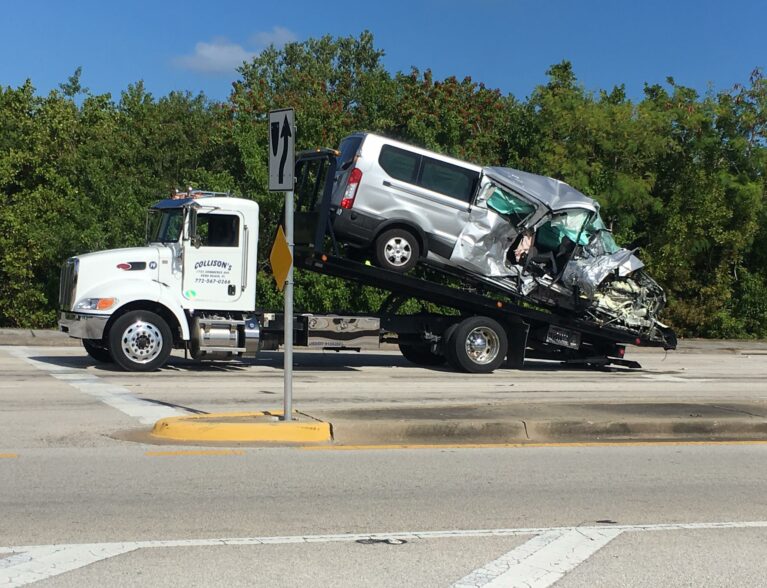 VERO BEACH — One patient – a student – remains hospitalized following a deadly two-vehicle wreck that killed 20-year-old rowing team member Grace Rett and injured several others last week, a hospital official said.
The unidentified patient – a member of Holy Cross Crusaders women's rowing team – was listed in critical condition, said Tiffany Woods, public relations director for Lawnwood Regional Medical Center & Heart Institute in Fort Pierce. Another patient, a driver of one of the vehicles involved, was released from the hospital Wednesday, Woods said.
The driver's identity was not released.
Several other patients have since been released from Lawnwood since the horrific Jan. 15 crash that happened at the west end of the Merrill P. Barber Bridge. The tragedy brought an outpouring of support from residents in Vero and at College of the Holy Cross, located in Worcester, Massachusetts.
Rett, a sophomore from Uxbridge, Massachusetts, was a front-right seat passenger in a southbound team van that made a left turn in front of a red Dodge pickup to get to the bridge.
The pickup struck the side of the van, Vero Beach police said. The crash took Rett's life and left eight others seriously hurt, who were taken to the hospital.
"Please keep the Rett family, along with all of those affected by this tragic event, in your prayers," the college said in a post on its website.
Tuesday, freshman Bianca McIver was released from the trauma center, college officials said. Monday, freshman Maggie O'Leary, daughter of Waterbury, Connecticut Mayor Neil O'Leary, was released from the hospital.
"With gratitude — thank you for your outpouring of love, support, and prayers for my daughter Maggie, my family, and the Holy Cross Women's Rowing Team," the mayor said in a social media post on Facebook. "I ask that you continue to pray for all of those injured in last week's terrible accident. Please especially continue to hold the family of Grace Rett in your hearts and deepest sympathy."
Also on Monday, sophomore Hannah Strom was flown from Lawnwood to Massachusetts General Hospital in Boston to continue her treatment, college officials said. A third person – who was not identified – was also released Monday.
Saturday, junior Paige Cohen was released from the hospital, officials said. Thursday evening, senior Maegan Moriarty was released, college officials said.
Impact on community
Since the crash, residents have created roadside memorials and offered financial support from a fundraiser. Last Friday, police wrapped purple ribbons around the light poles near the west end of the bridge to show respect for the crash victims.
A following vigil was held Sunday at a pavilion near the Veterans Memorial Island Sanctuary.
The college's men's rowing team set up a GoFundMe fundraising page the day of the crash. By Wednesday evening, the page had more than $250,000 in donations.
The funds will go toward medical bills for the injured and Rett's funeral expenses, officials said. Hundreds of people, including family, friends, students and college staff, attended the funeral Wednesday morning at St. Mary's Church in Uxbridge, Massachusetts.
Police continue to investigate the deadly crash. No charges have been filed.