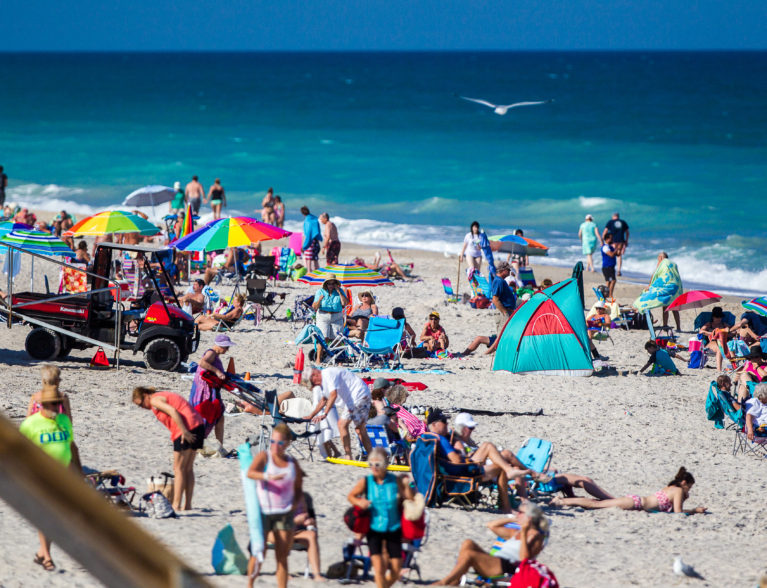 VERO BEACH — The city's three public beaches saw 68,475 visitors in August, breaking the previous record for the month with an increase of more than 2,000 beachgoers, according to a Vero Beach Lifeguard Association report.
The last August record set at Jaycee Park, Humiston Park and South Beach Park was in 2018, when the beaches had a total of 66,000 visitors, officials said. The last few days of August 2019 showed a decrease in beachgoers because of Hurricane Dorian, which stayed offshore as it swirled up Florida's east coast.
The beaches also had seven minor medical rescues and one major medical rescue, officials said. For the major incident, a man suffered from a combination of heat and oxygen-related issues and was taken by ambulance to a local hospital, Vero Beach Lifeguard Association President Erik Toomsoo said.
"His wife sent a thank you note to lifeguards," Toomsoo said.
Lifeguards said frequent easterly winds have led to seaweed being left on the beach and also caused beach erosion. Also, fewer sea turtle nests were created in August, compared to July.
Officials said powerful surf conditions have washed away some of the artificial reef buoys along Humiston Park Beach. Lifeguards will try to attach some of the buoys back to the reefs when conditions improve.
The goal to build a lifeguard tower at Humiston Beach Park remains intact.
The city of Vero Beach pledged at least $50,000 to help build the tower and a command center at the beach for its fiscal year 2019-2020 budget, Toomsoo said. The tower and command center will help lifeguards see more of the beach and react faster to emergencies.
Toomsoo said VBLA is trying to raise the remaining funds to build the tower and center, which will cost about $300,000 total. Toomsoo said Coastal Technology Corporation, Hoos Architects, Mills Short Engineers and Farrow Construction will help build the facility.
Lifeguards reminded beachgoers that dogs are not allowed on city beaches unless they are "handicap assisted" animals. Officials said many dogs are off of their leashes, posing a threat to visitors and sea turtle nests.