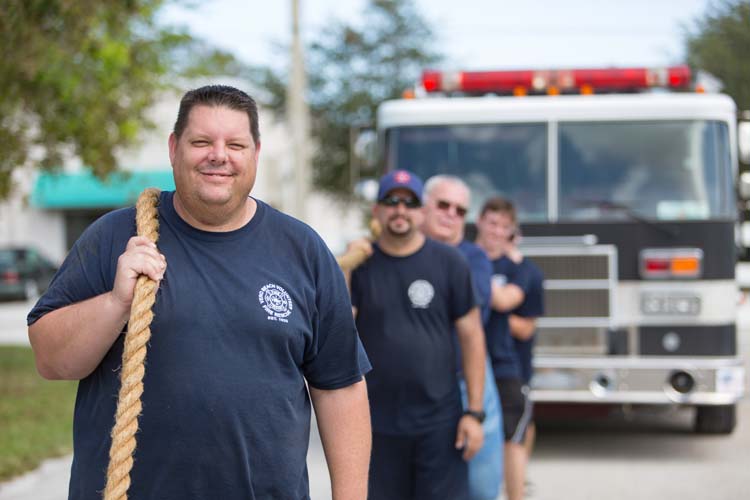 With the National Cancer Institute budgeting less than 4 percent of its funding toward childhood cancer research, the money raised last Saturday afternoon at the second annual Fire Truck Pull at Walking Tree Brewery is more critical than ever. The event was the first of three annual fundraisers organized by the Indian River Firefighters Benevolent Association to benefit the St. Baldrick's Foundation.
The enthusiasm of the crowd was infectious, with children excitedly playing giant Jenga, tossing cornhole bean bags, turning their tongues blue on snow cones, and generally having a good time under the watchful eye of adults, who enjoyed the sunny day dining on food-truck offerings and sipping cold brews.
IRC Firefighters' Association President John O'Connor, who initially came up with the idea of enticing teams to pull a 37,050-pound truck, instructed the five teams that had entered on how to stay safe and do their best.
While the winners took home beer growlers, trophies and bragging rights, 100 percent of the entry fees and sales of Walking Tree's specially concocted St. Baldrick's Fire brew were donated toward childhood cancer research.
Missy Elward and Frank Mannino, the Treasure Coast's two most devoted St. Baldrick's volunteer organizers, have raised more than $700,000 in six years for the cause.
"It really is all a credit to these two, Missy and Frank," said O'Connor, with Mannino tossing the praise back to the firefighters.
"Their connection to the community is so strong," said Mannino. "We would not have been as successful without them, their families, the teams and all the people they bring out for awareness. They bring so much to the table for us."
The most touching team, called Strong Willed, was entered by Edward and Diane Alvey and led by their son Will, a very determined 6-year-old who has human sarcoma, a type of bone cancer in his leg.
"This is the scariest thing we have ever faced," said Edward Alvey. "We have to have more awareness that there is not enough money raised for childhood cancer research. So we think it is very important for us to be at every event to raise that awareness."
"I can't imagine any family going through something like their child's cancer without the support of the community. And St. Baldrick's has really helped so many of those families," said firefighter wife Stephanie Stenger.
The Strong Will team clearly won over the crowd and as little Will and County Commission Chairman Joe Flescher manned the rope for a final run, the other teams discreetly put a shoulder behind the big truck to give them the fastest score of the day.
When the fire-truck dust settled, the brawny Indian River Rugby team took the big trophy, with Strong Willed coming in second and the Vero Beach Volunteer Fire Department team taking third.