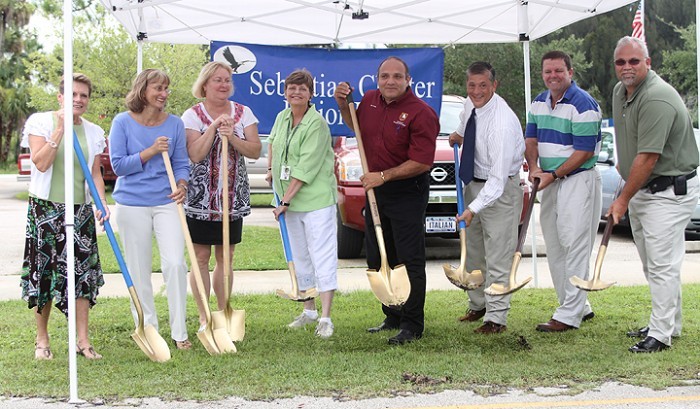 SEBASTIAN – With a ground-breaking ceremony Wednesday, students, faculty and officials at Sebastian Charter Junior High School are prepared for the next milestone – construction.
For the last 11 years, the school has functioned within a series of modular buildings. The buildings, though, have a life-span of about 10 years and are beginning to show their age.
Construction on a new campus, located at the same site – 782 Wave Street – will replace the modulars and give students and faculty room to move and room to grow.
Incoming eighth-grader Mattina Chorma hopes to be able to transition into the new building after Winter Break.
She said she's most looking forward to larger hallways and a bigger cafeteria so she's "not running into people."
"The cafeteria is always too loud," Chorma added, noting that a larger cafeteria means students will have room to spread out.
Fellow incoming eighth-grader Hunter Achin is also anticipating moving into the new campus. A young man of few words, he said he was "happy" about the ground-breaking and the next steps the school will be taking.
Sebastian Charter Junior High plans a $3 million state-of-the-art technology-driven school to replace its current campus. The new one will be built in phases to allow for students to continue to attend classes throughout the process.
The project approved by the Sebastian Planning and Zoning Board will house 16,500 square feet of classroom space and will add a 3,530-square-foot multi-purpose cafeteria. An administration building, a concrete open courtyard, improvements to the student drop-off area, and an improved parking area are also in the plans.
The new classroom building will be built around the existing modulars that would then be torn down to make room for a large multi-purpose, "cafegymnatorium" building available to the community during non-school hours.
Other amenities include a media center and computer lab, storage space, larger classrooms and larger offices for administrative staff.
"It's something we've been looking forward to for so long," said Social Studies teacher Susan Boyd, who has been with the school for 10 years. "We're really over-joyed."
"I'm looking forward to having a facility that's better for my kids," fellow Sebastian Charter Junior High veteran Anita Taylor, the school's director. She was quick to note that great things have happened at the school over the last 11 years, but with the new campus comes new opportunities.
Sebastian Charter Junior High boasts more than 160 students spread over sixth, seventh, and eight grade and is open to all Indian River County students. Enrollment could increase to 270 students after the school's $3 million project is completed.
Sebastian Charter Junior High has progressed on the FCAT over the years, from first testing out as a C school starting in 2003 to an A+ school over the past five years. Teachers at the school have an average of 13.2 years of experience, and the schools board of directors serve on a volunteer basis.