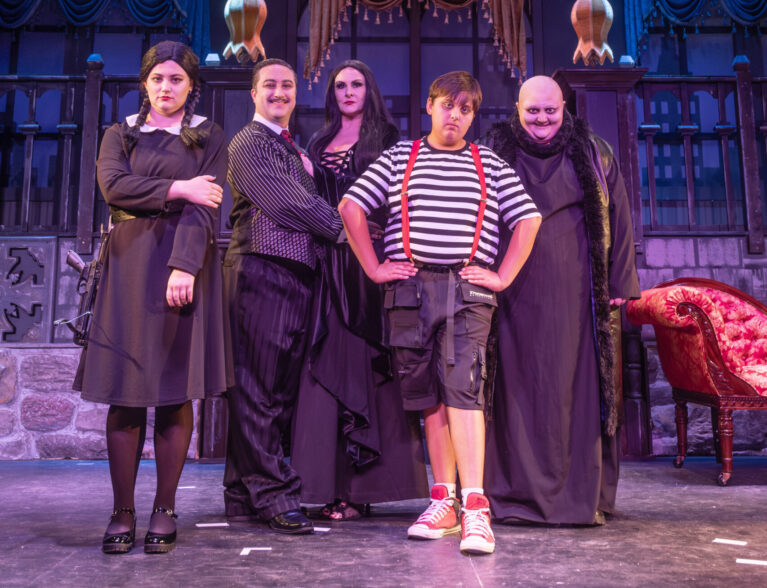 It's all about the musicals this season at the Vero Beach Theatre Guild.
With email pleas for contributions, it's been no secret that the Vero Beach Theatre Guild has been struggling financially. So, when considering its mainstage series, the decision was made to follow the money and produce mainstage shows that produce the most revenue – upbeat musicals. There is one exception: Shakespeare's "A Midsummer Night's Dream."
"We were going with all musicals because we did a survey and people said they want all musicals," says Lisa McNamee, president of Vero Beach Theatre Guild board of directors.
In addition to looking for song and dance to raise its profile, the 66-year-old community theater has also launched a series of classes designed to hone skills for would-be actors. The push for the courses is a new series called the Theatrical Learning Center, which began in June for children and then grew into classes for all ages.
"The reason for this push in our educational program is to bring in people who want to act, are too afraid to act, and who think they're not good enough," McNamee says.
The idea, she explains, is to make the Theatre Guild a comfortable, friendly and encouraging place for everyone to follow their muse or to simply discover a talent they didn't know they had.
Adult classes include a variety of theater subjects, including audition techniques, how to deliver a monologue, basic directing, makeup, improvisation and more. Children's classes are taught by popular children's theater teacher Dee Rose and culminate with a "Musical Mini" revue.
The newly reinvigorated children's segment follows the tradition of robust children's programming as a good revenue stream for community and regional theaters throughout the country.
Children's classes start at $100, with each series of classes culminating into a performance showcase. The next children's series begins Sept. 28. A special two-and-one-half-week Theater Camp, which was inaugurated this past summer, will be held again beginning June 2024. The price will be announced at a later date.
On mainstage at the Vero Beach Theatre Guild for 2023 to 2024:
Sept. 29 to Oct. 15: "The Addams Family"
This 2010 musical is a favorite for community theaters around the nation. It is a comical yet warm-hearted look at the ghoulish family first made popular in 1938 by cartoonist Charles Addams, and then made even more popular by the 1964 television series. In 1991, the story was turned into a movie starring Angelica Huston, Raul Julia, Christopher Lloyd and Christina Ricci.
The musical has book by Marshall Brickman and Rick Elice ("Jersey Boys"), with music and lyrics by Andrew Lippa ("Big Fish" and "You're a Good Man Charlie Brown"). It ran on Broadway for a year and a half and famously starred Nathan Lane and Bebe Neuwirth. The show received a Tony Award nomination for best original score and Drama Desk Award nominations for both outstanding musical and outstanding lyrics and music. There is a spinoff now on Netflix called "Wednesday." Tickets are $15 to $40.
Oct. 27: "The Rocky Horror Picture Show"
This movie and shadow cast event is an immersive experience. The so-called "shadow cast" is the term used when live performers, frequently spontaneous volunteers from the audience, get up in front of the projection screen and perform scenes simultaneously with the movie. But with "Rocky Horror," it's much more than that.
Even audience members who remain seated get in on the act by holding newspapers over their heads while others may squirt water into the air when characters get caught it the rain, or throwing toast when a character makes a toast, or even standing up to dance. It's all part of the fun in getting into the story of a young couple, Brad and Janet. Their car gets a flat tire on a rainy night, and they seek shelter in an eerie castle owned by strange Dr. Frank-N-Furter and inhabited by a motley group of characters, including the butler Riff Raff, the maid Magenta, and a groupie Columbia. They're having a party where they dance the Time Warp and where Frank-N-Furter sings "Sweet Transvestite." Add to the mix a deranged motorcyclist named Eddie and a handsome young man named Rocky, and you have a most odd concoction. But one that has been luring fun-lovers for decades.
To clarify, this is not the 1973 musical, which spawned the 1975 movie starring Tim Curry, Susan Sarandon, Barry Bostwick and Meat Loaf. This cult-classic experience is for one night only with screenings at 7:30 p.m. and midnight, Oct. 27. Tickets are free, but you are required to buy a goody bag which contains all the paraphernalia you'll need to participate. You best get those tickets as soon as possible. These events usually sell out well in advance.
Dec. 8-17: "Tinsel and Tidings: A Community Concert"
This is a first-time event for the Theatre Guild, which has welcomed a variety of community groups to perform music and dance along with the Theatre Guild's core cast of singers. Tickets are $20.
Feb. 2-4: "A Midsummer Night's Dream"
One of Shakespeare's most often produced romantic comedies, "A Midsummer Night's Dream" follows pairs of lovers and a troupe of rustic actors as they secret into a forest inhabited by fairies. This is the play in which Oberon, King of the Fairies, instructs Puck to turn Bottom, a particularly bombastic member of the rustic actors, into an ass; and then enchant Titania, the Queen of the Fairies, to fall in love with Bottom. Tickets are $35 to $40.
May 3-19: "Sondheim Tribute Revue"
This is a musical tribute to one of theater's most prolific and impactful composer/lyricists – the late Stephen Sondheim. For more than 50 years, Sondheim created some of the most enduring and most often produced shows in the American music theater canon. His many awards include Academy Awards, eight Tony Awards, a Special Tony Award for Lifetime Achievement in the Theatre, multiple Grammy Awards, multiple Drama Desk Awards and a Pulitzer Prize.
While Sondheim is also known for writing lyrics for both "West Side Story" and "Gypsy," songs from those two shows will not be presented due to contract requirements by the publisher. However, there are a wealth of other shows, including "Company," "A Funny Thing Happened on the Way to the Forum," "Into the Woods," "Sweeney Todd" and "Sunday in the Park with George." Tickets are $35 to $40.
Jan. 5-14: "Picasso at the Lapin Agile"
Steve Martin's off-beat, quirky 1993 comedy involving Pablo Picasso and Albert Einstein, who, in their early 20s, meet at a Parisian bar called the Lapin Agile ("Nimble Rabbit"). Ticket prices TBA. They hope to announce more Studio Theatre programming as the season progresses.
The Vero Beach Theatre Guild is at 2020 San Juan Ave., Vero Beach. For more information, to buy tickets or to sign up for a class, call 772-562-8300 or visit VeroBeachTheatreGuild.com.