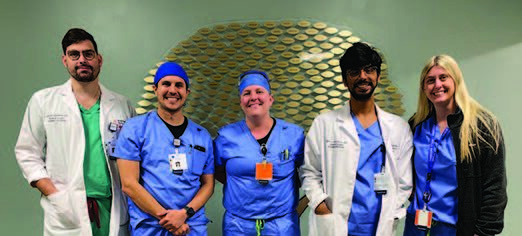 Move over, Grey's Anatomy – there's a new teaching hospital in town.
HCA Florida Lawnwood Hospital, a 430-bed, full-service acute care facility in Fort Pierce, has launched a pair of graduate medical education (GME) programs. The internal medicine and general surgery programs began in July with an inaugural class of 21 residents.
According to the hospital, residents are provided individualized learning opportunities by faculty and staff who support and sustain one another throughout quality care delivery.
"We are committed to ensuring our residents' clinical experience and educational needs are fulfilled," said Dr. Michael Bakerman, HCA Florida Lawnwood Hospital's chief medical officer. "In our program, residents learn to become compassionate and professional caregivers. Our program emphasizes not only the scientific aspects of medical practice, but also humanistic ones."
The program is good news for the Treasure Coast, where doctors are in short supply, adding 21 physicians to the healthcare mix.
Building a residency program is an arduous process that can take years of effort to gain accreditation from the Accreditation Council for Graduate Medical Education.
"The hospital has to fill out a very long application with the ACGME detailing the curriculum and program design," Dr. Joshua Hagen, surgical program director, explained. "If after they review the application they feel like what you wrote was sufficient, then the employees of ACGME will conduct a site visit where they review all the documents and talk to the principle people involved in the residency program. If they approve everything, they give you the initial certification to recruit residents for your program."
"The majority of our residents have earned their medical degrees from the eastern part of the United States or Caribbean training programs," Dr. Bakerman said. "They are highly screened physicians when they come here. In our advanced training program, they get exposed to a host of different conditions. They'll participate in patient rotations, elective rotations, continuity clinics where they see patients in the office. They can even rotate to other hospitals for different experiences. The goal is to make sure they have a variety of experiences that will lead them into a successful post-training career."
Lawnwood's new graduate medical education program is one of many residency and fellowship programs provided by HCA Healthcare at its 186 hospitals in the U.S. and United Kingdom.
"We focus on making sure residents are able to advocate for patients and that they are aware of the social aspects of health by preparing them to deal with loneliness, depression and isolation. We have programs set up to teach them how to deal with chronic illness, readmission risk and healthcare literacy issues as well – so it's a great opportunity for them to understand how to take care of patients. It's also a great benefit for the community to be able to provide additional services to the community," Dr. Bakerman said.
Both GME programs are rigorous and designed to train the next generation of physicians and physician leaders.
The general surgery residency program is a five-year accredited program centered at HCA Florida Lawnwood Hospital. Accepting only three categorical residents per year, the program covers the breadth of general surgery as well as all surgical sub-specialties.
Rotations for general surgery include Colon and Rectal Surgery, Endoscopy, Endocrine Surgery, General Surgery, Head and Neck, Plastic Surgery, ICU, Trauma, Vascular Surgery and Night Float.
The program includes a collegial and multidisciplinary curriculum dependent on clinical skills, surgical skills, knowledge-based learning and problem-based competencies. Residents benefit from personalized mentorship from board-certified faculty who instruct them through didactic conferences, core rotations and skills labs.
The accredited internal medicine residency program offers a broad array of conferences, small group and interactive learning activities and simulation-based training in all medical specialties. Monthly administrative reports help residents understand the business side of medicine and monthly journaling helps trainees excel in critical appraisal of evidence and literature review. All didactic and scholarly sessions are supervised by faculty and each resident is assigned a personal mentor.
"The internal medicine and general surgery programs are just our first steps into graduate medical education programs for physicians," Dr. Bakerman said. "We are actively looking at other opportunities that might involve anesthesia, radiology, emergency medicine, psychiatry, podiatry and OBGYN down the road. We anticipate having over the next several years approximately 150 residents."
Which means 150 more doctors on the Treasure Coast.
A common misconception about residency programs is that the residents are medical students. In fact, they are full-fledged physicians who have graduated from medical school and may even have practiced independently. They get paid to be part of the hospital staff while continuing their education.
"These young doctors are interested in critical care, the determination of disease, learning about the disease process and learning how to manage it," said Dr. Bakerman. "They work very closely with attending physicians but, ultimately, it's the attending physician who is responsible for the care. The residents don't do anything on their own.
"They are a great addition to our medical staff and it's a great opportunity for us to teach, train and share our knowledge with these residents. We do our best to train them to be excellent physicians and stewards of the profession. We would like them to stay and grow with us but as long as they are accomplished physicians and capable of taking care of patients when they leave here, that's our primary goal."
Dr. Bakerman received his medical degree from Albert Einstein College of Medicine and completed his internship in internal medicine and his fellowship in MD/Cardiology at Boston University School of Medicine. He later earned a master's degree in medical management from Tulane University. Dr. Hagen is a critical care medicine specialist who received his medical degree from University of Tennessee College of Medicine, completed his internship at Boston Medical Center, and his residency and fellowship at University of Tennessee College of Medicine.