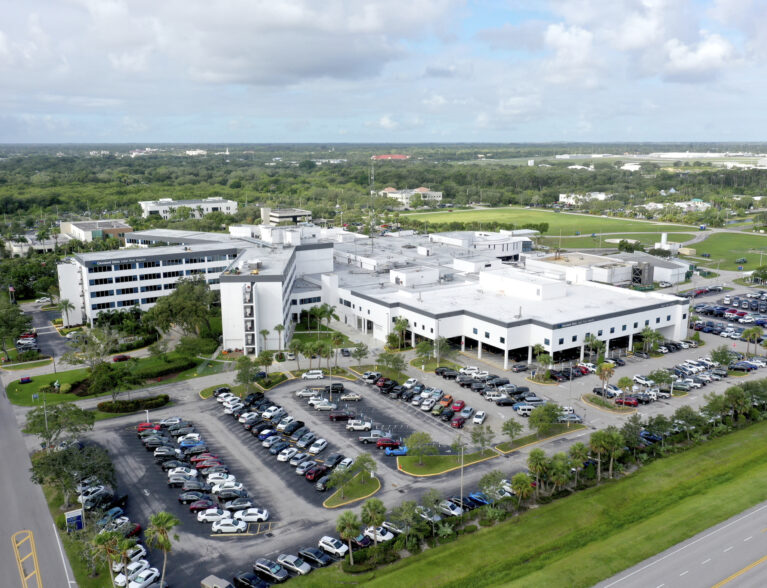 During August, the Centers for Disease Control and Prevention's new director made almost daily headlines warning of a new wave of COVID-19, citing numbers showing covid hospitalizations sharply increasing week by week.
On Sunday, Aug. 27, the Press Journal jumped on the bandwagon, with its lead headline proclaiming: "Summer COVID surge hits Treasure Coast. Hospitals have seen influx of patients."
But is any of that true?
Not only do the CDC's numbers, upon closer examination, appear grossly inflated, but a bizarre pattern makes many of the recent numbers reported in Florida and elsewhere across the country look totally bogus.
And Cleveland Clinic Indian River Hospital has been reporting hospitalization numbers for COVID-19 here that are far, far lower than those reported by the CDC.
Back in early August when newly minted CDC Director Dr. Mandy Cohen began making the interview circuit to rebuild America's trust in federal public health officials, she repeatedly told the public that the number of patients being hospitalized for COVID-19 illness was increasing.
For the week ending Aug. 12, the CDC database showed that Indian River County had 58 Covid-positive people hospitalized. If true, that would have been troubling, as that number would have been about the same as during the deadly Delta surge back in 2021.
But Cleveland Clinic Indian River Hospital showed only six Covid-positive people hospitalized during the same period the CDC said we had 58. And of those six patients, only half actually presented in the Emergency Room with Covid symptoms. The other half turned up positive only because they were tested while in the hospital prior to a surgery or procedure.
It took a few days to even track down the number of people in the hospital with Covid because Covid wards are long gone, and patients aren't tested upon admission anymore. The hospital explained that COVID-19 is now just a code on a patient's chart, like many other codes for conditions the patient might walk in with or develop in the hospital.
When the patient is discharged, the chart goes to coding and billing, and after that's complete, the Covid hospitalization gets reported to state public health officials. This is similar to what happens if a patient has influenza.
"The team at Indian River no longer actively tracks COVID cases," Cleveland Clinic spokesperson Arlene Allen-Mitchell confirmed on Friday.
So where on earth are the CDC numbers that officials using to scare vulnerable Americans coming from?
It seems like the feds are using some sort of algorithm to populate the database with bogus numbers – at least in Florida.
For week ending Aug. 12, the CDC said Indian River County (population 167,738) had 58 hospitalizations. The CDC also said Brevard County to the north – 3.8 times the population of Indian River with 632,900 people – had the same 58 hospitalizations.
Coincidence? Vero Beach 32963 has been tracking all available local Covid Data since March 2020 and Indian River and Brevard have never reported the same number of hospitalizations in three and a half years.
But it gets even more bizarre, and more unbelievable.
For the week ending Aug. 12, the CDC said St. Lucie County (population 347,779) had 238 hospitalizations. And Martin County (167,639), roughly the same population as Indian River, also had 238 hospitalizations, according to the CDC. And astoundingly, Palm Beach County (population 1.5 million) also had exactly 238 hospitalizations.
Meanwhile, Broward County (population 1.98 million) had 394 Covid hospitalizations for the week ending Aug. 12, according to the CDC, and Miami-Dade County (population 2.9 million) also had 394 hospitalizations.
This pattern holds around most of Florida's 67 counties, with clusters of identical hospitalization numbers for counties with vastly different populations. One popular number was 44 for mid-sized counties. Tiny rural counties typically had 17 hospitalizations – more than the actual number hospitalized with Covid in Indian River in early August.
For week ending Aug. 19, the number of Indian River County hospitalizations fit the CDC talking points that Covid is "on the rise," as the number listed is 70, a 20.7 percent increase over the previous week. Seventy Covid hospitalizations locally would mean Cleveland Clinic would be in crisis mode – but cases in-house there remain in the single digits.
Brevard County also had exactly 70 hospitalizations for week ending Aug. 19, according to the CDC. So we checked our neighbors to the south again.
Broward County had 410 hospitalizations and you can probably guess Miami-Dade's number – 410 hospitalizations.
The CDC says St. Lucie County had 265 hospitalizations for week ending Aug. 19, with Martin County reporting 265 hospitalizations and Palm Beach County reporting the exact same number, 265 hospitalizations.
Curiously, the CDC reported that Cook County, Illinois – a county with a population of 5.1 million – had only three more hospitalizations than Martin or St. Lucie counties.
The numbers are equally strange elsewhere in the country. For the week of Aug. 19, the CDC had Suffolk County, N.Y., and Nassau County, N.Y., each with exactly 209 hospitalizations.
Nationwide, based on these bizarre numbers, the CDC says 10,000 people were hospitalized with COVID-19 last week, a 20 percent increase over the previous week.
But the Indian River County number, based on the actual number reported by Cleveland Clinic Indian River Hospital, is inflated by about 96 percent if you're looking at hospitalized specifically for Covid, or about 90 percent if you take into account the asymptomatic patients who coincidentally positive for Covid.
Until we see some credible numbers from the CDC, or information from trusted medical professionals at Cleveland Clinic Indian River Hospital, that Covid-positive patients are once-again tasking our local healthcare system, we will not be reporting that COVID-19 hospitalizations are "on the rise" as the CDC alleges.
And we would love an explanation of what is going on with these faulty – if not fraudulent – data.