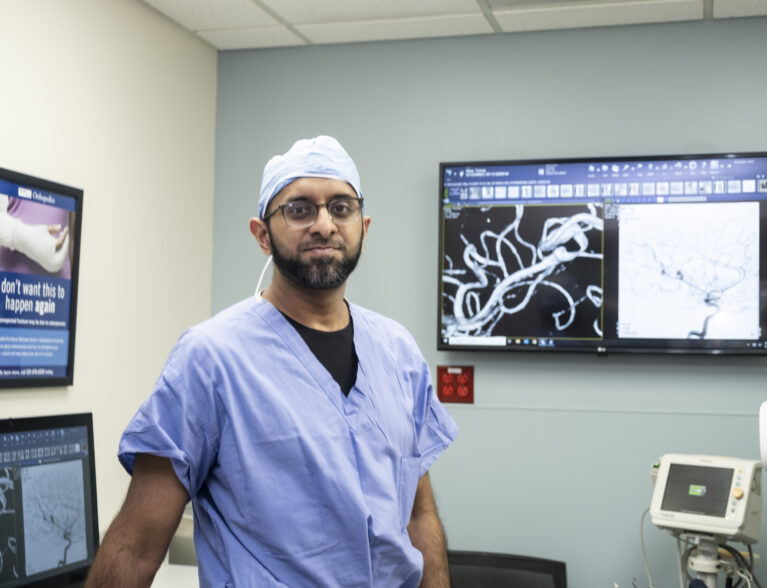 "Treatment for stroke underwent a major change in 2014 when the 'MR CLEAN' report was issued – it revolutionized everything," said Dr. Fawad Shaheen, an interventional neuroradiologist at Holmes Regional Medical Center in Melbourne. "After that, hospitals began to add thrombectomy-capable stroke centers and the successes and expansion of treatment has continued to grow."
According to the professional journal Practical Neurology, the study called MR CLEAN – Multicenter Randomized Clinical Trial of Endovascular Treatment for Acute Ischemic Stroke in the Netherlands – was the first to show a benefit from catheter-based treatments for acute stroke patients.
The latest advance in stroke care came in February when the results of the Select 2 Study, which involved 31 medical centers in North America, Europe, Australia and New Zealand, was published in the New England Journal of Medicine. It showed that thrombectomy – surgical removal of blood clots – has become appropriate for more patients.
"Thrombectomy had been shown to be effective in smaller strokes but patients with large strokes who previously were considered too high risk for the procedure are now no longer precluded from receiving it," said Dr. Shaheen, who started Holmes' stroke care program in 2014.
"We learned that the window for treatment can be up to 24 hours, rather than six, as we had believed, so long as a portion of the brain is still alive.
"At one time, the biggest fear we doctors had was that if we performed this procedure, we'd harm the brain. But now we're able to use it on patients with both large vessel and middle vessel occlusions," he said.
"We also learned that even people with some brain injury can show improvement," he added.
"There are two large categories of thrombectomies: surgical (open) thrombectomy and percutaneous (minimally invasive) thrombectomy," according to Cleveland Clinic.
"During a surgical thrombectomy, your surgeon makes an incision to get to your blocked blood vessel, cuts open your blood vessel, removes the blood clot using a balloon, and then repairs the blood vessel. During a mechanical thrombectomy, your surgeon intro-duces special devices through catheters that can either macerate or suction out clots from within your blood vessel. When there's a residual clot left, your surgeon will infuse the area with local clot-dissolving medicines."
Normally, blood flows freely through your arteries and veins. Your arteries carry blood with oxygen and nutrients to your body. Your veins carry waste products back to the heart.
But sometimes the blood thickens and clumps to form a blood clot in one of these vessels.
This can block blood flow, causing damage to affected tissue, including the brain.
"There is no age cutoff for the procedure, although the majority of studies end at age 85," says Dr. Shaheen. "If a person is older but in general good health, the chances are it's appropriate. I had a 101-year-old patient who had it done and walked out of here smiling."
The medical staff needed to perform a thrombectomy includes surgeon, nurse coordinator, hospitalist, neurology nurses and specifically trained technologists or, in Dr. Shaheen's words, "an army."
According to numbers compiled by the Congress of Neurological Surgeons in 2022, there are 316 thromb-ectomy-capable stroke enters in the U.S. The Joint Commission, in collaboration with the American Heart Association/American Stroke Association, offers Thrombectomy-Capable Stroke Center (TSC) Certification, which means a hospital has met rigorous standards for performing endovascular thromb-ectomy and providing post-procedural care. Holmes Regional Medical Center has had its certification continually since 2018 and is ranked in the top category – High-Performing.
Although ever improving thromb-ectomies often provide successful outcomes for those who suffer a stroke, it can't be overstated exactly how much minutes matter. The difference between a stroke sufferer getting into treatment in 90 minutes versus several hours may be the difference between nearly full rehabilitation and a lifelong disability.
Health First, which owns Holmes Regional Medical Center, advises people to B.E. F.A.S.T – checking for these essential signs of stroke:
B – Balance: Is the person suddenly having trouble with balance or coordination?
E – Eyes: Is the person experiencing sudden blurred or double vision or a sudden loss of vision in one or both eyes without pain?
F – Face Drooping: Does one side of the face droop or is it numb? Ask the person to smile.
A – Arm Weakness: Is one arm weak or numb? Ask the person to raise both arms. Does one arm drift downward?
S – Speech Difficulty: Is speech slurred, are they unable to speak, or are they hard to understand? Ask the person to repeat a simple sentence like, "The sky is blue." Is the sentence repeated correctly?
T – Time to call 911: If the person shows any of these symptoms, even if the symptoms go away, call 911 and get them to the hospital immediately.
Fawad Shaheen, M.D., is a board-certified interventional neurorad-
iologist. He served a fellowship in endovascular neursurgery/interventional neuroradiology at the University of Wisconsin and a fellowship in diagnostic and interventional neuroradiology at the University of Washington. He completed his residency in diagnostic radiology at the University of South Florida and his internal medicine internship at Georgetown University. Dr. Shaheen earned his Doctor of Medicine at the University of Medicine & Dentistry of New Jersey – Robert Wood Johnson Medical School and his Bachelor of Science in Biology with the highest honors at Rutgers College, Rutgers University. He has offices in the Health First Medical Group Physician Specialties Office, 1350 Hickory St., Suite 101, Melbourne. The phone number is 321-434-1401. He is accepting new patients.