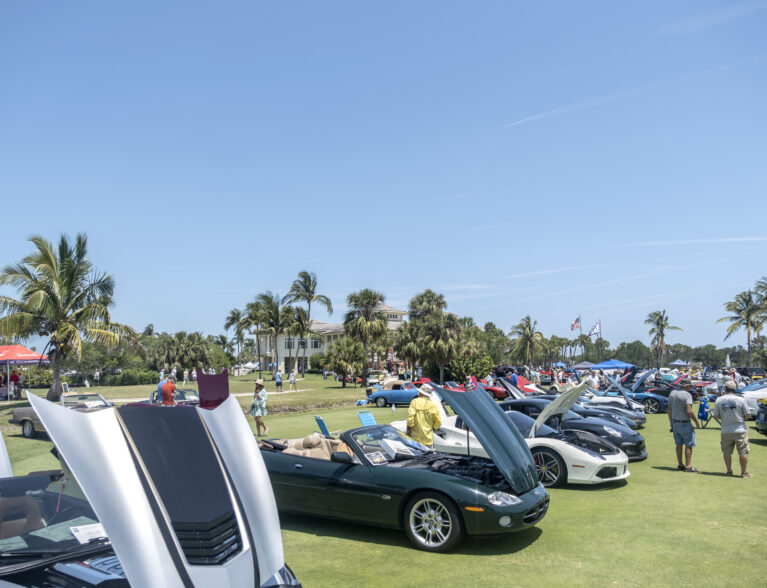 It's a labor of love for the board members and supporters of the Wheels & Keels Foundation, which was founded in 2009 by Moorings members Gavin Ruotolo, Vince DeTurris and George O'Malley. Their idea was to hold a Concours-style show at the Moorings Yacht and Country Club to benefit select nonprofit organizations, and, since then, their concept has expanded exponentially.
The number of phenomenal cars and boats on display at this year's 12th annual Antique & Exotic Car & Boat Show was well more than double that of the first year, and the charities benefiting from their largess have also greatly increased. Now a two-day event, this year's fundraising weekend raised roughly $100,000, bringing the total amount they have raised and distributed to more than $700,000.
During their recent Dinner and Auction, W&K board president Vince DeTurris welcomed and thanked everyone for their generosity and input, adding that they were proffering grants to several more agencies.
"We want to do this every year. We want to pick out specific small charities that need a hand, and there's a bunch of them out there," said DeTurris.
In recent years, the W&K Foundation has provided grants to: Youth Sailing Foundation, which teaches sailing to children from all backgrounds; the ARC Oyster Reef Restoration Project, a program for individuals with intellectual and developmental disabilities; Navy SEAL Trident House Charities, which offers support, scholarships and a haven for SEALS and their families; Vero Beach Rowing, which teaches youth the sport of rowing; Lines in the Lagoon, a youth-founded fishing tournament to nurture environmental stewards; Crossover Mission, which provides year-round basketball training and mentoring; and Special Equestrians of the Treasure Coast, which offers equine-assisted therapy.
The nonprofits each had booths along the hallway outside the dining room, where they offered silent-auction items for guests to bid on and information about their programs and services.
This year, DeTurris explained, a new Founders Award was established in memory of Marcia Ruotolo, wife of W&K founder/CEO Gavin Ruotolo, who passed away in November.
"She was such a fireplug that supported us and kept us going even when we were nowhere," said DeTurris. "She was so touched by children especially, so the board picked out three relatively small charities that we will help this year, along with our seven charities obviously."
Founders Award grants were presented that evening to the Musical Angels Educational Fund, which provides private music lessons to children who might not otherwise have access; the Sally Wilkey Foundation, which provides underserved children with tennis, academic and life skills development; and Sebastian River Rowing, which provides children with rowing lessons so they may compete with youth and scholastic teams.
Additionally, the VNA & Hospice Foundation received a donation earlier in the year to support their charitable programs.
"Our objective, our mission statement, is to help the lives of children and adults within the Indian River community. And we really can't do it unless we have support. We thank you from the bottom of our hearts to help us be the foundation that we are," said DeTurris.
That was the perfect lead-in to auctioneer Wesley Davis, who proceeded to entice spirited bidding on assorted auction items and a genuine 'bid from the heart.'
On Saturday, hundreds of people made their way over to the Antique & Exotic Car & Boat Show at the Moorings, where 110 lovingly cared for antique, exotic and classic vehicles, hand-picked by board member Sam Gagliano, were on display on the Pete Dye Signature Golf Course, while a selection of impressive powerboats and yachts were moored at the docks.
Plans are already in place for the 13th annual W&K Fundraising Weekend, April 12-13, 2024. For more information, visit wkvero.com.
Photos by Joshua Kodis