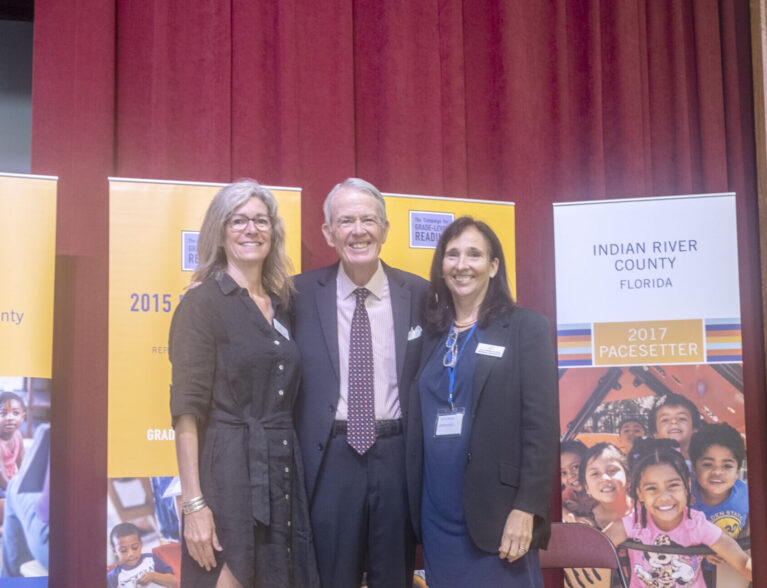 Local community and business leaders, educators, politicians and concerned citizens gathered in McAfee Hall at First Presbyterian Church for the Moonshot Literacy Leaders' Summit, focusing their efforts on the collective Moonshot Moment Literacy Goal of having 90 percent of all children reading at grade level by third grade.
"Today, we're about uniting behind this goal," said Barbara Hammond, TLA CEO and co-founder, encouraging them to consider what personal actions they were willing to take to make ours a stronger and thriving community.
"It's a moral issue, it's a spiritual issue, and it's an economic issue," she said, stressing the importance of building an effective team of local experts.
She introduced Margaret Ingram, a lifelong resident of the town, who has a unique perspective, having been named Indian River County and Florida Teacher of the Year before her retirement.
"Research has shown us that literacy is that strong foundation we need to have a thriving, cohesive and literate community," said Ingram. "Today we will explore ways we can collectively and individually contribute to achieving the goal of 90 percent of our third-graders reading on grade level and our little babies are ready for kindergarten."
The superintendent, along with children, parents and business leaders, including Ray Oglethorpe, TLA board chair and founder, who was raised in a rural coal mining town and became president of AOL, gave testimonials about the impact that literacy has had on their lives.
"There is none finer than Indian River County in terms of articulating a goal that is ambitious, actionable and achievable that the entire community can rally around and use as something to motivate and mobilize the community," said Ron Fairchild, senior consultant at the Campaign for Grade-Level Reading, speaking of the work here relative to what is happening nationwide.
"Indian River County is a beacon. You are a superstar in this network. Your Moonshot Community Action Network creates a vehicle for connecting programs, strategies and practices across the developmental continuum, from being born healthy, to thriving by 3, to kindergarten-ready, to reading by third grade. It takes all of this work connected together to really make sure that kids hit this milestone," he added.
Superintendent David Moore spoke about the importance of zeroing in on high-quality, early childhood experiences, student attendance, student engagement, teacher recruitment and retention, parental awareness, and education in order to engage and empower all students for success.
Vero Beach Elementary School has been established as a Moonshot School, which will serve as a hub of innovation. The school will be a resource for district employees to observe proven, science-based teaching strategies and where teachers will be trained in best practices and systems. It is made possible through a public-private partnership, funded in part through an Impact 100 grant.
Wanda Lincoln, a retired teacher and early childhood advocate, stressed the importance of quality pre-school programs before children enter kindergarten, adding that Florida is ranked 41st nationwide for pre-school program funding.
"Kids aren't just learning letters and sounds and shapes in pre-school, they're learning how to be people," said Lincoln.
It is something that Childcare Resources of Indian River County, a stakeholder at the Summit, has been developing for nearly 30 years.
"Unite. Learn. Act" was the overarching theme that resonated throughout the day – to unite an entire community around the common literacy goal; to learn how the brain works; and to act toward preparing Indian River County to be the leading literacy capital of the nation.
For more information about 'the Moonshot Literacy' program, please visit moonshotmoment.org or thelearningalliance.org.
Photos by Joshua Kodis