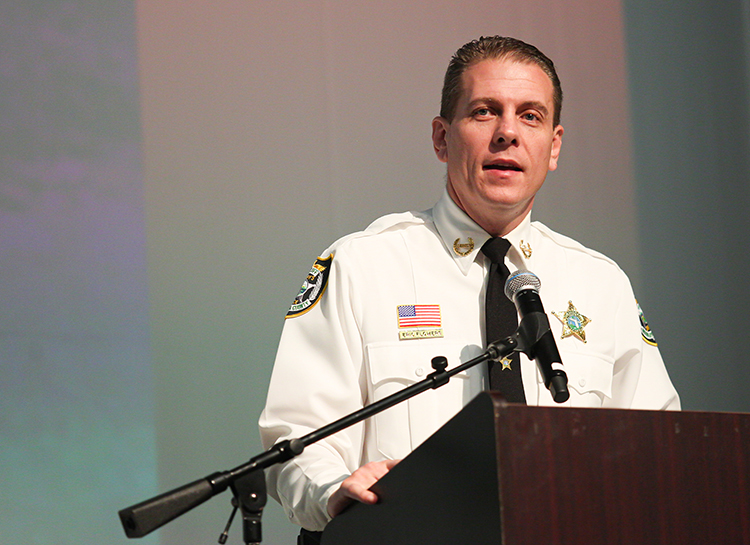 As anticipated, Sheriff Eric Flowers formally entered the 2024 sheriff's race for Indian River County, where he has led the agency since being elected in 2020. Flowers, the incumbent, made the announcement Thursday and will compete against Indian River Sheriff's Office veteran Capt. Milo Thornton, Fellsmere Police Chief Keith Touchberry, and Deborah Cooney for the top law-enforcement seat in next year's general election.
"Today, I am honored to announce my candidacy for re-election as sheriff of Indian River County. The support I have received in anticipation of this announcement has truly been overwhelming," Flowers said in a statement. "Serving as your sheriff has been a privilege beyond compare. The ability to lead the professional men and women who work tirelessly to protect our community has and will continue to be the honor of my life."
Flowers, Thornton and Touchberry each filed as Republicans, while Cooney filed as No Party Affiliation. In the previous election, Flowers won in a landslide victory to become Indian River's 11th county sheriff.
Before becoming sheriff, Flowers held a variety of positions at the 500-plus member agency, including major of the Bureau of Law Enforcement, spokesperson, public affairs lieutenant, detective sergeant, undercover detective and field training deputy, to name a few. Under Flowers' term, new initiatives such as the Real Time Crime Center were put in place to modernize the approach to stopping crime.
"From our RTCC, our crime analysis team works with deputies on patrol, detectives, jail staff, and our dispatchers to address problems in real time as they occur," Flowers said.  "The implementation of technology such as license plate readers throughout the county has resulted in criminals being identified and arrested who might have otherwise avoided detection and done harm to our community."
New inmate programs – aimed to reduce recidivism and provide vocational training – included food management, printing and design, an agriculture program, barber training and art therapy, Flowers said. The sheriff's office also partnered with Treasure Coast Community Health to bring improved health care, along with resources immediately available to inmates upon release.
"This partnership with TCCH makes us one of only two jails in the state partnered with a non-profit Federally Qualified Health Center," Flowers said. "While other jails around the state are dumping taxpayer money into for-profit inmate healthcare, we are finding new ways to save tax dollars and reduce recidivism through holistic care."
The sheriff's office has also created programs and partnerships focused on the mental and physical health of its employees.
Flowers said the agency works with Emerald Medical to provide staff with medical and mental health care by licensed professionals. The agency also created the Operation Be More Fit initiative to encourage and support employees to lead healthy lifestyles – physically and mentally.
The Sheriff's Traumatic Advocate Response Team, a peer support program, aims to help first responders who struggle with post-traumatic stress disorder, agency officials said. The team gives confidential mutual support to all sworn and non-sworn members of the agency.
Flowers said the agency is planning to collaborate further with local police departments to create a unified dispatch center, along with one records management system. These improvements will help 911 callers avoid being transferred in an emergency and will lessen the risk of crucial information not being delivered precisely and in a timely manner, officials said.
"I am excited to launch my campaign and to continue to serve as the sheriff of Indian River County. I look forward to the opportunity to continue to engage with our community and maintain the strong level of support I have been blessed to receive," Flowers said. "For more information, please visit my campaign web site at flowersforsheriff.com and engage with me on most social media platforms."