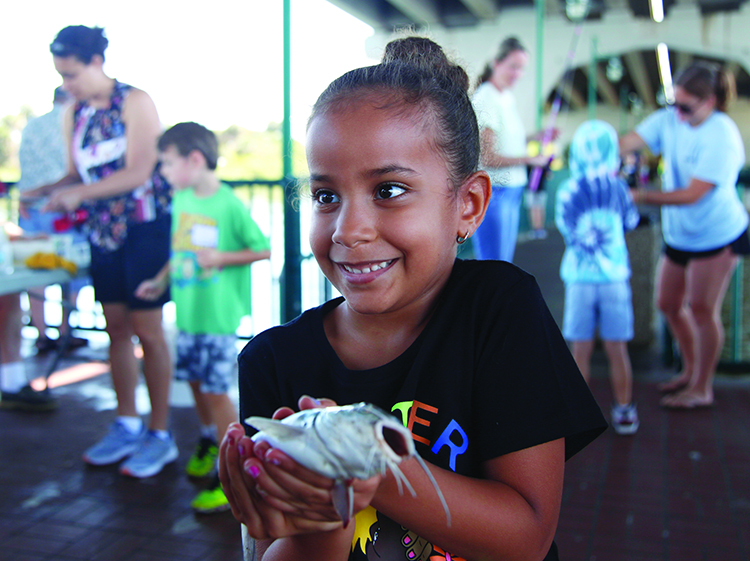 The Kiwanis Club of Vero-Treasure Coast will host the annual "Take a Kid Fishing" event this weekend. The event is for children 5 to 12 years of age and requires adult supervision. So, no dropping your child off and picking them up later. The actual fishing will take place from 9 a.m. to 11 a.m. Saturday, May 13, at the Barber Bridge fishing catwalk. A lunch will follow the fishing. Rods and reels will be provided but because of limited quantities, organizers suggest you provide your own equipment. Bait will be donated by Vero Tackle & Marina. Trophies are donated by Trophies, Novelties & More, with prizes awarded for each age bracket and a special prize for the ugliest fish. Lunch and soft drinks will be provided by the Kiwanis Club. The event will be held rain or shine. It is free. Registration starts at 8:15 a.m. but pre-registration is suggested. For more information, visit VeroKiwanis.com or call Mark Sammartino at 772-321-0924 or Al Sammartino at 772-321-1412.
The Vero Beach Seafood Festival has merged with the Pirate Festival to create a mountain of fun this weekend at Riverside Park in Vero Beach. There will be food, live entertainment, arts and crafts vendors, an interactive pirate encampment, mermaids and a kids zone. The food being served includes lobster, shrimp, oysters, crabs, fish, calamari, conch, ahi tuna and paella as well as non-seafood dishes. Saturday's entertainment on the mainstage features Jason Montero from 11 a.m. to 12:30 p.m., Jeff Fereshetian from 1 p.m. to 2:30 p.m., Bamboo from 3 p.m. to 4:30 p.m. and Keith Anthony Barbrie from 5 p.m. to 6 p.m. Sunday's entertainment on the mainstage features Johnny Debt Prestage from 11 a.m. to 1 p.m., Scott Benge from 1:30 p.m. to 3 p.m., Keith Anthony Barbrie from 3 p.m. to 3:30 p.m. and Bamboo from 3:30 p.m. to 5 p.m. The event is free, but organizers would greatly appreciate a $2 "Buck-N-Ear" contribution. Personal tents, large umbrellas, coolers, and outside food and beverages are not permitted. Organizers ask that you bring a canned good to donate to the Treasure Coast Food Bank and drop it off at the Vero Beach Chamber of Commerce booth near the entrance. The Vero Beach Seafood Festival runs 11 a.m. to 6 p.m. Saturday, May 13, and 11 a.m. to 5 p.m. Sunday, May 14, at Riverside Park, 3258 Riverside Park Dr., Vero Beach. There is free parking. For more information, visit
Pottcevents.com.
Riverside Theatre's Comedy Zone is a good place to go for good laughs, easy eats and an all-around jolly time. This weekend's standup acts feature headliner JJ Curry, feature act Sheena Reagan and emcee Josh Armenteros. A Georgia native, Curry is an Air Force vet and can be heard on "The Curry Chicken Podcast." He was part of the 2021 North Carolina Comedy Festival and has appeared on Afro TV's "Funny not Famous" show and on Roku TV's "LMAO" show. Reagan is from Cape Coral, and was named Florida's Funniest Female in 2018. She's been seen at the Gotham Comedy Club in New York City and at the Comedy Bar Chicago. She's opened for Jon Lovitz, Bryan Callen, Kevin Farley and Anthony Jesselnik. Armenteros likes to poke fun at his upbringing in a big Cuban family. All seats to the Comedy Zone are $25. The shows begin 7 p.m. and 9 p.m. Friday, May 12, and Saturday, May 13. Be sure to arrive early to take advantage of the free music at Live in the Loop, which is adjacent to the Comedy Zone venue. You'll be able to buy food, drinks and just get good and relaxed for the fun to come. Friday's concert features Luna Pearl, who specializes in a wide array of styles with songs by Sade, KC and the Sunshine Band, David Bowie, Bon Jovi, Pat Benatar, the Doors and much more. Luna Pearl performs 5:30 p.m. to 9 p.m. Friday, May 12. Jerzi, which has an electric ukulele, will perform their own versions of popular tunes, from oldies to today's hits. Jerzi performs 5:30 p.m. to 9 p.m. Saturday, May 13. Admission to the Live in the Loop is free. Riverside Theatre is at 3250 Riverside Park Dr., Vero Beach. For more information, call 772-231-6990 or visit RiversideTheatre.com.