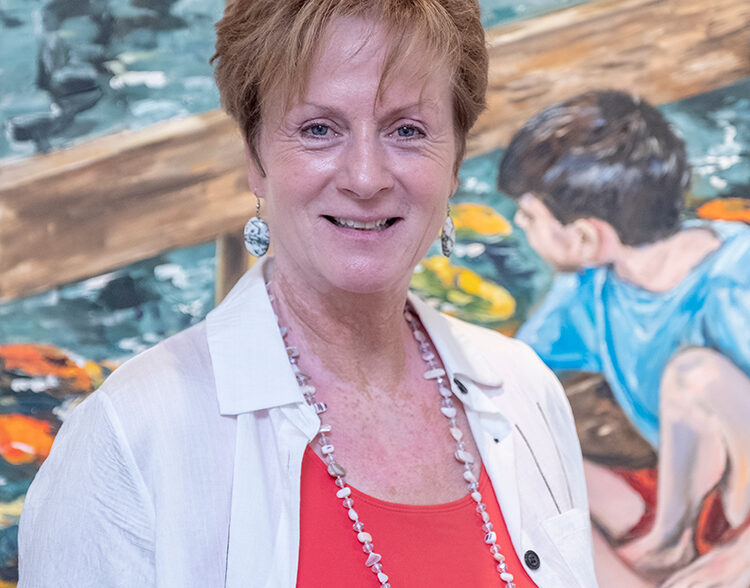 Iris Beate likes to capture "Moments in Time – Observations," which, fittingly, is the name of her solo exhibition at Gallery 14, where she is the featured artist through May.
Beate's oil paintings showcase the people, pets and landscapes that catch her eye; whether in New York where she used to live, Satellite Beach where she currently resides, or on her travels, she will often quickly snap photos to later record in her paintings. Her works depict the endless moods and familiarity of human nature, mirroring day-to-day life in a fashion such as Norman Rockwell did years ago.
Beate explains that through her writing and her paintings, she always tries to capture a moment in time that recounts the entire story. She shares that she enjoys observing "people just being people," communicating with each other and the world around them.
From the hustle and bustle of daily life in New York to the quiet beauty of Florida, she says people watching is the basis for her artwork.
Born in Germany, where she spent her early years, Beate immigrated to the United States with her parents in 1975, landing in Miami. After graduating from Boston University, she lived in New York's Brooklyn Heights and Cobble Hill sections in the early 1980's when she was a full-time mother to three children with her first husband.
During a trip to Florida to visit her brother in 2005, she rekindled her Florida connection, and began visiting regularly, eventually meeting her second husband. He was a diving master, and they enjoyed visiting the Galapagos Islands and encountering nature such as she had never seen before.
Beate says she threw herself into the world of art after her husband passed away.
"It really is true. One door closes and another opens up. The 10 years with my husband was like a dream come true, but now art; a different way of life."
She began painting after she took a Bob Ross class and found that the introduction wasn't at all intimidating, noting, "I took the class and came home with a painting."
Beate soon began taking other classes and workshops to better learn the craft and was then exposed to the Melbourne art scene.
"That was really the beginning for me," says Beate. "Bob Ross introduced me to the colors and mixing. My first art show was at an outdoor art festival in the Eau Gallie Arts District, a section of Melbourne," she says.
During that time, she had a chance meeting with Cathy Belcher, the mother of collage artist Derek Gores.
"We met at ladies night out at the local pub. There was only one seat left and I took it, and Cathy was in the next seat," Beate recalls. "We struck up what has become a beautiful friendship."
Recognizing Beate's talent, Belcher offered to help guide her in the local art scene and took her to an opening of an exhibit for Gores when he was the featured artist at Gallery 14.
"The energy and the light are wonderful in the space," she says of Gallery 14. "I am so happy they took a chance on me, showing my oil paintings."
Beate has continued with her studies, taking three years of classes with Karen Leffel-Massengill, even after that artist had moved to Stuart. Happening on a portrait workshop offered by Chris Kling, Beate found that she was intrigued by portraiture, commenting that while faces were initially a challenge, they express what's in the soul.
"I look for the interaction between the lines in the entire vignette, of the moment. It's the scenes that grab me that have something to say. So many instances pass us by in a day, and we may not be even aware of it," she explains.
"I think it's what connects all of us under the surface; the innocence of children, the magical sounds of musicians and what the music embodies when they play. The music touches our spirit," she explains.
Beate admits though, that capturing the moment can be difficult.
"Sometimes I have to put the painting aside for a day or a few days, and come back to it with fresh eyes, because there is something just not right with it."
One of her paintings is based on a photo she found in Turkey in which a boy lets his homing pigeon out to fly. The viewer sees the whole story – the bond of loyalty between boy and bird, the freedom, excitement and energy of the moment.
Beate snapped a photo of children crouching at the edge of a bridge at Squid Lips in Cocoa Beach, intently watching the sea of koi beneath them in the water, and captured it in her painting "Which One?"
"They really wanted to take one of them home!" she says.
In "Sunday Outing," a painting of a scene at Long Doggers Restaurant in Satellite Beach, it's easy to relate to the older man, grandpa maybe, and the boy sitting next to him, leaning in closely as they take time to share a mid-day meal.
In "Pink Lemonade," a father sits at a luncheonette counter, taking a break by sipping a glass of cold lemonade in his right hand, while holding his child over his left shoulder. His desire for a rest is clearly not felt by the bright-eyed baby who peers out, alert with excitement and, unlike the father, anything but tired.
The concentration of players at a chess table on a city sidewalk in "Your Move," shows the intensity of thought in a game that even draws in young children to watch closely. That particular painting won the Award of Excellence at the 2023 Melbourne Art Festival. A year earlier, her painting, "In Search of Flamingos 2022," a colorful work depicting visitors walking through an art festival, was chosen as the cover artwork for that year's Melbourne Art Festival.
"Undivided Attention" depicts one of Brooklyn's many resident dog walkers. Beate says she observed that the woman initially had just a few dogs but has since expanded to managing upwards of 16 dogs, many of which are captured in the painting. Beate says the woman exudes confidence and has complete control over all of the dogs, who get along beautifully.
Beate clearly loves what she does, and it shows in her work.
"It's pure joy, depicting people in everyday life, often mundane things, and making that special. We may not realize how special the moment is. The reality is the moment is so fleeting. The photograph captures it and allows me to paint it."
Photos by Joshua Kodis