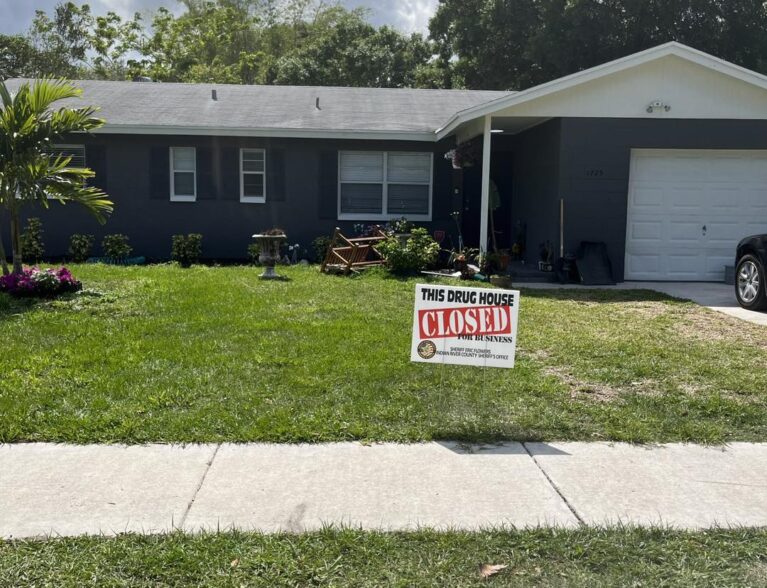 A Vero Beach couple was jailed over the weekend after deputies said they found several drugs – including fentanyl, methamphetamine and ecstasy – in a home. Deputies conducted an undercover drug probe earlier this month that revealed the pair was selling narcotics from the residence.
"Detectives found trafficking amounts of methamphetamine and fentanyl, along with other items of drug paraphernalia," sheriff's officials said. "A firearm was also recovered which had the serial numbers removed."
The home is a "stones throw away" from Rosewood Magnet School and Vero Beach Little League baseball fields, deputies said.
Robert William King, 55, of the 1200 block of 19th Avenue, was arrested on a variety of charges including trafficking methamphetamine, trafficking fentanyl, possession of ecstasy, possession of a firearm by a convicted felon, use or possession of drug paraphernalia and two counts of possession of new legend drug without a prescription. Nicole Alexandra Ladouceur, 37, of the 7500 block of 58th Court, was charged with sale or delivery of a controlled substance within 1,000 feet of a school and possession of fentanyl.
King was held Thursday at the Indian River County Jail on $847,000 bond, while Ladouceur was held on $260,000 bond.
Indian River County sheriff's deputies used a confidential informant to purchase narcotics, including fentanyl, from the couple on March 27 and April 4 at the home on 40th Avenue, reports show. The sheriff's SWAT Team, along with Vero Beach police officers, then conducted a search warrant about 1:30 p.m. Saturday at the residence.
Deputies combed the property and found the following items:
A fake can with a substance that tested positive for fentanyl
Four plastic bags with a substance that tested positive for methamphetamine
Three plastic bags with a substance that tested positive for fentanyl
Two pills of ecstasy and one bag of powdered ecstasy
Three pieces of tinfoil with a substance that tested positive for fentanyl
Electronic scale
Black safe
Glass pipe with black residue
Sig Sauer P226 firearm
Magazine containing five 9mm rounds
$1,270 in cash
King admitted to deputies that he sells methamphetamine and fentanyl from the home, reports show.
Deputies arrested King along with Ladoceur and booked them into the county jail. Both have arraignments at 8:45 a.m. June 1, court records show.
Photos provided by Indian River County Sheriff's Office