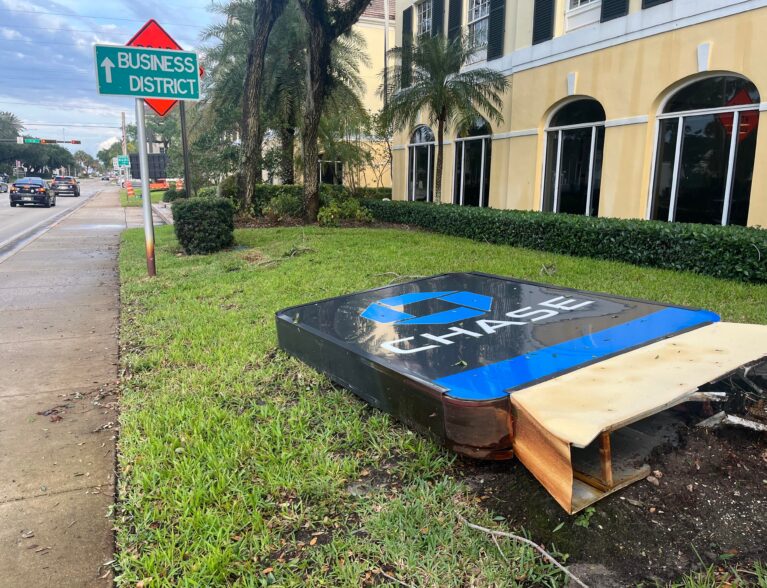 VERO BEACH — A severe thunderstorm with powerful wind gusts knocked down a Chase Bank sign near Beachland Boulevard Wednesday. The storm also toppled a tree onto a firefighter's personal vehicle, Vero Beach police spokesperson Officer Kelsea Marty said.
"No one was inside. (The vehicle) was unoccupied," Marty said.
No injuries were immediately reported.
Motorists driving along Beachland Boulevard were able to see the damaged Chase Bank sign laying flat on the grassy area in front of the business. The incident where the tree fell on the firefighter's vehicle happened at the fire station near the 1300 block of Old Dixie Highway, Marty said.
The weather disturbance – which also dumped hail throughout other parts of Central Florida – snapped limbs from trees, blowing them into roadways.
The storm rolled through Indian River County about 4:40 p.m., National Weather Service in Melbourne Meteorologist Jessie Smith said. The thunderstorm carried 46 mph sustained winds, with gusts as high as 64 mph, Smith said.
The total rainfall amount for Vero Beach was .73 inches, Smith said. Heavy winds uprooted trees in various residential areas.
Meteorologists issued several watches and warnings earlier on Wednesday ahead of the storm. A severe thunderstorm watch remained in effect until 9 p.m., according to the National Weather Service in Melbourne.
There is a 60-to-80 percent chance of showers to occur during the day from Friday through Sunday, forecasters said.
Photos by Joshua Kodis, Nick Samuel and submitted by readers