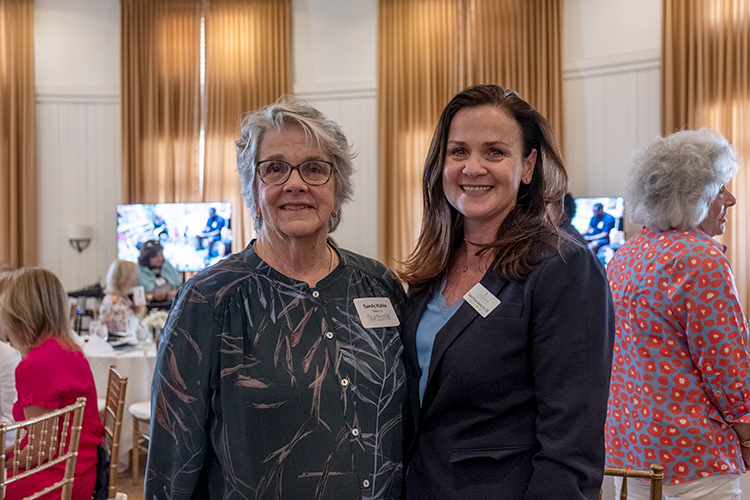 Proponents of early childhood education enjoyed luncheon or dinner options at this year's Starfest fundraiser at the Quail Valley River Club to benefit Childcare Resources of Indian River. Each featured guest speaker Dana Winters, Ph.D., executive director of the Fred Rogers Institute at Saint Vincent College.
After welcoming everyone, Shannon McGuire Bowman, who has been Childcare Resources executive director for the past 10 years, recognized the nonprofit's founders, Sandy Kahle, Kathy Marshall and Sherry Waddell, Starfest co-chairs Barbie Horton, Trish Essick and Mandy Robinson, and the event's sponsors.
Bowman thanked supporters and board members for their financial investment and advice, and for spreading the word of about what they do, calling it the fuel that makes the organization run. Childcare Resources has continued to grow and evolve since 1994, when they served 25 children.
Today, their overall programming reaches nearly 3,000 children a year, from their NAEYC (National Association for the Education of Young Children) certified high-quality early education programs, to numerous outreach programs for teachers.
"Every decision that we make is made with what is best for the child," said Bowman. "We are working so hard every day to get little children the services that they need, so that they are ready when they go to kindergarten."
Bowman gave guests a sneak peek at major projects underway as they head into their 30th anniversary year, including a transformational gift that has enabled a partnership with the University of Florida to fund an 18-month Proof of Concept review of their programming.
Even more exciting, Childcare Resources will soon own the facility where they have rented space since 2016. "I am excited to announce that this morning we finalized a contract to purchase this building for $11 million. It's seven acres and we will be able to expand our programming to really create a state-of-the-art school and training program for teachers and all of that to come," said Bowman.
"We will be able to serve children and serve the early education community here in Indian River County and beyond for years to come."
Winters had high praise for Childcare Resources and its compassionate staff, calling them, as Fred Rogers used to do, helpers.
"You have marvelous helpers in this community. Not only are your helpers incredibly talented, but those who work in support of your helpers share that same passion," said Winters.
She said the institute is focused on advancing Fred Rogers' legacy by supporting the families, educators, coaches, mentors and caring adults who support the healthy development of children.
"We don't work directly with children, surprising to some people because Fred spoke directly to children for over 35 years," said Winters, referencing the long-running television show "Mr. Rogers' Neighborhood."
"The foundation of what we do at the institute is, we listen first."
She said equally as important as reading, writing and learning numbers are Rogers' six basic necessities of learning: a sense of self-worth, a sense of trust, curiosity, the capacity to look and listen carefully, the capacity to play, and times of solitude.
"These six things that are really hard to see, that sometimes are invisible, but truly are essential to the development of young children, are only possible because of the human relationships around them. And that is the foundation for all learning and growing. Not just to the age of 8, but for all of us."
Later at the luncheon, Kahle, Marshall and Waddell provided a history of the organization, before presenting this year's Founders Award for Volunteerism to Karla Spooner. Spooner, who created the Starfest fundraiser, has served the organization in numerous capacities, as a board member and on myriad committees.
For more information, visit ChildcareResourcesIR.org.
Photos by Joshua Kodis