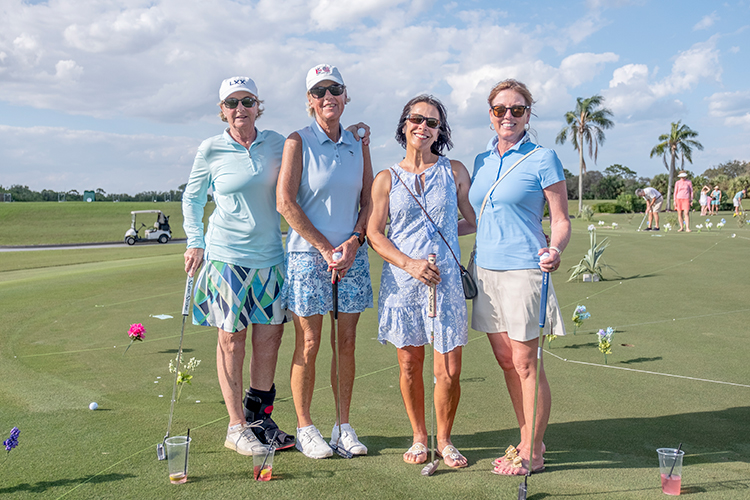 Moorings residents swung, hit, tapped and played their best hands to support the 20th annual Moorings Habitat Classic Weekend, with activities that included golf, tennis, pickleball, croquet, putt-putt, bridge, mah-jongg and other fitness activities.
To close out the five-day fundraising event to benefit Indian River Habitat for Humanity, a happy crowd of Moorings club members gathered for the Habitat Celebration Gala at the Moorings Yacht & Country Club.
There was much debate over the weekend's gameplay as attendees mingled over cocktails in the Governor's Lounge, before going into the dining room for a lavish dinner and the much-anticipated live auction.
As a result of their efforts, $800,000 will be gifted to Habitat from the Weekend fundraiser and the Moorings Club's Community Contribution Tax Credit Program contribution, a Florida sales tax incentive program targeting affordable housing organizations. Funds will help build six new homes, repair 15 others and provide 15 scholarships to Habitat homebuyers and their children.
While the genesis for the fundraiser began 25 years ago with Paul Field and Brad Burnham, and has grown over the years with the support of a number of other Moorings members, David Sommers, Habitat Partnership chair, recognized Dick Winkler as the "man who made the weekend what it is."
Although Winkler was unable to participate for health reasons, he remained at the forefront of everyone's mind.
"Under his leadership, the weekend expanded to include virtually all the activities in the club. For a decade, Dick recruited club members to join in the Habitat weekend effort with his wit, charm and enthusiasm. Without Dick Winkler, we would not be here tonight, said Sommers, adding that without his efforts, the county would have far fewer Habitat homes.
"On behalf of all the Moorings Habitat volunteers and sponsors he inspired, thank you Dick, for your leadership, compassion and dedication to both the Moorings Club and Indian River Habitat. May the wind always be at your back," said Sommers.
A video featuring Habitat homeowners and Moorings volunteers showcased the importance of the longstanding relationship, especially now, when it is more difficult than ever for anyone, let alone low-income families, to become homeowners.
Trevor Loomis, IR Habitat president/CEO, said that over the last several years, Florida's population has increased by as much as 500,000, resulting in an exponential rise in housing costs.
"The cost is spiraling out of control. People's rents are doubling year over year," said Loomis.
"The only thing that will make this situation better is more housing. It is of utmost importance that everybody who lives here understands that this issue is a crisis."
Loomis said the collective impact of the Moorings community had resulted in the construction of 90 homes, with hundreds more repaired through their Home Preservation program.
"You should be very, very proud of what you've accomplished here. That impact is greater than any other community in any other city I'm aware of, with any other Habitat affiliate," said Loomis.
"But we're not done. The need here is greater than it has ever been," said Loomis, noting that a recent study indicated that Indian River County residents pay a higher percentage of their income to rent than any metro area in the country.
"This beautiful place where we all live is becoming less and less accessible and less and less affordable for the people who already live here," Loomis added.
Loomis shared stories of teachers sleeping in their cars and showering in school locker rooms, before heading in to teach our children, and of railroad workers living in homeless shelters with their families.
"I can give you stories for the next 45 minutes," said Loomis.
For every one person they have assisted, he said there are hundreds more that are desperately in need of help, and stressed that they are individuals we interact with every day such as in restaurants, the pharmacy or grocery stores.
"They are real people that are struggling more than ever," said Loomis.
Rising to the challenge, he said IR Habitat has committed, over the next five years, to double its output of new houses every year and to repair more than ever.
"A house is just a place. It's not special on its own. What that house does is provide opportunities. It's a launchpad. When you give somebody housing stability, when you give somebody the gift of homeownership, they have the opportunity to create a better future for themselves. To have a life where their kids can do better than the parents. And where those people can grow into all that is possible and fulfill all of their potential," said Loomis.
"It's a simple thing, housing security. All it does is unlock the door, but it gives people the chance to walk through those doors to do more than they could have done before."
For more information, visit irchabitat.org.
Photos by Joshua Kodis