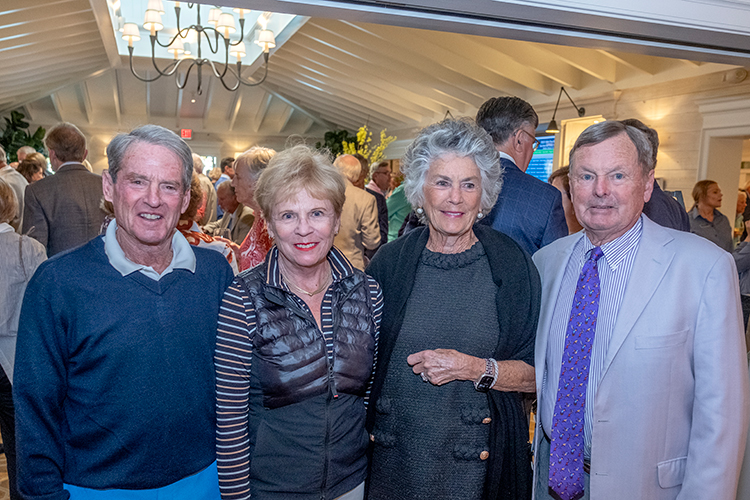 The seventh annual Charity Pro-Am Golf Tournament and Dinner at the Riomar Golf Club to benefit the Senior Resource Association drew generous sponsors, golfers and diners, along with some particularly spirited live-auction bidding, all to fund the multiple services SRA provides to local seniors.
"I can honestly tell you that the enthusiasm for this event is unequivocally greater than it was even seven years ago," said Mike Smith, event co-chair with wife Sassy.
"We continue to be humbled by the generosity we experience every year through the golf tournament and dinner here at Riomar," said Karen Deigl, SRA CEO.
"Thank you for making it your personal priority to help seniors who count on SRA each and every day for food, for respite care, for health at home, and with simple tasks that they can no longer manage on their own," said Deigl.
Deigl gave special thanks to the Smiths and their "small but mighty" committee, Susan Oglesby, Trudie Rainone and Hope Welles, and had high praise for the entire Riomar team.
Meals on Wheels volunteers Laurie Wykoff and Linda Triolo shared insight into the types of seniors they encounter during their Monday deliveries.
"I wanted to find something that I could really get passionate about, and I did," said Wykoff.
Relating that their visits are considerably more than just meal delivery, she recalled one woman who had a big bruise on her face and all down her arm, but she hadn't even remembered falling. Her family lived up north and she always told them that she was fine, when clearly, she wasn't. After SRA informed the family, they brought her up there and she is doing well now.
Wykoff recalled a man whose face lit up when they told him how handsome he looked and how good it was to see him. "I tell you what, the smile on that man's face was worth everything for that day."
Triolo spoke about 95-year-old Randy who, like many they serve, is a shut in.
"We are the only human contact they have all day. And they don't get deliveries on weekends, so Monday is the first day that they start this new week," said Triolo.
While they were chatting, he told them, "I really need a hug," before hugging each of them in turn to get that human contact.
"He gave us this hug and it was so very heartfelt. That's what Meals on Wheels is really about," said Triolo, calling it an honor and privilege to deliver meals to these very special people.
"Your participation helps save and improve lives here in our community. You make it possible for SRA to offer hope to struggling people. There are so many seniors that are struggling in so many ways," said Smith.
He said Meals on Wheels currently serves some 480 meals a day. There is also a Pets on Wheels, so that recipients don't give their own food to their furry companions. Stressing the need for volunteers as well as donations, he said another 10 people are added to the long waitlist each month.
"I want to leave you with one chilling fact. On any given day, 650 seniors in Vero Beach are on a wait list for varying services such as food, laundry, proper medication, bathing, alert systems for falling, and Day Away service for caregivers," said Smith.
For more information, visit SeniorResourceAssociation.org.
Photos by Joshua Kodis